When planning a family holiday, the Greek island of Paros often comes to mind as a potential destination.
This beautiful island, part of the Cyclades group, offers a variety of attractions, including stunning beaches, charming villages, and exciting water sports.
As a top choice for travellers with kids, Paros promises a memorable holiday that combines relaxation, adventure, and a rich cultural experience.
Known for its golden sandy beaches, Paros caters to families with young children who enjoy building sandcastles and playing by the shore. Meanwhile, older kids and adults can take part in exciting water activities such as snorkelling, scuba diving, and sailing trips.
The island's main towns provide numerous dining options, as well as opportunities to explore on foot or by bicycle, making this a destination that brings joy to every member of the family.
Overall, Paros is not only good but an excellent choice for a family holiday, offering a perfect blend of relaxation and adventure.
With a wide range of activities and beautiful landscapes to explore, your family is sure to create lasting memories on this enchanting Greek island.
Accommodation Options
Family-Friendly Hotels
Paros offers various family-friendly hotels that cater to different budgets and tastes. Some of the top options include:
Poseidon of Paros Hotel & Spa: A luxury beachfront hotel on Chrissi Akti Beach featuring 2 pools, 2 kids' pools, a playground, and babysitting services. All suites can accommodate up to 4 guests.
Paros Palace: Located in Parikia, Paros Palace offers outdoor pools, babysitting services, and close proximity to the beach. The hotel also provides a complimentary breakfast for the entire family.
Parilio Hotel: This hotel offers an excellent location near Kolympethres Beach, which is known to be a perfect beach for kids. Various dining options are available nearby, including Stathero and Si Paros.
Holiday Homes and Villas
For those who prefer more privacy and space, there is a selection of holiday homes and villas available for families in Paros. These accommodation options often include amenities like full kitchens, private pools, and multiple bedrooms, providing a comfortable and relaxing stay.
Kolymbithres Villas: A collection of private villas situated close to Kolymbithres Beach, each with its own swimming pool and exceptional sea views.
Paros Agnanti Villas: These stylish villas feature private pools, fully-equipped kitchens, and spacious living areas. They are perfect for larger families or those seeking a luxurious experience in Paros.
Camping Sites
If you're looking for a more budget-friendly and nature-oriented experience for your family vacation, camping sites are available in Paros. Camping offers an opportunity to bond with your family in a more relaxed and communal atmosphere.
Camping Koula: Located in Parikia, this camping site provides basic facilities such as plots for tents, shared toilets, and a communal kitchen. The site is a short walk from the beautiful Krios Beach.
Naoussa Hills Campground: This site offers a relaxing environment, with options for tent camping and shared facilities. It is situated close to Naoussa village, providing easy access to local attractions.
Remember to book your accommodations well in advance and make sure to confirm the available amenities and services at your chosen location to ensure a memorable family holiday in Paros.
Beaches and Swimming Spots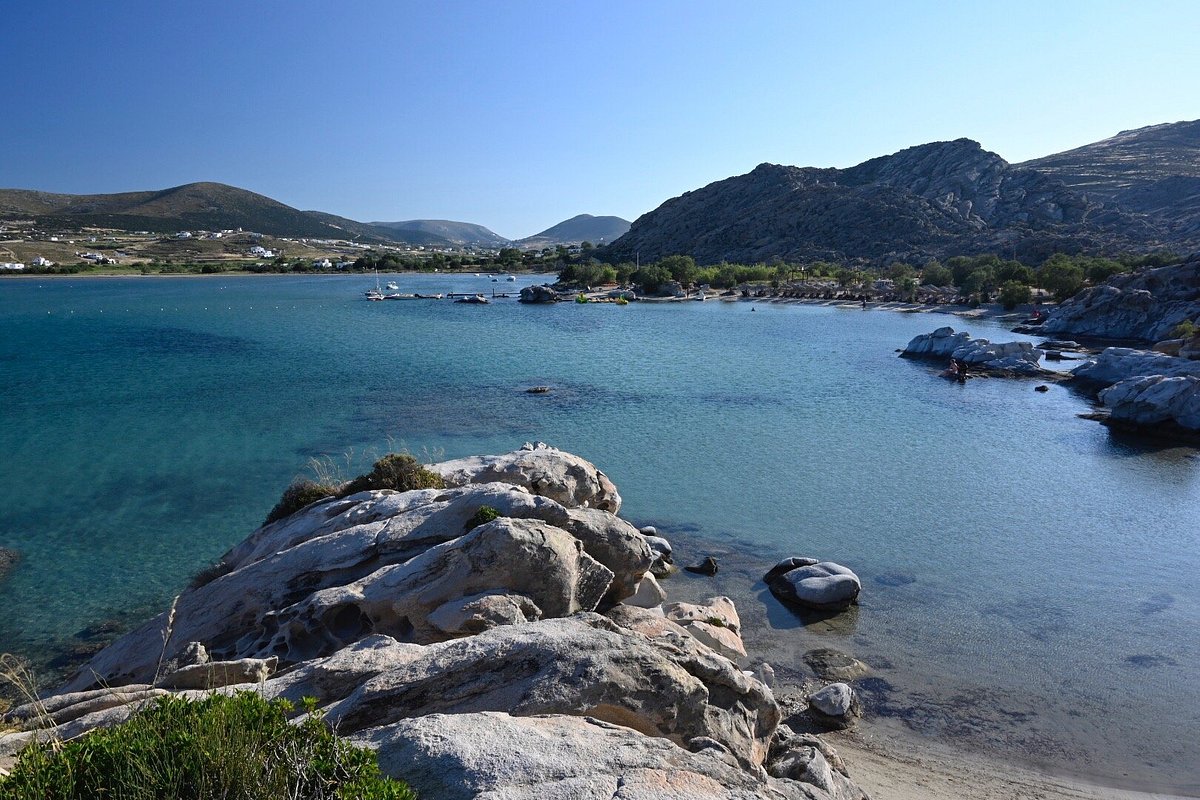 Paros is famous for its stunning beaches, which makes it an excellent destination for families. With a wide range of beaches to choose from, you can find something suitable for everyone – from shallow, calm waters perfect for children to organised beaches with facilities such as sunbeds and umbrellas.
Shallow and Calm Beaches
Kolympethres Beach is a popular choice for families due to its calm waters and unique rock formations. The shallow waters make it a safe spot for younger children who are just learning to swim. The scenery is picturesque, and you can easily spend a day here enjoying the clear blue waters and soft sand.
Another great option for families is Marcello Beach, known for its relaxing atmosphere and shallow waters. This sandy beach is perfect for a day of swimming and sunbathing with your little ones. A short walk away, you'll find Krios Beach, which also boasts shallow waters and a peaceful setting.
Organised Beaches with Facilities
If you're seeking a more organised beach experience, Parikia Beach is an excellent option. Located near the main town, this beach offers sunbeds, umbrellas, beach bars, and even water sports such as windsurfing. With gentle waves and a family-friendly atmosphere, Parikia Beach is an ideal choice for a day of relaxation and fun.
Naoussa Beach is another organised beach with facilities catering to families. You'll find sunbeds, umbrellas, beach bars, and a range of water sports available to try out. If you're looking for a beach with all the amenities you need for a comfortable and enjoyable day with your family, Naoussa Beach is a great choice.
Activities and Attractions
Paros is an excellent destination for families, offering diverse activities and attractions suitable for all ages. In this section, we will cover water sports, cultural and historical sites, and outdoor adventures to enjoy while visiting Paros.
Water Sports
One of the main attractions in Paros is the crystal-clear waters and beautiful sandy beaches, making it a perfect location for water sports. Families can enjoy a range of activities like:
Windsurfing: Paros is known for its favourable winds, providing great conditions for both beginners and experienced windsurfers.
Scuba diving: Explore the underwater world of the Aegean Sea with a guided scuba diving tour suitable for all skill levels.
Stand-up paddleboarding: A fun and relaxing way to explore the coastline and nearby coves.
Cultural and Historical Sites
Paros offers numerous opportunities to learn about the history and culture of the island:
Parikia: The island's capital is a maze of narrow streets, traditional houses, and historic churches, including the impressive Panagia Ekatontapiliani (Church of 100 Doors).
Antiparos Cave: Located on the nearby island of Antiparos, this cave is rich with stalactites, stalagmites, and ancient inscriptions.
Ancient Marble Quarries: Discover Paros' history as a centre of marble production in the ancient world by visiting these quarries that once produced the famous Parian marble.
Outdoor Adventures
For families seeking outdoor adventures, Paros provides plenty of options:
Family Hiking Tours: Explore the island's scenic landscapes by following numerous hiking routes such as the Lefkes Valley or the Butterfly Valley.
Cycling and Horseback Riding: Enjoy a leisurely ride around the island to discover hidden gems and take in stunning views.
Kolombithres Beach: Located west of Naousa in Plastira Bay, this beach features huge granite boulders and smooth sunbathing platforms, offering a unique and memorable experience.
Dining and Food Options
Paros offers a wide range of dining options that are suitable for families. The island boasts a variety of kid-friendly restaurants, as well as delicious local cuisine and specialities that visitors of all ages can enjoy.
Kid-Friendly Restaurants
There are numerous restaurants in Paros that cater to families with children:
Ververas: A popular restaurant offering a diverse menu and a comfortable atmosphere for families.
Kima Seaside Restaurant: This restaurant is located by the sea and offers an impressive range of dishes for both kids and adults.
Mango Restaurant: With a menu featuring Mediterranean and Greek cuisine, this spot is a hit among families visiting Paros.
Local Cuisine and Specialities
Paros is known for its traditional Greek food and island specialities that your family will undoubtedly enjoy. Some must-try dishes include:
Yemeni: A restaurant in Paros offering a plethora of Greek dishes and a pleasant atmosphere.
Siparos Seaside Restaurant: While you taste authentic Greek cuisine, you can also enjoy the stunning waterfront view.
Taverna Glafkos: Serving up delicious local food, this taverna is a top choice among visitors to the island.
It's important to also venture beyond the most touristed areas in Parikia, as numerous excellent restaurants are scattered around the island.
By trying these dining options, your family will experience an authentic and delightful taste of Paros.
Hailing from the historic city of Thessaloniki, Nikos Tsakiris is a passionate explorer, seasoned writer, and co-founder of Greek Island, the definitive travel blog for the Greek Islands.