The idyllic islands of Mykonos and Paros are both part of the stunning Cyclades islands in Greece. With their sun-soaked landscapes, picturesque towns and warm hospitality, they are favoured destinations for many tourists. This article introduces you to the beauty of these islands while providing essential information for a smooth journey between the two by ferry.
Mykonos is best known for its vibrant nightlife, picturesque windmills, and stunning beaches. This celebrated island is a magnet for travellers from across the globe who are drawn by its unique cosmopolitan atmosphere. On the other hand, Paros offers a more serene, yet equally beautiful experience. Paros boasts charming villages, golden sandy beaches and a rich history waiting to be explored.
Travelling between Mykonos and Paros is a breeze as there are several ferry options available that cater to different preferences and budgets. With a distance of only 27 miles (43 km) separating the two Cyclades islands, the ferry journey typically ranges between 1 to 1.5 hours, making it a convenient and enjoyable way to explore these two Greek gems.
Transport Options from Mykonos to Paros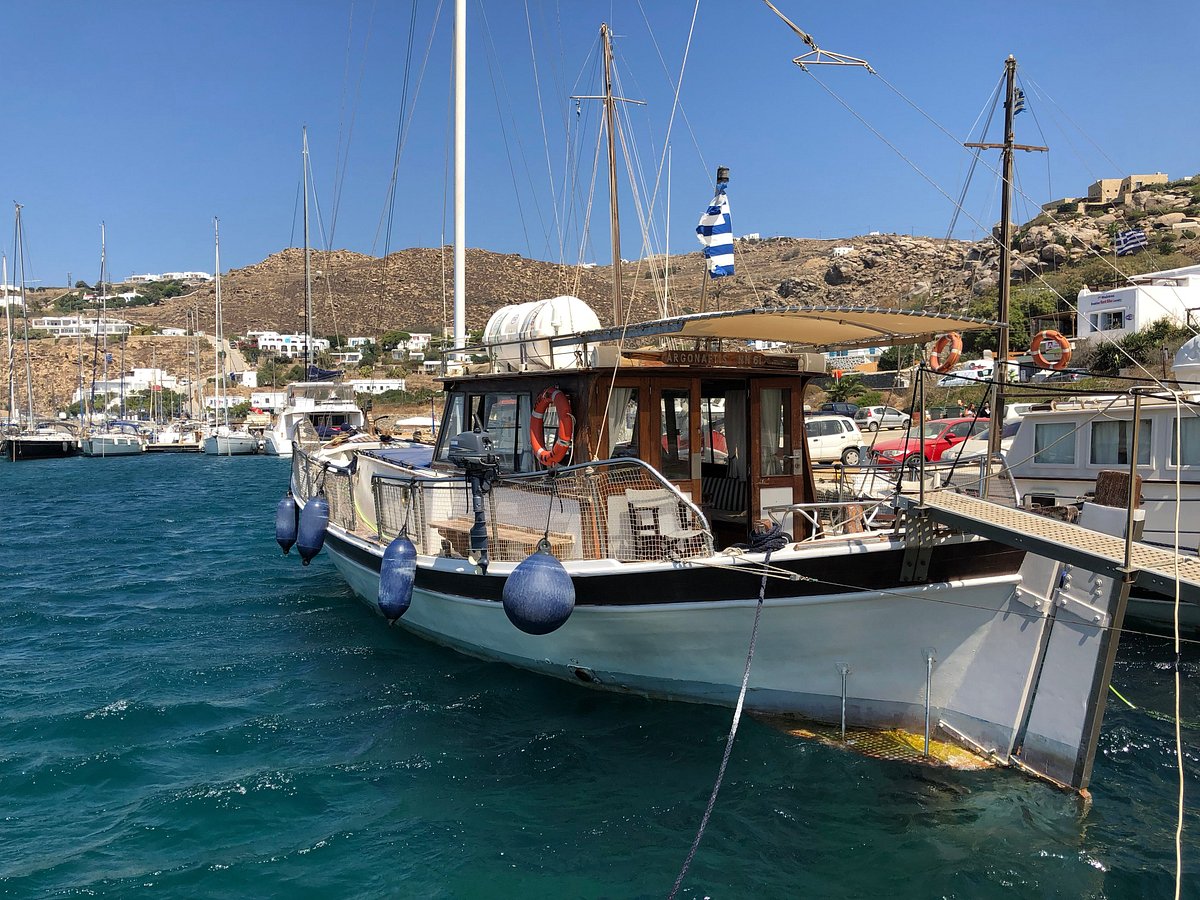 By Ferry
The primary method of travel between Mykonos and Paros is by ferry. At least three ferry companies operate this route: Seajets, Golden Star Ferries, and Minoan Lines. The direct ferry is the fastest and most recommended option, particularly during the high season (June to October).
Ferry providers, duration, and ticket prices can vary, so it's essential to compare your options. Below is an example of the available ferry services:
| Ferry Company | Duration | Price Range |
| --- | --- | --- |
| Seajets | 45-54 min | €14 – €95 |
| Golden Star Ferries | 40-60 min | €13 – €85 |
| Minoan Lines | 50-65 min | €17 – €90 |
Please note that ferry timetables are subject to change depending on the season. You can check real-time schedules and ferry ticket prices for the Mykonos – Paros route on websites like Ferryhopper.
By Flight
There are currently no direct flight options between Mykonos and Paros. The islands are only 27 miles (43 km) apart, and their close proximity makes it impractical to offer air travel services for this route.
Ferry Services and Companies
When travelling from Mykonos to Paros, tourists and locals alike can choose between various ferry services provided by multiple ferry companies. This section will detail the different types of ferry services available and the companies operating them.
High-Speed Ferries
High-speed ferries offer a quick and efficient means of travelling between Mykonos and Paros. The average sailing time for these ferries is around 1 hour and 25 minutes. Some of the main companies operating high-speed ferries on this route include:
Seajets: Known for its reliable and comfortable services, Seajets offers multiple daily crossings between Mykonos and Paros.
Minoan Lines: Minoan Lines operates fast and efficient ferries, providing travellers with a smooth sailing experience.
Golden Star Ferries: With a focus on passenger satisfaction, Golden Star Ferries maintains a modern and well-maintained fleet of high-speed ferries.
Conventional Ferries
Conventional ferries are a more leisurely option when travelling between Mykonos and Paros. They usually take a bit longer than high-speed ferries but offer more affordable ticket prices. The main companies providing conventional ferry services include:
Fast Ferries: Despite the name, Fast Ferries also operates conventional ferries alongside its high-speed fleet. These ferries provide a comfortable journey at a reasonable cost.
Golden Star Ferries: In addition to high-speed ferries, Golden Star Ferries offers conventional ferries for travelers seeking a more relaxed and budget-friendly experience.
It is essential to note that ferry schedules and frequencies may change depending on the season. Therefore, travellers are advised to check real-time schedules and ferry ticket prices for the Mykonos – Paros route before planning their trip.
Travelling by Flight
Although direct flights between Mykonos (JMK) and Paros (PAS) are not available, you can still find some flight deals with layovers. Flights connecting through Athens may be an option, but be prepared for longer travel times due to layovers.
Airlines Operating
There are several airlines operating flights between Mykonos and Paros with layovers. Some of the airlines offering services on this route include:
Aegean Airlines: Provides flights with layovers in Athens. Known for its extensive network across Greece and excellent on-time performance, Aegean Airlines may be a good choice for travellers looking for comfort and reliability.
Olympic Air: Operated by Aegean Airlines, Olympic Air offers flights with layovers in Athens, similar to its parent company. They provide a range of fares, allowing you to choose the best option for your budget and travel needs.
Sky Express: Another option for flights between Mykonos and Paros is Sky Express. Offering connecting flights through Athens, they cater to budget-conscious travellers and provide a more limited flight network.
When traveling by flight between Mykonos and Paros, it's essential to book your tickets in advance, particularly during the high season (summer) when demand for flights increases. Compare prices and find the best deals on flights to suit your needs and budget. Remember to consider layover times and any additional travel requirements when selecting your flight on this route.
Comparing Costs and Time
Ferry vs Flight
Traveling from Mykonos to Paros, the most popular and feasible option is taking a ferry. Flights between these two islands are not available as there is no direct connection by air.
Ferry
With multiple ferry companies operating on this route, there are various timings and prices for travelers to choose from. The trip frequency is every day, with the first trip at 09:25 and the last trip at 17:15. The average duration of a ferry ride between Mykonos and Paros is around 57 minutes, and the price range for a standard ticket varies from €36.00 to €84.70.
Ferry companies sailing from Mykonos to Paros include:
Seajets
Golden Star Ferries
Minoan Lines
It is important to note that during the high season (June to October), taking a direct ferry is the best option due to increased demand.
When comparing costs of travelling between Mykonos and Paros, it is essential to consider the average daily cost per person. The average daily cost (per person) in Paros is €121, while the average daily cost in Mykonos is €149. These costs include accommodation (assuming double occupancy), food, transportation, and entertainment.
In summary, taking a ferry between Mykonos and Paros is the primary mode of transport as no direct flights are available. Costs greatly depend on which ferry company and the ticket type, but the average price range is between €36.00 and €84.70. Duration of the journey is approximately 57 minutes. It is advised to book tickets in advance, especially during the high season.
Seasonal Factors to Consider
Peak Season
Peak season in Mykonos and Paros usually falls between June and August, when the weather is warm and sunny, and the islands are bustling with tourists. During this period, both Mykonos and Paros experience an increased number of visitors, leading to crowded beaches, bars, and restaurants. Travelers looking to experience the vibrant nightlife, golden beaches, and scenic hiking trails in Paros, as well as the charm and beauty of Mykonos, should book their accommodations and ferry tickets early to secure their desired travel dates.
Some things to consider during the peak season are:
Higher prices: There might be a surge in prices for accommodations, transportation, and other services due to the high demand.
More events: The peak season is filled with various cultural events, festivals, and parties, which can enhance your experience on both islands.
Off-Peak Season
Off-peak season, on the other hand, typically occurs between October and April. During this time, the islands are quieter, and tourists can enjoy a more relaxed atmosphere. The weather can be cooler and less predictable, with some rainfall, but this can also make it the perfect time for those who prefer tranquility and avoiding large crowds.
Here are some advantages of visiting during the off-peak season:
Lower prices: Travellers will find lower prices for accommodations and other services during this time due to reduced demand.
Less crowded: The off-peak season offers a more laid-back experience, with fewer tourists and more opportunities to explore the islands at your own pace.
It's important to note that some services, like ferry schedules, might be less frequent in the off-peak season, so travelers should plan their trips accordingly.
Eleni Vasiliadis, a native of the picturesque island of Corfu and co-founder of Greek Island, is a seasoned traveller, accomplished writer, and passionate advocate for Greek culture and cuisine.