Nestled in the Dodecanese group of islands, Patmos, Greece, boasts a unique blend of stunning natural beauty and spiritual significance.
With its turquoise beach waters and charming traditional houses, there's no wonder this picturesque destination has become a favourite among travelers seeking a tranquil and enchanting escape.
The island's main landmarks, the Monastery of St John and the Cave of the Apocalypse, draw countless pilgrims each year, adding to its distinct, mystical atmosphere.
When planning your trip to Patmos, the summer months of May to October are ideal as they bring warm temperatures, favourable weather, and the full range of sights and activities available to visitors.
For a more serene experience with fewer crowds and better prices, consider traveling during the shoulder months of April to June or September to October.
From the historic sites of Chora Patmos to the mouthwatering gastronomy in the island's restaurants, Patmos truly offers something for everyone.
As you explore this beautiful island, you'll quickly understand why it's become such a beloved destination. Get ready to embark on an unforgettable journey to this Greek paradise.
Getting to Patmos
Patmos is a beautiful island in Greece, renowned for its turquoise beach waters and spiritual atmosphere, making it a popular destination for travelers and pilgrims alike. To get there, you'll need to travel by ferry or by air to a nearby island with connecting boat services.
By Ferry
The most common way to reach Patmos is by ferry from other nearby Greek islands or Turkey. Patmos is on the daily ferry line from Piraeus to Rhodes, which makes it accessible for travelers from various locations. Schedules can be confirmed through the Piraeus Port Authority or the Rhodes Port Authority.
Apart from Piraeus and Rhodes, you can also travel to Patmos from neighbouring islands such as Samos, Kos, and other Dodecanese islands, depending on ferry availability and schedules. It's essential to check the latest ferry schedules from your intended departure point to plan your trip accordingly.
By Air
Unfortunately, there are no airports on the island of Patmos itself. To reach Patmos by air, you'll need to fly to a nearby island and then take a connecting boat service to Patmos. The most convenient option is to fly into Samos, which is a neighbouring island that can have you on Patmos in around three hours with the right schedule.
Other nearby islands with airports include Kos and Rhodes, both of which have connecting boat services to Patmos. Scheduling your flight to arrive at the appropriate time to catch a connecting ferry is important for seamless travel planning. Don't forget to check transportation schedules before booking your flights to ensure a smooth journey to Patmos.
Top Attractions
Cave of the Apocalypse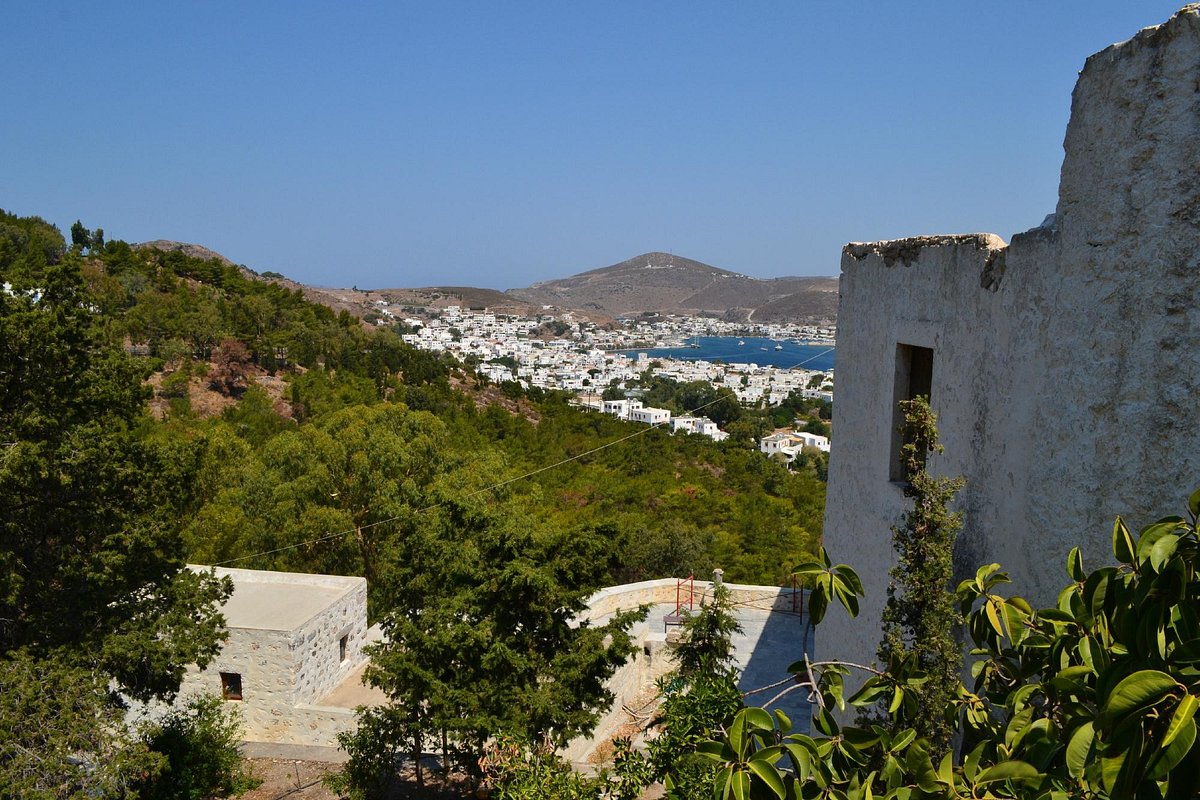 The Cave of the Apocalypse is a must-visit attraction on Patmos. This UNESCO World Heritage site is where Saint John the Theologian is believed to have received and written the Book of Revelation – the last book of the New Testament. Visitors can admire the stunning religious artwork within the cave and feel the spiritual atmosphere that surrounds this sacred site.
Monastery of Saint John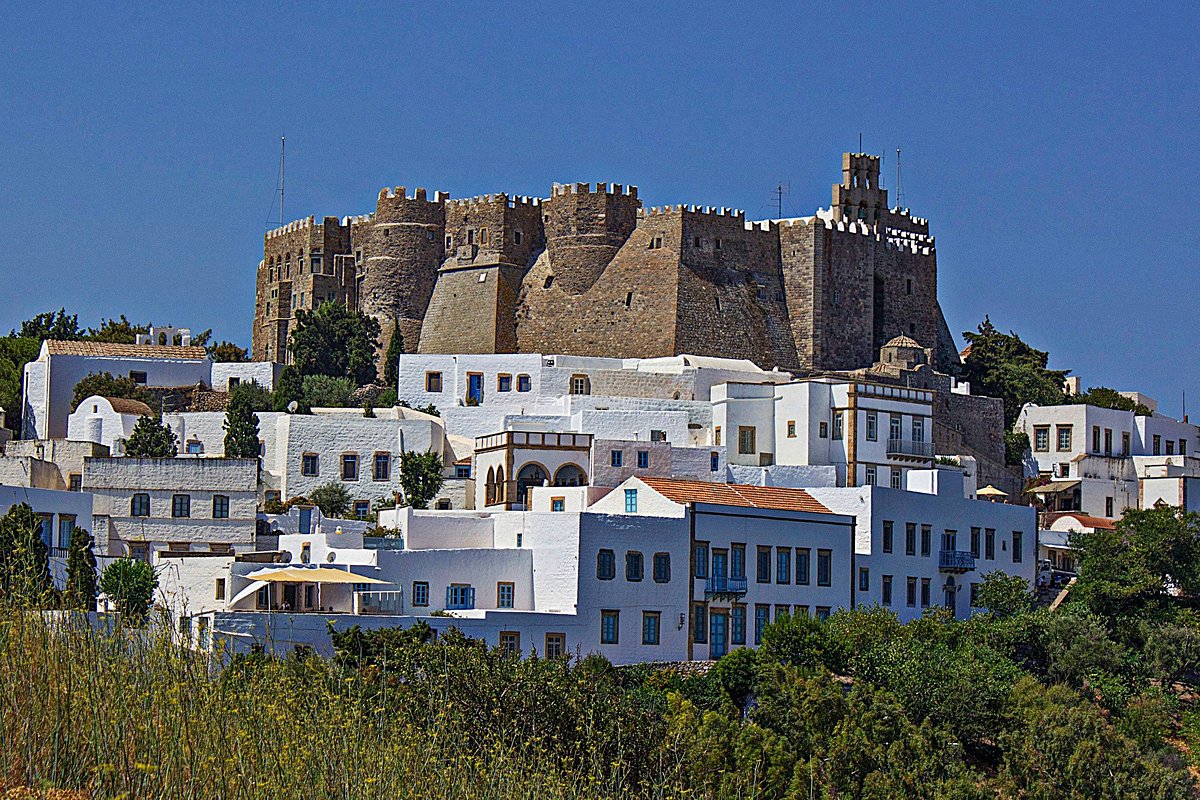 Sitting atop a hill overlooking the village of Hora, the Monastery of Saint John is another UNESCO World Heritage site in Patmos. Founded in 1088, the monastery houses significant religious relics, a beautiful courtyard, and an impressive library with rare manuscripts. Visitors can explore the monastery, taking in its Byzantine architecture and learning about its rich history.
Hora
The picturesque village of Hora is a delightful maze of narrow streets, whitewashed houses, and charming courtyards. Stroll through the village and discover its numerous little shops, cafes, and traditional tavernas, where you can taste local delicacies. The stunning views of the surrounding landscape make this village a perfect spot for a leisurely walk.
Grikos
Grikos is a tranquil bay on the southeast coast of Patmos, known for its pristine beach and crystal-clear waters. Visitors can enjoy the serene atmosphere, sunbathe on the golden sands, or take a refreshing swim in the sea. The picturesque village nearby offers a range of accommodation options and waterfront restaurants.
Accommodation Options
Hotels
Patmos offers a variety of hotels to suit different preferences and budgets. Some popular options include:
Hotel Athina: Located in Grikos, this hotel provides a pleasant stay experience with basic amenities and beautiful surroundings.
Byzance Hotel: Situated in the heart of Chora, this charming hotel offers beautiful views of the island and the sea.
To find the best deals on hotels, consider using booking platforms such as Booking.com or Agoda to compare prices and read reviews.
Guesthouses
For those looking for a more intimate and local experience, guesthouses might be the ideal choice. Here are some recommendations:
9 Muses Exclusive Apartments: A serene little resort offering wonderful views of the Aegean, flagstone floors, and the opportunity to dine under clear skies.
Fotini Guesthouse: Providing comfortable rooms, friendly service, and a convenient location, this guesthouse is a great choice for travelers seeking a homely atmosphere.
Villas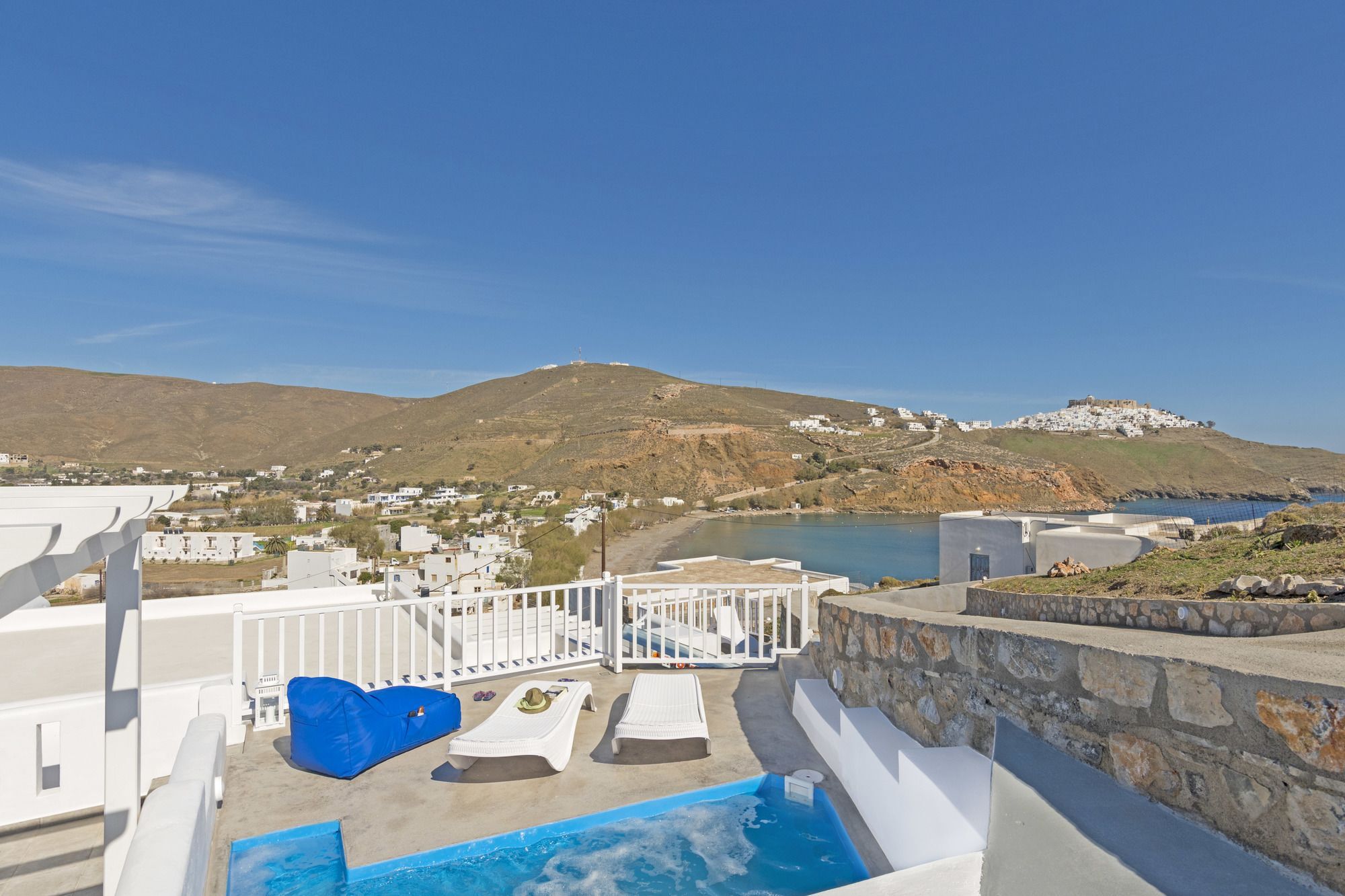 Renting a villa can be a fantastic option for families or larger groups who want more privacy and space during their stay on Patmos Island. Some options include:
Patmos Paradise Villa: A luxurious option featuring modern amenities, a private pool, and stunning views of the surrounding area.
Aegean Sea Villa: Ideal for those who appreciate traditional Greek architecture and décor, this villa offers comfortable accommodation with beautiful sea views.
Remember to book early and do thorough research to find the perfect villa for your stay on this charming Greek Island.
Local Cuisine
Popular Restaurants
Patmos has a plethora of fantastic dining options for visitors to enjoy. Some of the top restaurants on the island include:
Sapsila Ktima Petra: Located within an estate by the beach of Petra, this restaurant offers traditional Greek cuisine, prepared in a wood-burning oven. You can also savour their coffee, pastry, or ice cream selection.
To Kyma: Found in Grikos, this charming eatery provides a lovely atmosphere perfect for a warm-weather dining experience.
Many more options can be found by browsing the top 10 restaurants in Patmos according to traveler reviews, ensuring you will find a spot that suits your tastes.
Traditional Dishes
When visiting Patmos, be sure to indulge in some traditional dishes, such as:
Steforadika and Kritama: These varieties of edible wild greens are local delicacies found on the island. Their unique taste sets them apart from other greens and are not to be missed.
Seafood: The island's access to fresh seafood means it's the perfect place to try dishes like grilled octopus and fresh fish, often served with local specialties like Greek tzatziki.
Remember to venture out, explore various restaurants, and dive into the local cuisine to fully appreciate the island's culinary culture!
Outdoor Activities
Patmos is a beautiful island in the Dodecanese group and offers a variety of outdoor activities for visitors to enjoy. From relaxing on picturesque beaches and exploring scenic hiking trails to embarking on boat tours to uncover hidden gems, there is something for everyone on this charming Greek island.
Beaches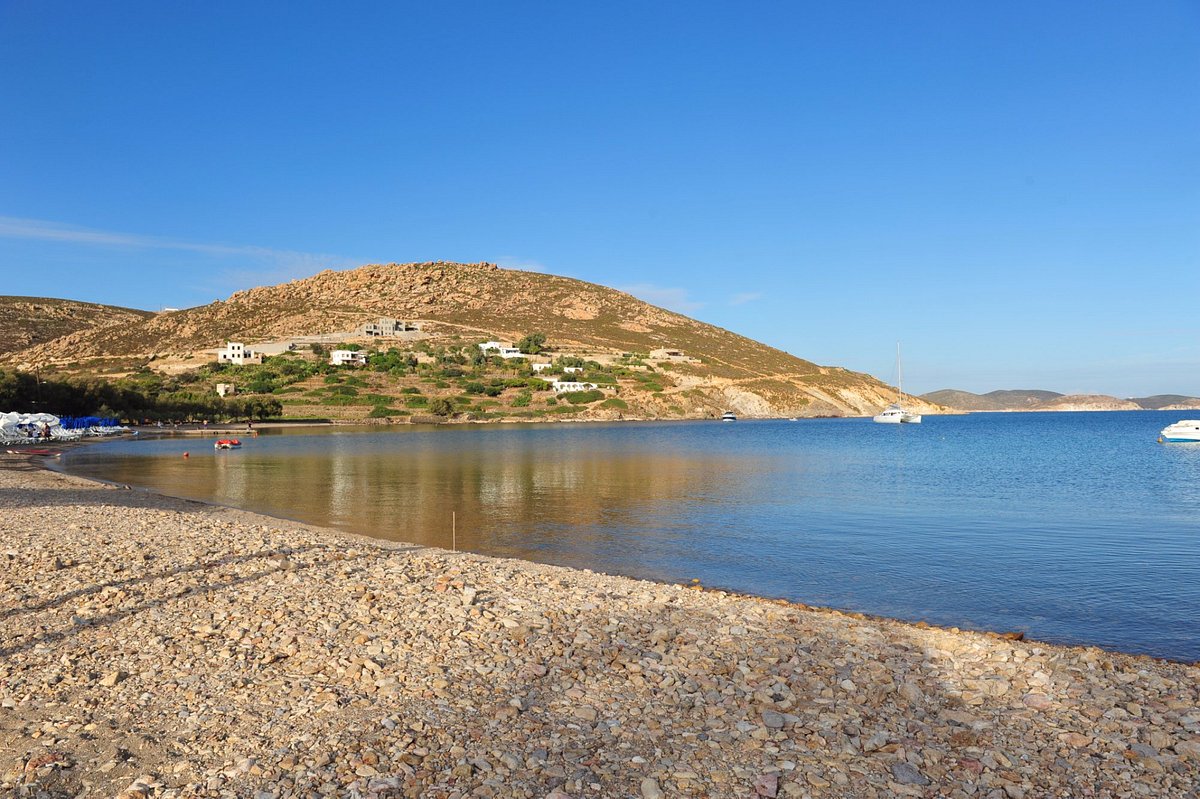 Patmos is home to several stunning beaches, perfect for soaking up the sun, swimming, or taking part in water sports. Some of the island's most popular beaches include:
Psili Ammos Beach: A sandy, secluded beach offering a peaceful atmosphere for relaxation. Accessible by boat or by a 30-minute hike.
Lambi Beach: Known for its unique pebbles, this picturesque beach has clear waters perfect for snorkeling.
Agrio Livadi Beach: A family-friendly spot with calm waters, ideal for those seeking a quieter beach experience.
Hiking Trails
For those who love walking amid nature, Patmos offers several hiking trails that provide breathtaking views of the island and its surroundings.
Chora to the Apokalypsi Cave: This trail starts from the traditional village of Chora and leads to the holy Cave of the Apocalypse, where it is believed that St. John the Theologian had his visions that formed the Book of Revelation. This hike takes about 1 hour and is suitable for all skill levels.
Klipoi Monastery to Profitis Ilias Church: A moderate hike that passes by the ruins of the Klipoi Monastery and ends at the picturesque Profitis Ilias Church, offering panoramic views of the island and nearby islets. Approximately a 2-hour trek.
Chora to Psili Ammos Beach: For those seeking a more challenging hike, this trail connects Chora to Psili Ammos Beach, passing through beautiful landscapes and offering amazing vistas along the way. The hike takes approximately 3 hours.
Boat Tours
Boat tours are a fantastic way to explore the azure waters of Patmos and discover hidden coves and deserted beaches. Several options are available, including:
Speed Boat Tours: For adrenaline seekers, speed boat tours offer a thrilling experience while exploring the island's coasts.
Traditional Boat Tours: For a more relaxed and authentic experience, visitors can opt for traditional boat tours, which allow the opportunity to swim and snorkel in secluded spots.
Chartered Sailing Trips: For the ultimate luxury experience, consider a chartered sailing trip with a skipper and chef, taking you on a personalised tour around Patmos and nearby islands.
Patmos enjoys an alluring combination of relaxing beaches, invigorating hiking trails, and captivating boat tours, making it a haven for outdoor enthusiasts and sightseers.
Shopping and Souvenirs
Patmos, Greece, is an island steeped in history and beauty, providing visitors with a variety of shopping opportunities. Tourists can find unique souvenirs and traditional crafts during their visit to enrich their memories of this beautiful island.
Local Markets
The local markets of Patmos not only provide a glimpse into the daily life of the island's residents but also offer tourists the chance to obtain unique items and delicious local produce. While on the island, be sure to explore the street markets and bazaars, which are largely concentrated in the main town of Chora.
You might come across:
Fresh fruits and vegetables sourced from the island
Local cheeses and other dairy products
Delicious traditional Greek pastries
Handmade crafts and jewelry
Unique Craft Shops
When it comes to souvenirs, Patmos has a selection of unique craft shops offering various items to remind you of your time spent on this enchanting island. These shops can be found throughout Chora as well as in smaller villages. They showcase the artistic talents of local artisans, so you'll want to take the time to explore them all.
Here is a list of some items you might find in these shops:
Traditional pottery and ceramics, both decorative and functional
Beautifully crafted jewelry made from local materials like stone, shells, and metals
Textiles, including handwoven rugs and linens, designed with ancient Greek patterns
Unique paintings and art pieces that capture the essence of Patmos
Locally-made skincare and natural products, such as olive oil-based creams and soaps
While you shop, take the time to chat with the friendly shop owners, who are often eager to share stories about their creations and the history of their craft. Your shopping experiences in Patmos will not only provide you with treasured souvenirs but also with a deeper connection to the island's history and culture.
Travel Tips and Safety
Currency
The official currency in Patmos, Greece, is the Euro (€). It is important to have some cash on hand for small purchases, tips, and local businesses that may not accept credit cards. You can find ATMs in Patmos for withdrawing cash, but it's advisable to exchange your money at banks, post offices, or authorised exchange bureaus for the best rates.
Transportation
Getting to Patmos might be a bit time-consuming but is quite straightforward. Ferries to Patmos depart from Piraeus Port in Athens approximately 3 times a week, and the journey takes around 8 hours. Patmos is also connected by ferry to nearby islands like Leros, Lipsi, Kalymnos, Kos, and Rhodes.
When exploring Patmos, there are several transportation options available. You can rent a car or scooter for independent travel, or use the local buses to get around the island. Taxis are also available, but it's a good idea to agree on the fare with the driver before starting your journey.
Best Time to Visit
The best time to visit Patmos Island is during the warmest months, which are August, July, and June. During this time, you can expect highs regularly around 34.6°C (94.3°F) with temperatures rarely dropping below 25.1°C (77.1°F) at night. If you prefer a quieter time to visit, consider avoiding the high season of July and August, when the island is busiest.
When it comes to accommodations, you have two primary choices for your stay in Patmos: Airbnb (recommended) and hotels. Both options offer a range of options to cater to different budgets and preferences.
Always be cautious with your personal belongings and keep an eye out for potential pickpockets or other safety concerns. However, Patmos is generally considered a safe destination for tourists.
Frequently Asked Questions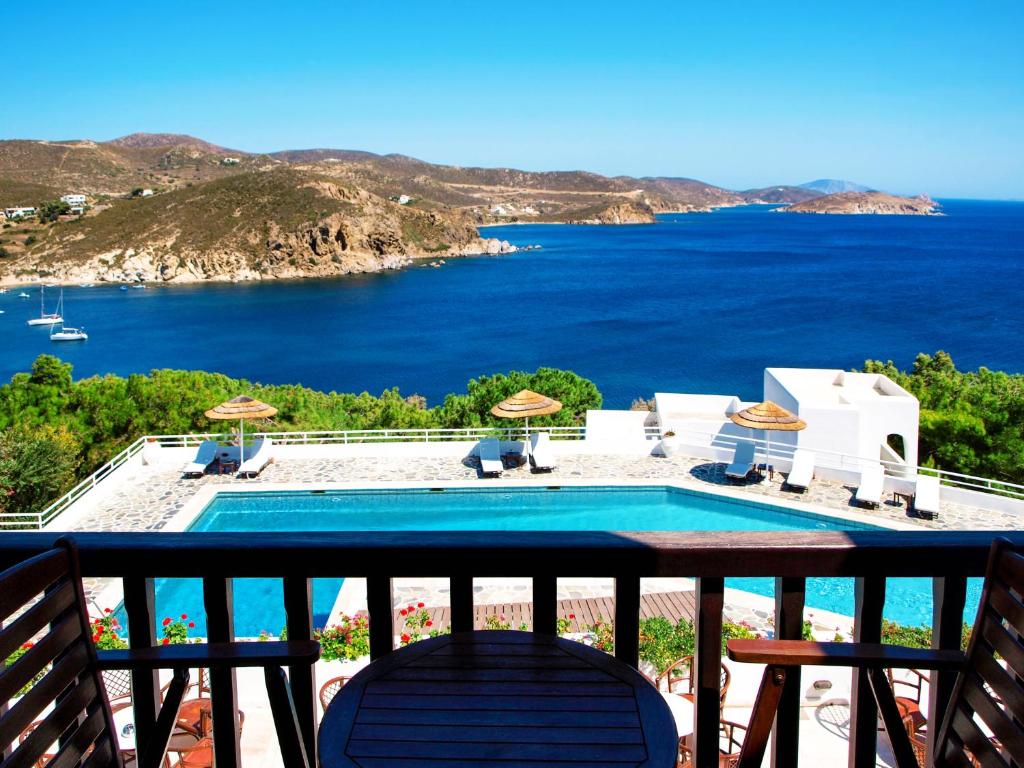 How to reach Patmos?
Patmos doesn't have an airport, so the best way to reach the island is by boat from other nearby islands in Greece or from Turkey. There are regular ferry services connecting Patmos to other islands and the mainland, making it easy to include Patmos in your Greek island-hopping itinerary.
Top activities in Patmos?
Some of the top activities in Patmos include visiting the Monastery of St. John, exploring the Cave of the Apocalypse, wandering through the picturesque streets of Chora, and relaxing on its beautiful beaches. The island is also a great destination for hiking and enjoying a peaceful, spiritual atmosphere.
Duration of stay on Patmos?
The ideal duration of stay on Patmos would be around 2-3 days, giving you enough time to visit key attractions and immerse yourself in the island's unique charm. However, you might choose to stay longer if you're looking for a peaceful refuge away from the hustle and bustle of daily life.
Is Patmos walkable?
Yes, Patmos is a relatively small island, and many of its attractions, like Chora and the Monastery of St. John, can be easily explored on foot. This makes it an excellent destination for leisurely strolls and discovering hidden gems. However, to explore the more remote areas and beaches, renting a car or scooter might be more convenient.
Patmos as a party island?
Patmos is not known as a party island and is generally characterised by a more tranquil and spiritual atmosphere. It is an ideal destination for relaxation, reflection, and enjoying the natural beauty. While you may find a few bars and restaurants offering some nightlife, it's not the predominant focus of the island like other Greek party destinations such as Mykonos and Ios.
What's special about Patmos?
The unique aspect of Patmos lies in its spiritual significance as the island where St. John the Apostle received his revelation and wrote the Book of Revelation. The Monastery of St. John and the Cave of the Apocalypse are major pilgrimage sites, attracting numerous visitors each year. Moreover, Patmos boasts stunning landscapes, pristine beaches, and a laid-back atmosphere that make it a truly special destination.
Eleni Vasiliadis, a native of the picturesque island of Corfu and co-founder of Greek Island, is a seasoned traveller, accomplished writer, and passionate advocate for Greek culture and cuisine.