Rhodes, a mesmerising island in Greece, is an idyllic destination for couples seeking romance and adventure. Boasting a unique blend of pristine beaches, mesmerising natural landscapes, and fascinating historic sites, Rhodes has something to offer for every love-struck pair. Whether you're looking to immerse yourself in the island's rich history, share a sunset on a stunning beach, or delight in its culinary gems, you'll find plenty of ways to create lasting memories with your significant other.
A must-see attraction in Rhodes is the Palace of the Grand Master of the Knights, a 14th-century marvel located in the heart of the Old Town. Here, couples can explore the beautifully preserved castle and admire its intricate architecture. Another highlight includes indulging in a relaxing boat tour, where you can enjoy the breathtaking beauty of the surrounding waters and discover hidden corners of the island.
If you prefer a more laid-back experience, consider venturing to Kolymbia, a picturesque, serene location that's perfect for older couples. The quaint seaside resort offers a peaceful escape, making it an ideal spot for leisurely strolls along the beach or sampling delicious local cuisine at nearby restaurants. No matter your preferences, Rhodes offers countless opportunities for couples to create unforgettable moments on their romantic holiday.
Historical Sites
Palace of the Grand Master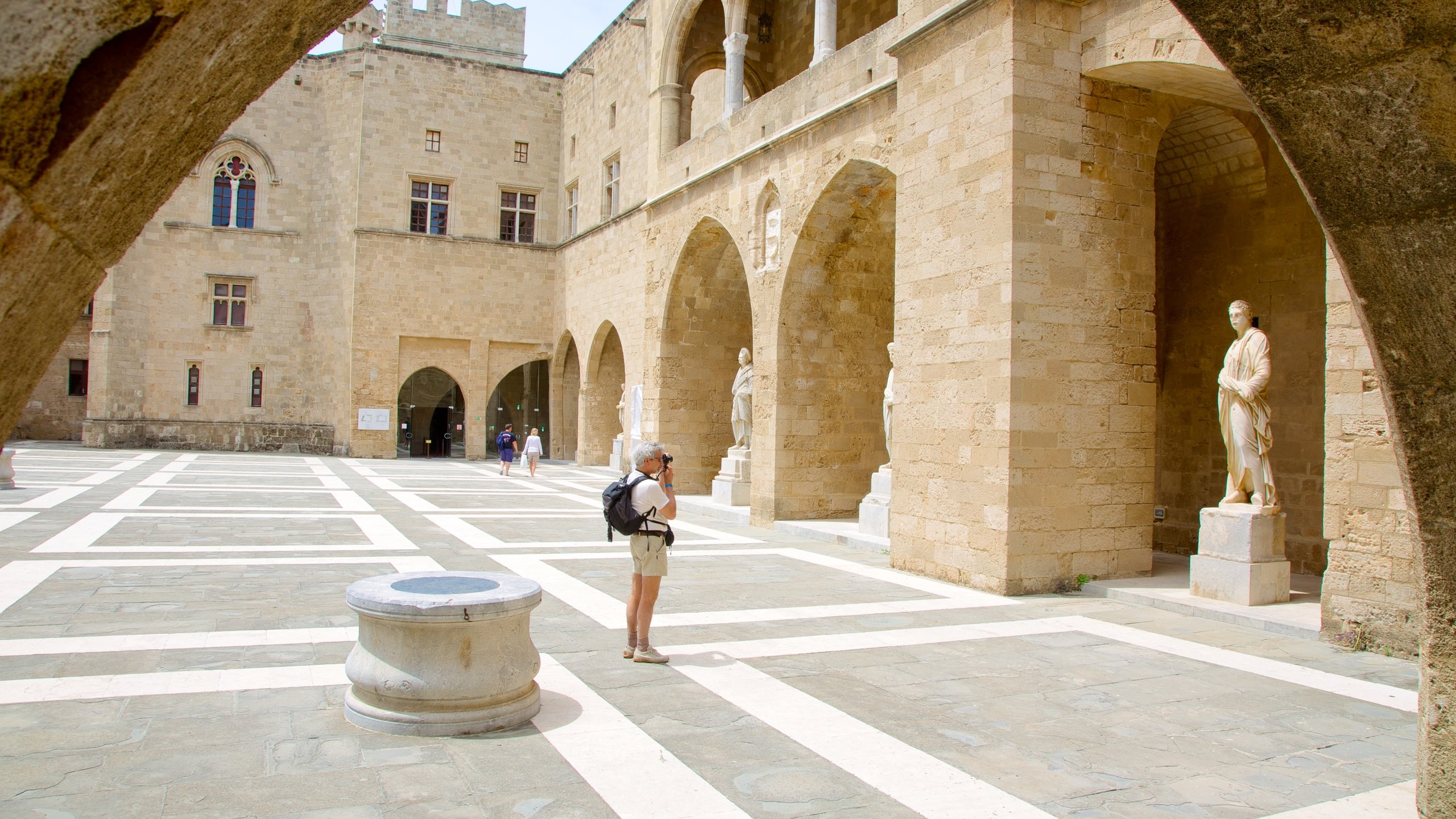 The Palace of the Grand Master is a must-visit historical site for couples exploring Rhodes. Located in the heart of Rhodes Old Town, this impressive castle was built in the 14th century by the Knights of St. John. The palace is a magnificent example of medieval architecture and has been meticulously restored to showcase its original splendour.
Inside the palace, couples can admire stunning frescoes, intricate floor mosaics, and exquisite sculptures. As you wander through the grandiose rooms and charming courtyards, you'll be transported to a different era, making it an unforgettable romantic experience.
Acropolis of Lindos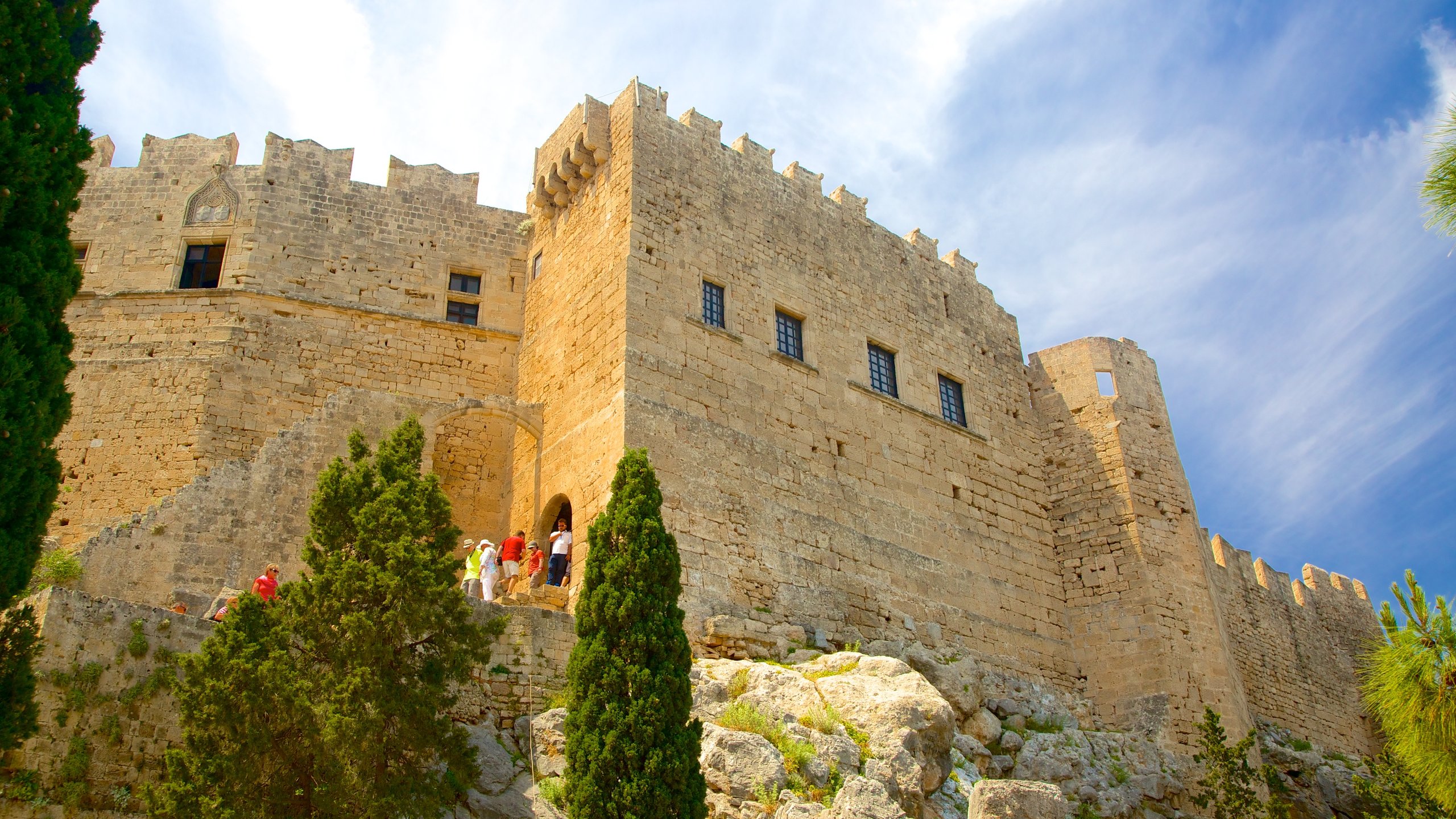 Nestled on a hilltop overlooking the picturesque village of Lindos, the Acropolis of Lindos is another captivating site for history-loving couples. This ancient archaeological site dates back to the 4th century BC and offers a diverse array of monuments to explore, including a temple dedicated to Athena Lindia, a Hellenistic stoa, and the remains of a Roman temple.
As you climb the steep path to reach the acropolis, you will be rewarded with panoramic views of the village, coastline, and sparkling sea below. That, along with the beauty of the historical ruins, makes the Acropolis of Lindos an idyllic destination for a romantic adventure.
Beaches
Tsambika Beach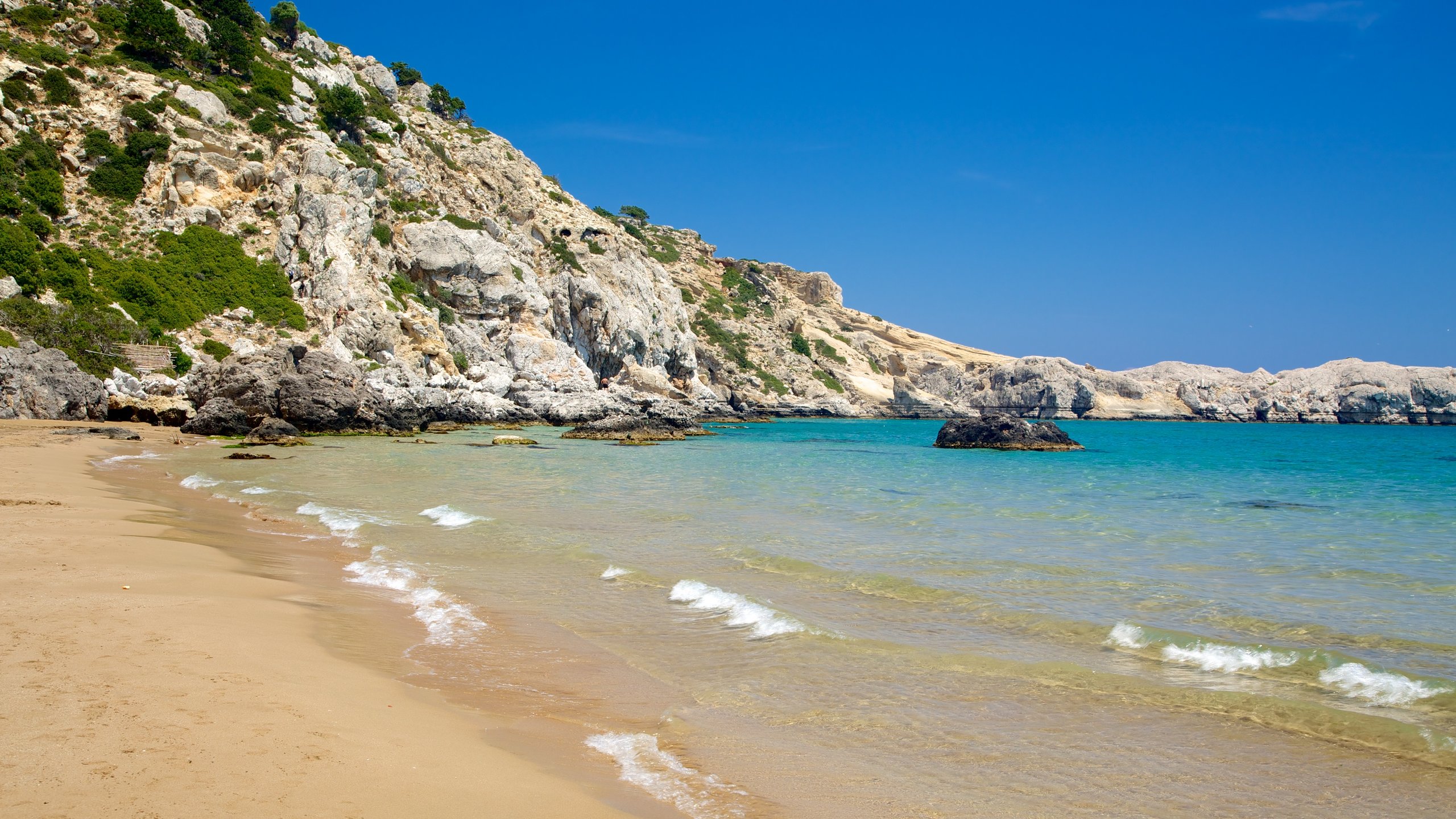 Tsambika Beach is a stunning stretch of golden sand on the eastern coast of Rhodes. It is an ideal spot for couples to relax and enjoy the clear blue waters and warm sunshine. There are sunbeds and umbrellas available for rent, making it easy to spend an entire day at the beach. Couples can take leisurely strolls along the shore, hand in hand, or take advantage of the various water sports on offer such as:
Jet skiing
Parasailing
Beach volleyball
For a more peaceful experience, head to the northern end of Tsambika Beach, which tends to be quieter and offers a perfect spot to watch the sunrise.
Anthony Quinn Bay
Anthony Quinn Bay, nestled on the eastern side of Rhodes, is named after the famous actor who fell in love with this picturesque location during the filming of 'The Guns of Navarone'. This small yet enchanting bay is characterised by its crystal-clear waters, vibrant sea life and unique rock formations.
Couples can spend their time at Anthony Quinn Bay exploring the wonders of the underwater world by snorkelling or diving around the area. There are also several boats available for rent, providing a romantic opportunity to sail around the bay and discover secluded spots for a private swim or picnic. The serene atmosphere, coupled with the surrounding natural beauty, makes Anthony Quinn Bay an excellent choice for a romantic beach escapade.
So, whether it's lounging on the soft sands of Tsambika Beach or exploring the captivating Anthony Quinn Bay, Rhodes offers couples the perfect blend of relaxation and adventure to create long-lasting memories together.
Outdoor Activities
Valley of the Butterflies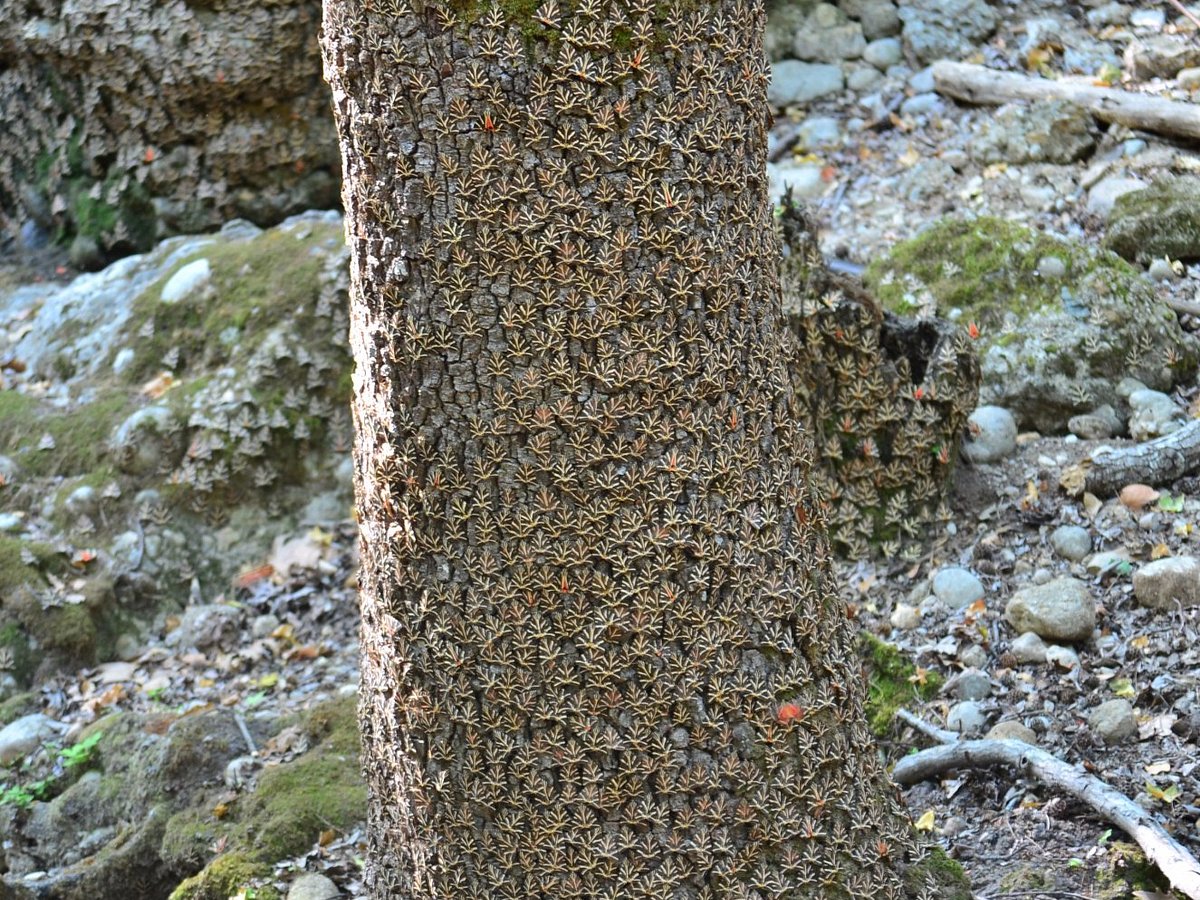 The Valley of the Butterflies is a top destination for couples seeking a unique and tranquil outdoor experience. This natural reserve is home to thousands of colourful butterflies, creating an enchanting atmosphere. Stroll along the well-maintained pathways, crossing wooden bridges over the gently flowing streams, while observing the butterflies up close. The serene environment makes this experience especially intimate and memorable for couples visiting Rhodes.
Epta Piges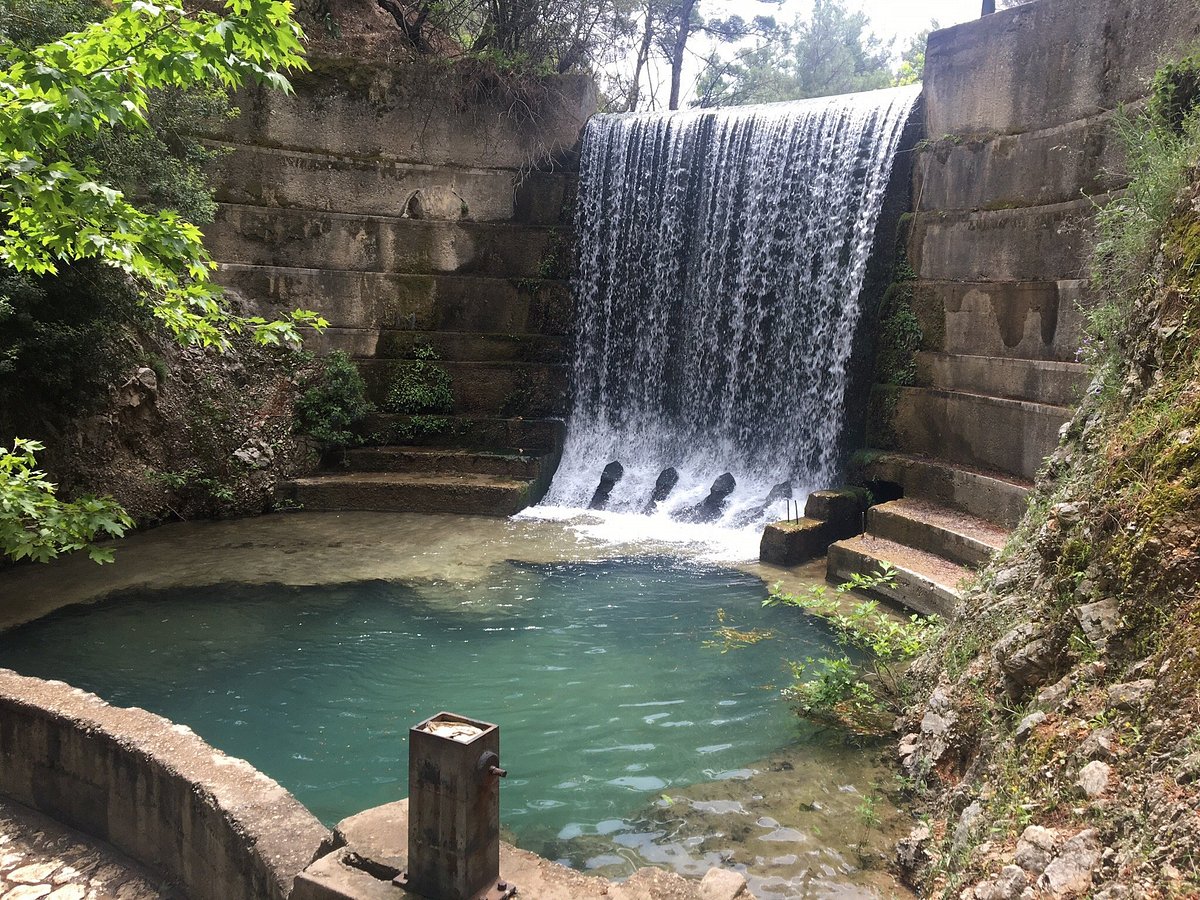 Epta Piges, also known as the Seven Springs, is another must-visit outdoor destination for couples, offering a picturesque and refreshing escape from the busy island life. The springs create a lush oasis, where couples can take a leisurely walk along shady trails, enjoy a picnic by the water, or even take a cooling swim in the crystal-clear spring waters. The experience is all the more special when accessed through a narrow tunnel that leads to the heart of the springs, creating an adventurous yet romantic outing for couples exploring Rhodes.
Romantic Dining
Culinary Experiences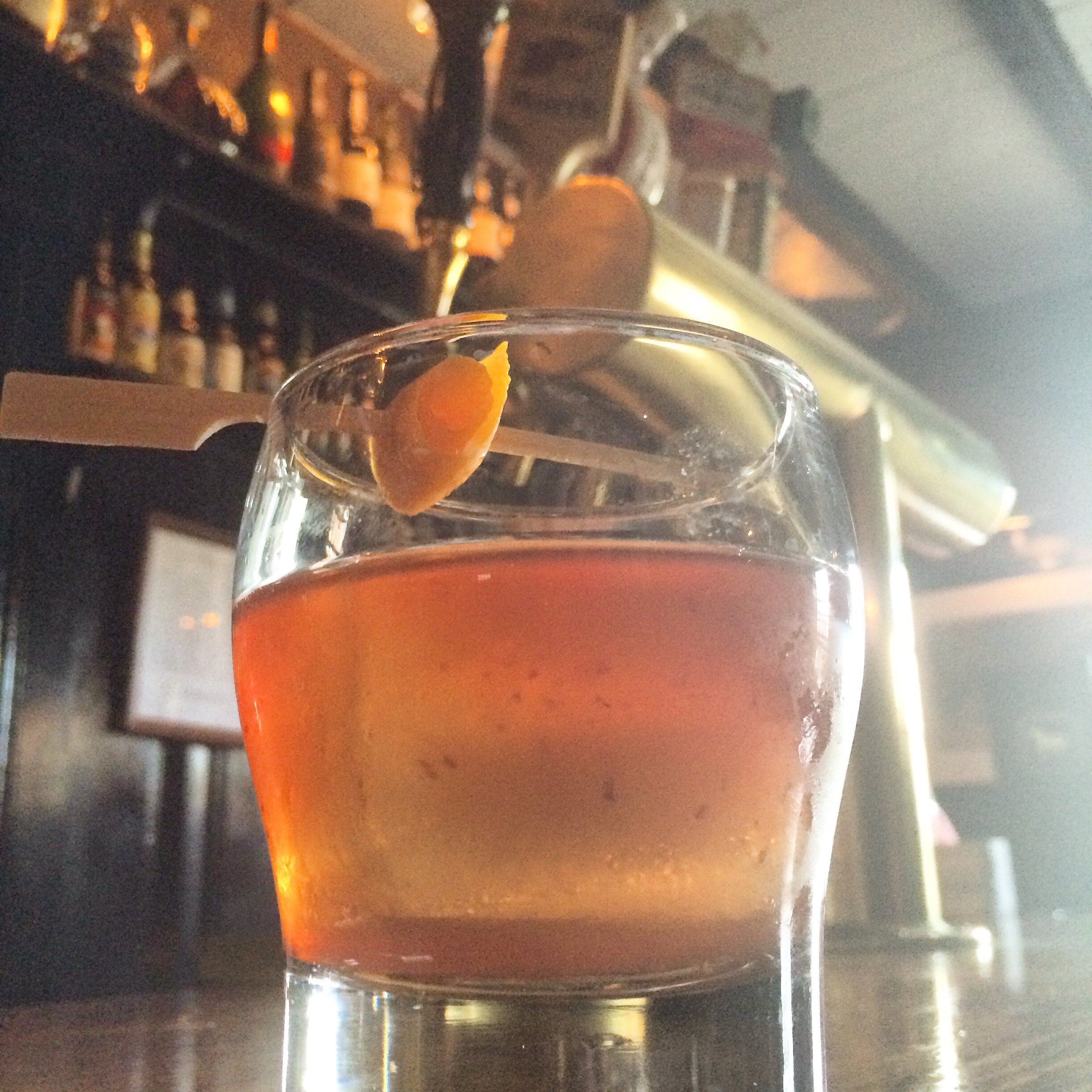 Rhodes offers a variety of unique and romantic culinary experiences for couples. From fine dining establishments to cosy taverns, the island is sure to satisfy your taste buds. One of the most romantic restaurants in the area is the White Horse Tavern in Newport. The oldest tavern in continuous operation in the country, this fantastic restaurant offers a one-of-a-kind dining experience, with a history that stretches back centuries.
Another option for a romantic culinary experience is exploring the many local Greek eateries throughout Rhodes. These establishments serve traditional Greek dishes, often made from locally sourced ingredients, with charming atmosphere to match. Don't forget to try some Rhodes specialities, such as mezzes (small sharing plates), mouth-watering seafood, and refreshing local wines.
Beachfront Restaurants
Rhodes boasts an abundance of sun-drenched beaches, with many restaurants perched along the shoreline. Dining at a beachfront restaurant provides an unparalleled view of the azure sea, making for an unforgettable romantic night out. Couples can enjoy candlelit dinners by the water, the sound of waves gently lapping against the shore, accompanied by a stunning sunset.
For those seeking a more active yet romantic beachfront dining experience, consider going on a boat tour. Many of these tours offer on-board dining options, allowing couples to enjoy fine dining while cruising the crystal-clear waters surrounding Rhodes.
Remember, when selecting a romantic dining location, consider factors such as atmosphere, view, and menu choices that cater to both individuals' preferences. Rhodes is brimming with delightful options for couples to relish in its gastronomic delights, making your time together memorable and enjoyable.
Relaxing Treatments
Couples Spa Experiences
Rhodes offers a variety of luxurious spa experiences for couples seeking relaxation and rejuvenation. One of the top options is Lindos Blu Resort & Spa, located on the east coast of the island. This luxury resort has a spa centre with massage treatments and two stunning pools, perfect for unwinding together in a tranquil atmosphere.
Another highly recommended spa centre is found at South Aegean Dodecanese Rhodes. This wellness centre offers a range of treatments such as massages, facials, and aromatherapy sessions. Couples can indulge in the soothing therapies while enjoying the beautiful surroundings of Rhodes.
Private Yoga Sessions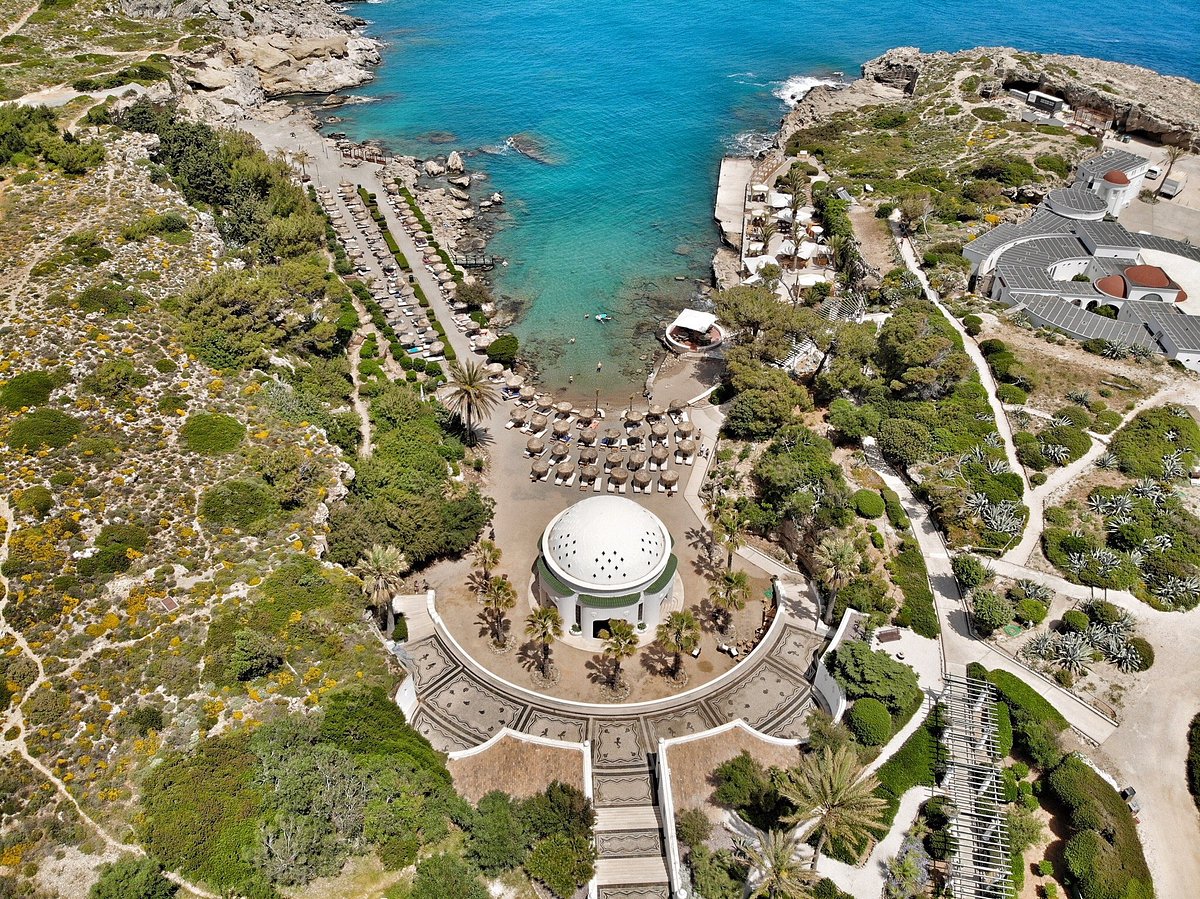 For those who prefer a more active approach to relaxation, private yoga sessions are a great option. Many resorts and yoga centres around Rhodes offer couple-specific classes tailored to various skill levels. Practising yoga together can help improve flexibility, reduce stress, and strengthen the bond between partners.
For instance, Kalithea Springs is not only a stunning site with historic significance, but also a popular spot for yoga enthusiasts. The serene atmosphere and mesmerising views make it an ideal location for a revitalising yoga session with your loved one.
In summary, Rhodes provides plenty of opportunities for couples to relax and rejuvenate, either through luxurious spa treatments or private yoga sessions set amidst breathtaking scenery.
Cultural Experiences
Rhodes Old Town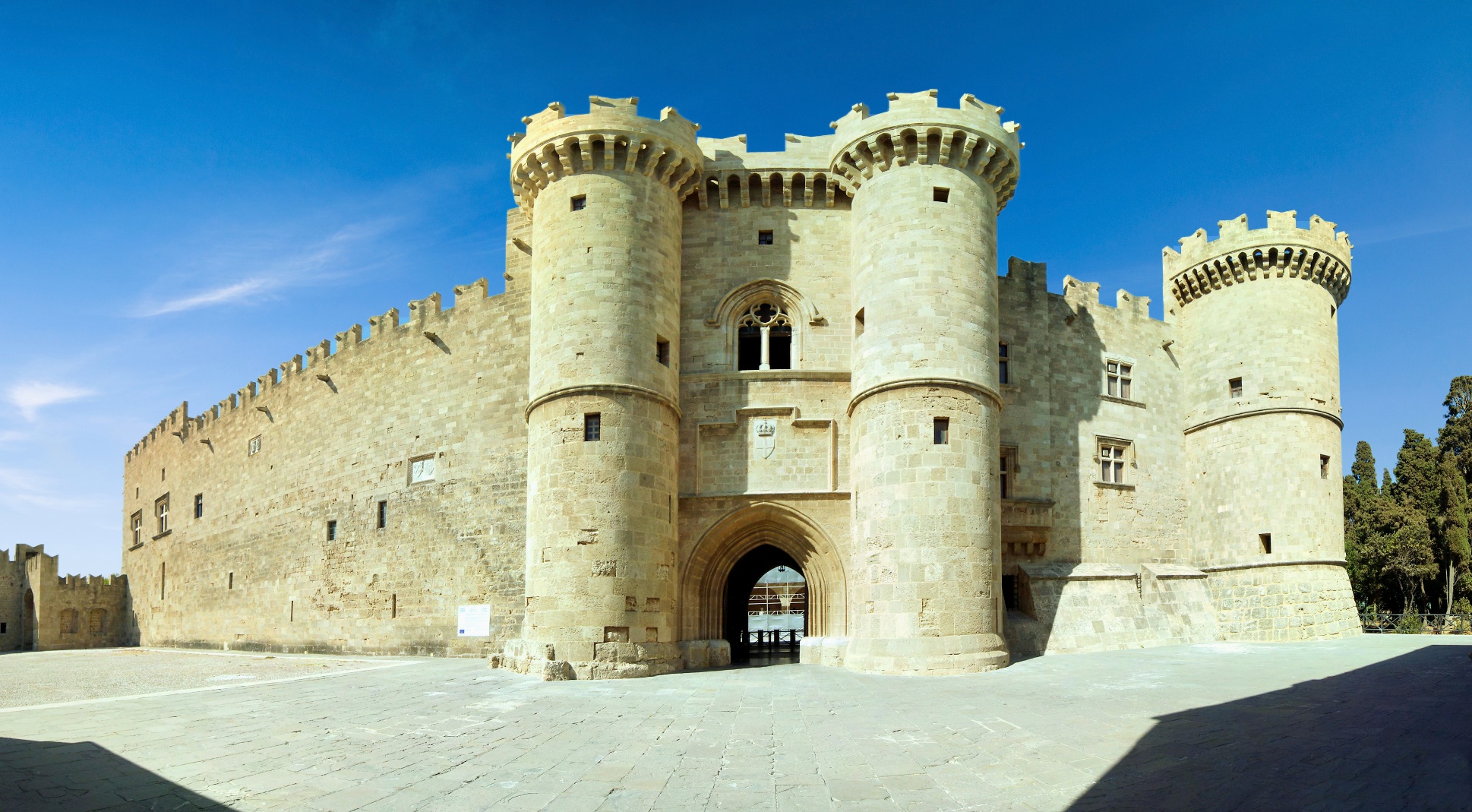 Rhodes Old Town, a UNESCO World Heritage site, offers couples a unique, historically-rich experience. The charming cobblestone streets lined with ancient buildings transport visitors to a different era. Stroll hand in hand as you explore the medieval architecture, such as the Palace of the Grand Master and the Archaeological Museum. Relish the vibrant atmosphere of the Old Town, which overflows with cosy cafés, traditional restaurants, and charming shops to peruse.
Traditional Village Tour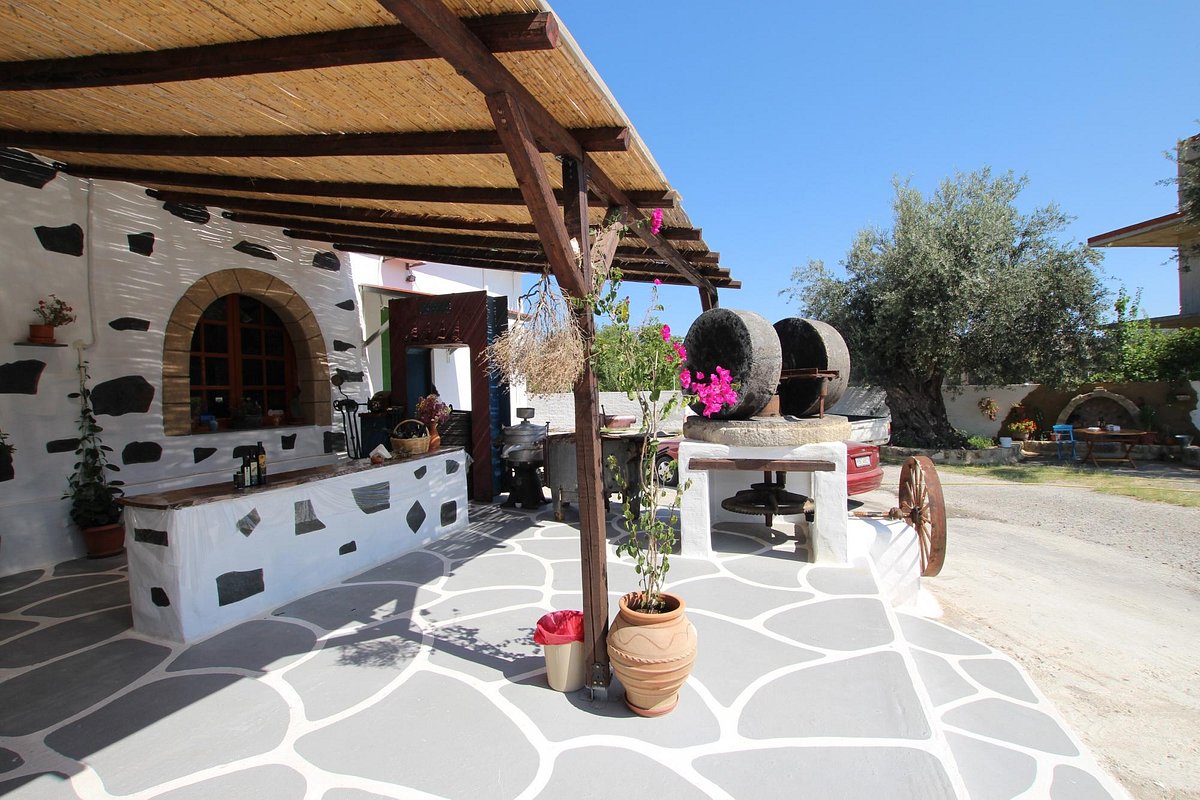 A Traditional Village Tour is an excellent opportunity for couples to delve into the authentic essence of Rhodes. Visiting picturesque villages like Lindos and Archangelos allows you to get a taste of Greek culture and admire traditional white houses and stunning coastal views. In addition, explore the ancient Acropolis of Lindos and witness the heartwarming Greek hospitality that can be experienced in local eateries and artisan boutiques.
Eleni Vasiliadis, a native of the picturesque island of Corfu and co-founder of Greek Island, is a seasoned traveller, accomplished writer, and passionate advocate for Greek culture and cuisine.