Rhodes, one of the largest and most popular Greek islands, boasts a lovely Mediterranean climate that attracts countless tourists throughout the year. However, one of the most favourable months to visit this idyllic island is July, when days are filled with warm sunshine, clear skies, and pleasantly balmy nights. The beautiful island is well-known for its historical sites, stunning beaches, and vibrant nightlife, all of which can be thoroughly enjoyed with the perfect weather conditions that July typically offers.
During the month of July, Rhodes experiences average high temperatures of 28.3°C, making it a favourite destination for beach lovers who long to soak up the sun and indulge in various water activities. Rain is rare at this time, allowing holidaymakers to make the most of their visit with an almost guaranteed 12 hours of sunshine daily. The island's sea temperature is around 23°C, which is ideal for swimming, snorkelling, and other water-based activities.
Average Weather Conditions in July
Temperature Ranges
During the month of July in Rhodes, Greece, the average daytime temperature is around 27°C, with highs of around 31°C and lows around 20°C. The average high-temperature slightly increases from 25.3°C (77.5°F) in June to a moderately hot 28.3°C (82.9°F) in July. In some areas like Sálakos, the maximum temperature can reach an average of 35°C (94°F) 1.
Humidity Levels
The average humidity level in July is about 62%. Since it's a relatively dry and warm month, it is essential to stay hydrated and protect yourself from excessive sun exposure.
Rainfall
July is considered a very dry month in Rhodes, with an average rainfall of around 0mm (0 inches) in Rhodes Town. There is very little chance of experiencing any significant rainfall during this month 2.
Sunshine Hours
Rhodes enjoys long days and plenty of sunshine during the month of July, with an average of 13 hours of sunshine per day 3. This provides abundant opportunities for sightseeing, sunbathing, and taking part in outdoor activities on the island.
Best Activities to Enjoy in July
Beach Excursions
July is the perfect month to explore the beautiful beaches of Rhodes Island. The weather is generally hot and sunny, with average temperatures ranging from 24°C to 30°C, making it comfortable for beach excursions. One popular beach is the iconic Faliraki Beach where you can relax and soak up the Mediterranean sun. Moreover, there are numerous beach bars and cafes lining the coast to satisfy your hunger and thirst after a relaxing day on the sands.
Outdoor Sightseeing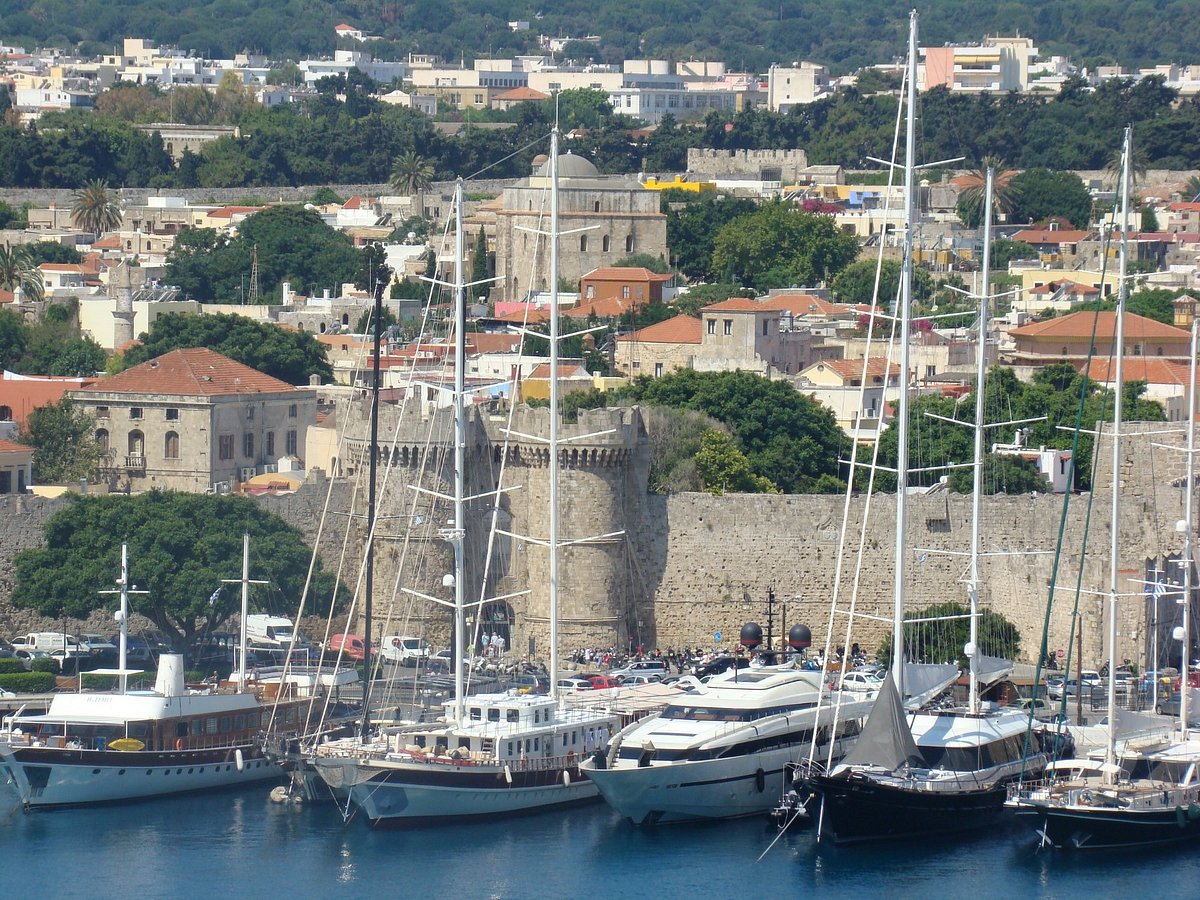 Rhodes Island offers a variety of outdoor sightseeing opportunities. In July, with its clear skies and an average of 13 hours of sunlight per day, you can explore the Island's rich history. Some must-visit places include the Medieval Town of Rhodes and the ancient archaeological site of Lindos. Ensure you wear comfortable shoes for walking around and take plenty of water to stay hydrated during your sightseeing adventures.
Water Sports
The warm July weather provides ideal conditions for water sports enthusiasts. With an average sea temperature of around 24°C, it is perfect for swimming, snorkelling, and scuba diving. There are several water sports centres in Rhodes, offering activities such as windsurfing, jet-skiing, and banana boat rides. You can easily find these centres at popular beaches like Faliraki and Kalithea where you can get expert guidance and rent equipment, making it suitable for both beginners and experienced adventurers.
Remember to always prioritise your safety while participating in water sports, by following the guidelines provided by the experts, and wearing appropriate protective gear.
Packing Tips and Essentials
When travelling to Rhodes in July, it's essential to be prepared for the hot and sunny weather. In this section, we'll discuss some essential items to pack and tips to keep in mind while preparing for your trip.
Clothing
July is one of the hottest months in Rhodes, with average temperatures around 27°C. It is crucial to pack light, breathable, and comfortable clothes. Consider packing the following:
Lightweight, loose-fitting clothes
Shorts and skirts
Sleeveless tops and t-shirts
Thin cotton or linen trousers (for nights out)
Comfortable walking shoes, such as sandals or flip-flops
Swimwear (for beach days)
A light jacket or cardigan (for cooler evenings)
Sun Protection
Sun protection is essential in Rhodes during July, as there is often very little cloud cover. To prevent sunburn and harmful UV exposure, be sure to pack these essentials:
Sunscreen with a high SPF (30 or higher)
A wide-brimmed hat or cap
Sunglasses with UV protection
A light shawl or cover-up (for when you're not swimming)
Other Items
Apart from clothing and sun protection, you'll also want to pack some additional items to enhance your holiday experience in Rhodes. Some useful items to consider are:
A reusable water bottle (to stay hydrated in the heat)
Travel-sized toiletries and a small first-aid kit
An electrical adapter (for charging devices, as Greece uses a different plug type)
A small, lightweight backpack (for day trips and excursions)
A beach bag and a lightweight towel (for beach days)
By planning ahead and packing these essentials, your trip to Rhodes in July will be more enjoyable and comfortable. Remember to pack light, yet smart, and prioritise sun protection during your stay. Safe travels!
Eleni Vasiliadis, a native of the picturesque island of Corfu and co-founder of Greek Island, is a seasoned traveller, accomplished writer, and passionate advocate for Greek culture and cuisine.