Rhodes, a picturesque island in Greece, offers a unique blend of ancient history, stunning landscapes, and vibrant culture. The weather in March is gradually transitioning from the mild winter months, making it an ideal time for tourists who prefer a cooler and quieter experience. With nature in full bloom and a more relaxed atmosphere, visitors to Rhodes in March can explore the island without the bustling crowds of the summer season.
During March, the average daily temperature in Rhodes is 13°C, with daytime highs reaching 17°C and minimum average temperatures of around 10°C. Although the weather can be somewhat unpredictable, Rhodes still offers a mild and pleasant climate compared to other European destinations at this time of year.
While the temperatures are lower compared to the hot summer months, there is an abundance of sunshine with a 65% chance of sun throughout the month. It is advisable for travellers to pack some warmer clothes for the cooler evenings and always carry sun protection during the day. The tranquil beauty of the island and its mild weather make Rhodes a charming destination for a March getaway.
Average Weather Conditions
Temperature
March, in Rhodes, Greece, can still be a little cool and wet. The average daily temperature in March is 13°C, reaching highs of 17°C and dropping to a minimum average temperature of 10°C source. Daily high temperatures increase by 5°F, from 60°F to 65°F, rarely falling below 53°F or exceeding 70°F. Daily low temperatures increase by 4°F, from 51°F to 55°F, rarely falling below 45°F or exceeding 59°F source.
Rainfall
In terms of rainfall, March usually has moderate monthly rainfall, with most precipitation accumulating during a few days of the month. It is recommended to pack an umbrella and light rain-resistant clothing for occasional showers during your stay source.
Wind
The wind during March in Rhodes is generally light to moderate. There may be occasional gusts, but overall, the weather remains quite tolerable for sightseeing or leisure activities on the island. However, it is essential to keep an eye on weather forecasts and dress appropriately for the day source.
Activities and Events
Rhodes, Greece, has moderate weather in March, making it a great destination for various activities and events. This section covers indoor attractions, outdoor activities, and festivals and celebrations you can enjoy during your visit.
Indoor Attractions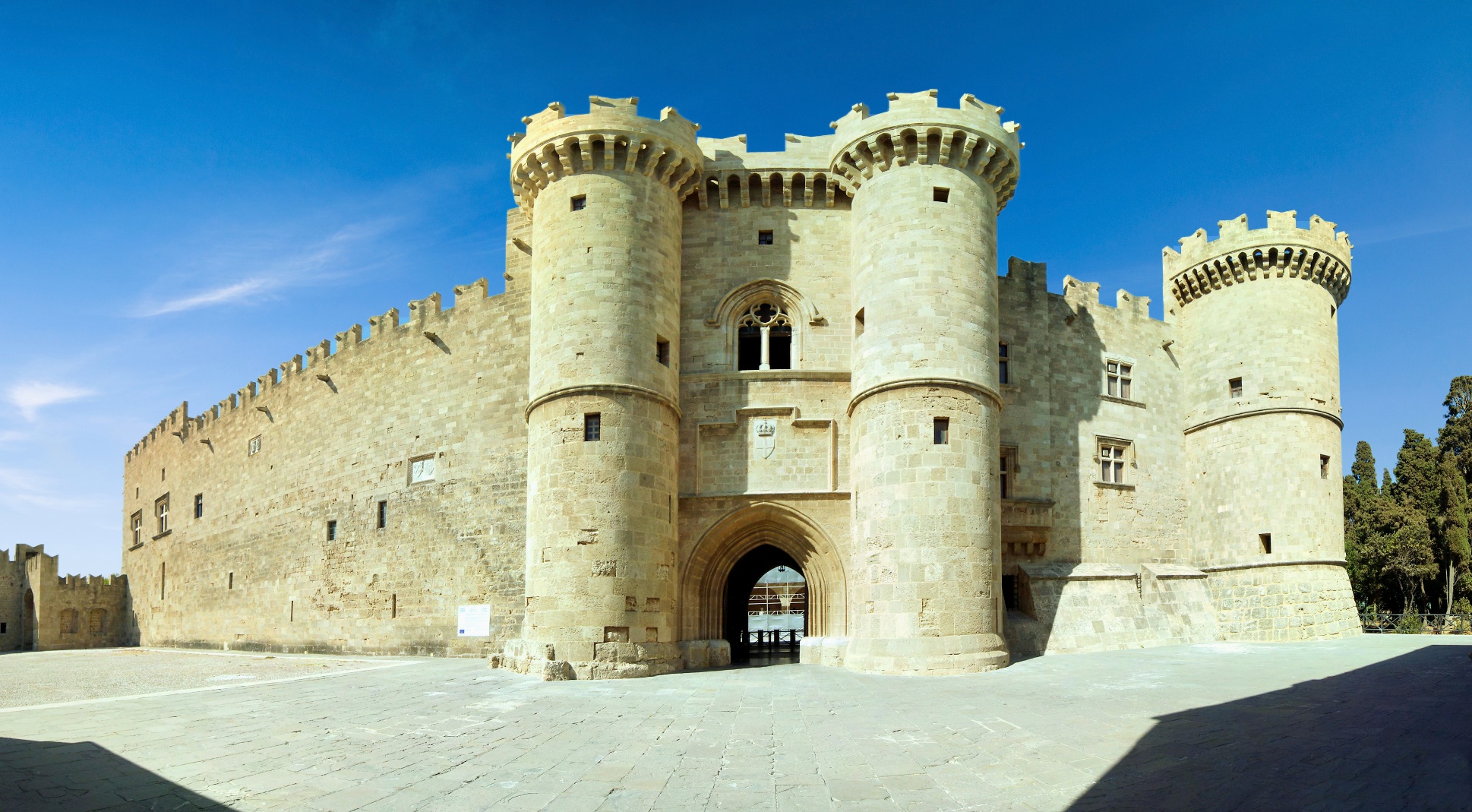 Despite the average temperature of 14°C in March, there are plenty of indoor attractions to explore. Consider visiting the Palace of the Grand Masters, a historical landmark in Rhodes Town. Its impressive architecture and rich history will surely captivate you. A visit to the Archaeological Museum is another excellent option, allowing you to learn more about the island's ancient history.
Outdoor Activities
While the temperature might not be optimal for sunbathing, there are still numerous outdoor activities available. With 7 hours of sunshine each day, you can partake in a cycling or walking tour. These activities are rated 6 out of 10 in suitability during March, making them viable options for enjoying the beautiful scenery of the island.
Festivals and Celebrations
Rhodes, Greece, has several events that take place during the spring season, particularly from April onwards. Although there might not be specific festivals in March, you can look forward to the annual parade of flowery floats in Madraki on the last Sunday of May. Additionally, the sound and light show at the Castle starts from April and lasts until October, offering a unique experience you can plan for on your trip.
What to Pack
Weather in Rhodes in March can be quite variable, with temperatures averaging around 15°C and a mix of sunny and rainy days. To help make your visit enjoyable, here's what to pack for your trip to Rhodes in March, under the categories of Clothing and Essential Gear.
Clothing
Layers: Since the weather can change rapidly during this time, it's essential to pack layers. Bring light, breathable clothing for the day time, and warmer layers for the evenings. Consider packing a few t-shirts and tank tops, along with a light sweater or two.
Long-Sleeved Tops: Pack a couple of casual long-sleeve button-ups for those cooler days. You might also pack a semi-nice blouse if you plan to go for a nice dinner or a night out.
Trousers and Shorts: With daytime temperatures reaching up to 15°C, add a mix of both trousers and shorts to your bag. Ensure your trousers are lightweight and comfortable, allowing for added flexibility while exploring Rhodes.
Jacket or Coat: Since the temperature can drop at night, pack a light jacket or coat to stay warm when venturing out after dark.
Footwear: Comfortable walking shoes are a must for sightseeing in Rhodes. It's also a good idea to bring a pair of waterproof shoes, since it may rain occasionally in March.
Essential Gear
Umbrella and Rain Jacket: Prepare for unpredictable weather by taking an umbrella and a rain jacket with you. You never know when a quick rain shower might make an appearance, and it's always best to be prepared.
Sun Protection: Even though it may not be extremely hot, it's still crucial to protect your skin from the sun. Bring sunglasses, a hat, and sunscreen to protect yourself from harmful UV rays during your vacation.
Travel Adapter: Greece uses a different type of plug than many other countries. Ensure you bring the right travel adapter to charge your electronic devices while on your trip.
Reusable Water Bottle: Staying hydrated is vital, so bring a reusable water bottle to fill up at drinking stations and reduce plastic waste.
By packing these essential items in your suitcase, you can ensure a smooth and enjoyable trip to Rhodes in March.
Eleni Vasiliadis, a native of the picturesque island of Corfu and co-founder of Greek Island, is a seasoned traveller, accomplished writer, and passionate advocate for Greek culture and cuisine.