Santorini, the world-famous Greek island, is known for its breathtaking sunsets, unique architecture, and mesmerising landscapes. While it might be synonymous with romance and luxury, it is also a superb destination for families looking to enjoy a memorable holiday filled with beautiful sights and fun activities. However, choosing the perfect area to stay in Santorini with your family might seem daunting, particularly with the island's diverse towns and villages, each offering different experiences.
For families, the priority is often finding accommodation that allows easy access to facilities, such as beaches, restaurants, and attractions catered towards kids. Resorts and hotels nestled near the coastal areas of Santorini often make for the best choice, as they offer something for every family member to enjoy. In particular, Kamari, Perivolos, and Perissa are desirable areas with their family-friendly establishments and proximity to the beach.
Beyond the stunning coastline, Santorini offers an array of activities and attractions to keep the whole family entertained. From exploring the island's rich history to indulging in delicious local cuisine, Santorini is an excellent destination for your next family vacation. The following paragraphs shed light on what makes these areas stand out, making your decision to choose the best spot for your family's stay a little easier.
Best Family-Friendly Resorts in Santorini
Santorini, a beautiful Greek island, is undoubtedly a great destination for families. The island offers a range of family-friendly resorts catering to different budgets and preferences. In this section, we'll explore some of the best luxury, mid-range, and budget resorts for families visiting Santorini.
Luxury Resorts
Andronis Concept Wellness Resort: This one-stop family resort stands out for its spacious rooms, multiple pools, yoga, spa programmes for kids, and a tennis court. It is perfect for families seeking a higher standard of service and wellness-oriented activities.
Santorini Princess: A top-notch resort with well-furnished rooms and concierge service, Santorini Princess is another excellent option for families looking for a luxurious stay on the island.
Mid-Range Resorts
Kamari Beach Hotel: Located in Kamari, this hotel is perfect for families wanting to stay close to the beach. With its vast swimming pool and lovely cafes nearby, this hotel offers excellent value for money.
Lilium Santorini Villa: Situated in Fira, this hotel offers a stunning view of the caldera. With spacious rooms, terraces, and a swimming pool, Lilium Santorini Villa is ideal for families who enjoy a mix of beach life and exploring the local attractions.
Budget Resorts
Kalimera Hotel, in Akrotiri, is a budget-friendly choice for families who want to be close to the Red Beach and the prehistoric Akrotiri settlement. The hotel is perfect for a budget-conscious family visit with its relaxed atmosphere, clean rooms, and swimming pool.
Marillia Village: Located in Perissa, this resort is near the famous black sand beach and offers spacious family rooms, a swimming pool, and a play area for children. This budget-friendly option is perfect for families who prioritize a relaxing beach stay without compromising on service and amenities.
By choosing the right resort based on your budget and preferences, your family can enjoy a memorable stay in Santorini, creating cherished memories in this stunning island paradise.
Choosing the Right Area to Stay
When planning a family holiday to Santorini, it's important to consider which area will best suit your family's needs. In this section, we will discuss four popular areas for families to stay during their visit to Santorini: Oia, Fira, Perissa, and Kamari.
Oia
Oia is renowned for its stunning sunsets and luxurious accommodations. This picturesque village features traditional white-washed buildings, narrow streets, and beautiful views of the caldera. Oia might be a good choice for families looking for a more upscale and relaxing experience. However, keep in mind that the village can become quite crowded with tourists during sunset hours, which may not be ideal for families with younger children.
Upscale accommodations
Stunning sunsets
Beautiful caldera views
Fira
Fira is the largest village on Santorini and serves as the island's transportation hub. It is located just 4 miles from Santorini International Airport and close to the island's ports. Fira has a more lively atmosphere than Oia and offers plenty of shopping opportunities and nightlife options. This might be a better option for families seeking a more lively and central location, with easy access to transportation for exploring the island.
Lively atmosphere
Central location
Good transportation connections
Perissa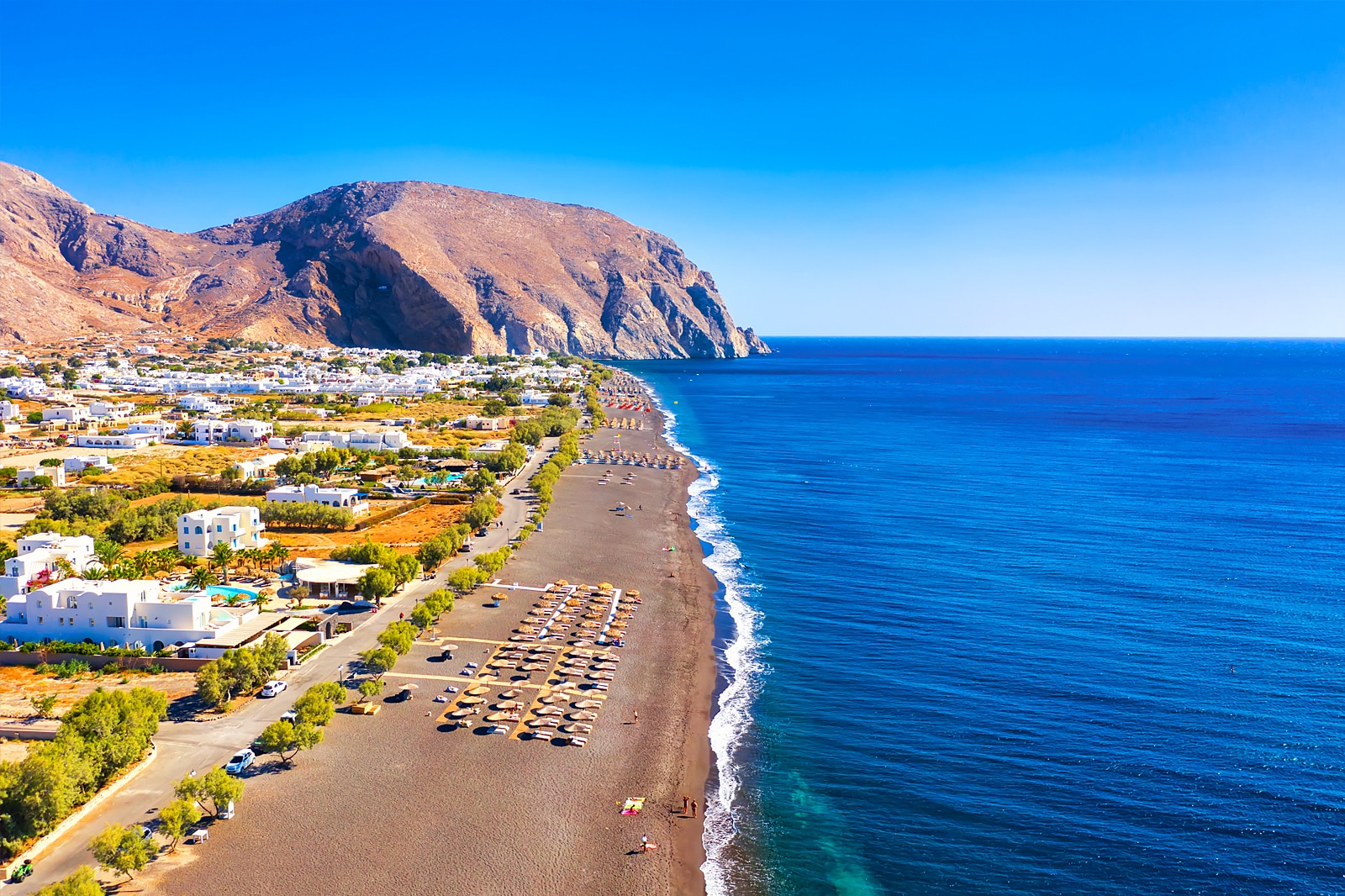 Perissa is a popular beach village known for its black sand beaches and great facilities for families. The Youth Hostel Anna in Perissa is a budget-friendly accommodation option, making it a good choice for families on a tighter budget. The village offers a quieter and more relaxed atmosphere compared to Fira, as well as several family-friendly restaurants and bars.
Black sand beaches
Family-friendly facilities
Budget-friendly accommodations
Kamari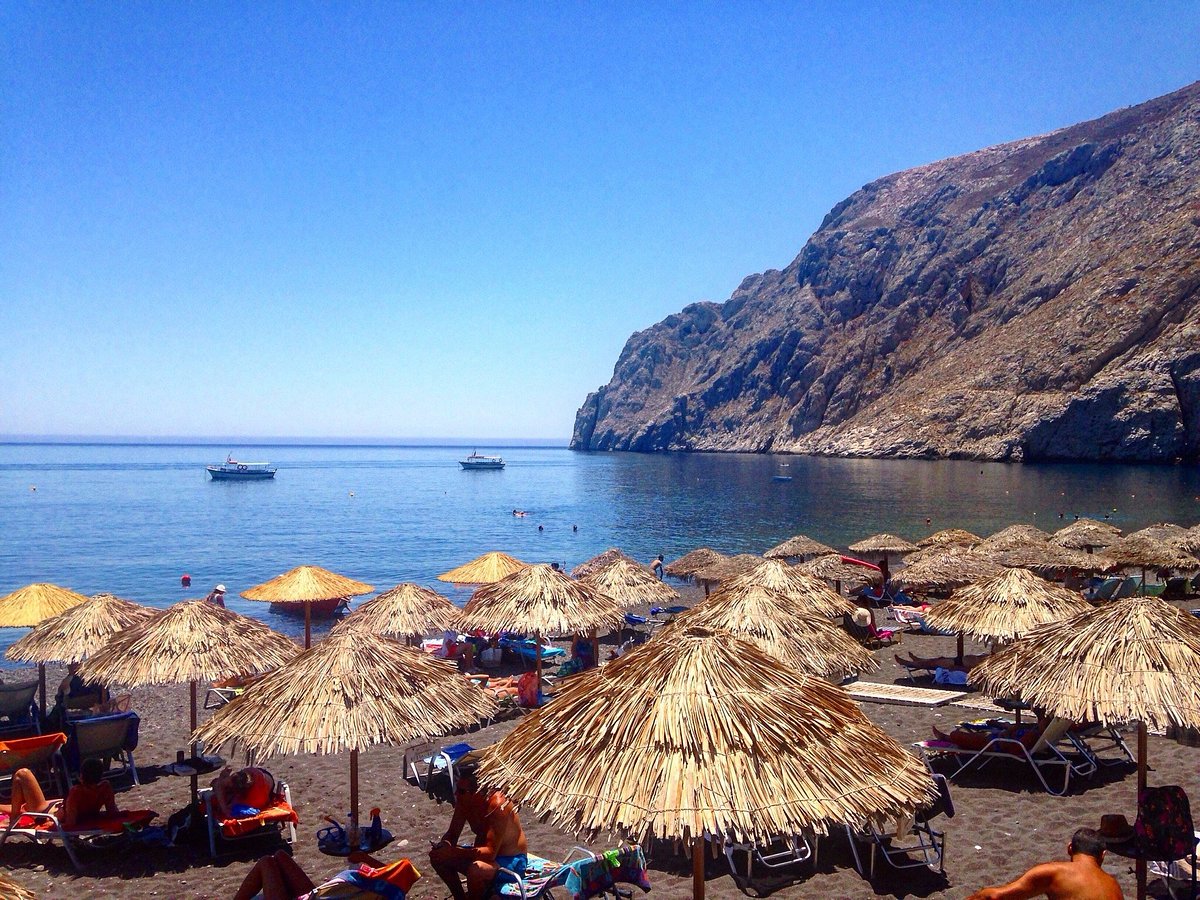 Kamari is another popular beach village, with a lively beachfront promenade lined with restaurants, bars, and shops. The village offers a good selection of family-friendly accommodations, as well as a variety of water sports and activities for all ages. Kamari might be a suitable choice for families who want to combine a beach holiday with a taste of Santorini's vibrant local culture.
Lively beachfront promenade
Good selection of family-friendly accommodations
Variety of water sports and activities available
Family-Friendly Activities and Attractions
Beaches
Santorini offers numerous charming beaches for relaxation and adventure with your family. Some of the best family-friendly beaches are:
Kamari Beach: Known for its black sand and clear waters, Kamari Beach is also famous for its excellent leisure and dining facilities.
Perivolos Beach: This beach is ideal for families with its spacious coastline and a wide variety of water sports such as jet-skiing and snorkelling.
Perissa Beach: With calm waters and a well-developed infrastructure of restaurants and playgrounds, Perissa Beach is perfect for your little ones.
Archaeological Sites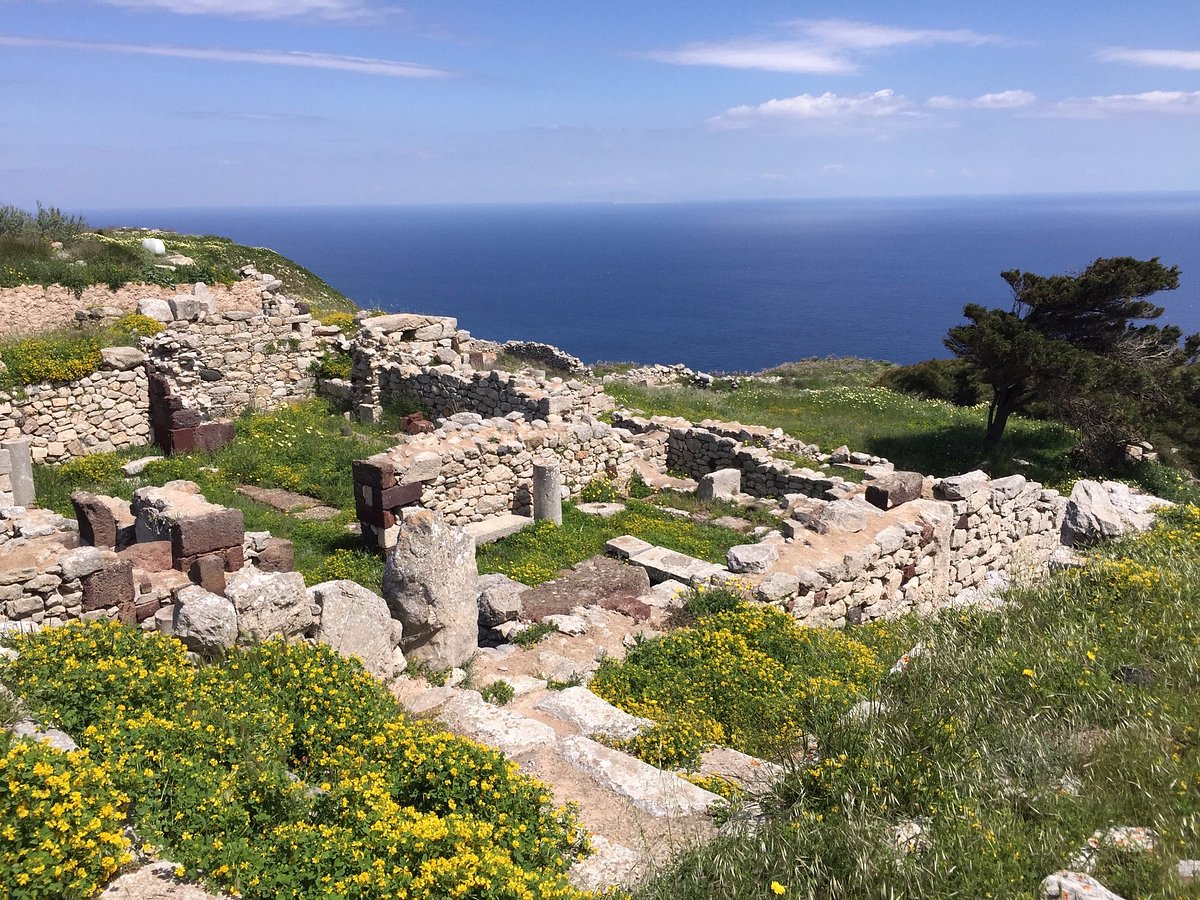 Apart from the sandy shores, Santorini has some notable archaeological sites that can make your family vacation more educational and fun:
Ancient Thera: This ancient city offers stunning views and an opportunity for the whole family to walk through history.
Akrotiri: The prehistoric site of Akrotiri allows you to explore the remnants of a remarkable ancient civilisation that was buried under volcanic ash thousands of years ago.
Outdoor Adventures
For families looking for an adventure in nature, Santorini boasts beautiful landscapes and various activities to explore. Some of the best activities include:
Boat Tours: Sail around the caldera and swim in the volcanic hot springs for a fun-filled day with your loved ones.
Village Exploration: Let your kids discover hidden paths and winding alleys in picturesque villages such as Oia and Fira.
Hiking: If your family enjoys walking and trekking, take a hike along the scenic route that connects Fira and Oia. This allows you to appreciate the island's stunning vistas and natural beauty.
Practical Tips for Families Traveling to Santorini
Getting Around
Families travelling to Santorini will find it convenient to explore the island by bus. The biggest village and transportation hub, Fira, is just 4 miles from the Santorini International Airport and near the ports in Santorini. From Fira, you can easily travel to other parts of the island. Additionally, renting a car might be a practical option for families who want more flexibility while travelling around the island.
Safety Tips
Santorini is a relatively safe and family-friendly destination. However, here are a few safety precautions to keep in mind while travelling with your children:
Keep children close to you while exploring the cliffside villages, such as Oia or Imerovigli, as the paths and steps can be steep and uneven.
Be cautious while swimming at the beaches, as the currents can be strong, and supervise your children at all times.
When walking along the beachfront promenades in Kamari and Perissa during peak hours, be mindful of your belongings and ensure your children are safe in the crowd.
Keep a lookout for any unfriendly stray animals.
Packing Essentials
To ensure a comfortable and hassle-free family stay in Santorini, here are some essentials to pack:
Sun protection: Sunscreen with high SPF, hats, sunglasses, and lightweight clothing for hot temperatures and sunny days.
Swimwear and beach gear: Swimsuits, water shoes, rash guards for kids, beach towels, and a portable beach umbrella, especially for visits to the east coast beaches with black sand.
Comfortable shoes: To easily walk and explore the island's cobblestone streets and steep paths.
Water bottles: To stay hydrated throughout the day.
Travel adaptors: To charge your devices as UK and Greek electrical outlets are slightly different.
First-aid kit: Include items like plasters, antiseptic wipes, and any necessary medications for the family.
Child carrier or lightweight stroller: To make it easier to move around the island with small children.
Frequently Asked Questions
Family-friendly resorts?
There are several family-friendly resorts in Santorini that cater to the needs of families and children. These resorts often offer amenities such as swimming pools, playgrounds, and kid-friendly activities. Some popular options include the Costa Grand Resort & Spa, Santorini Princess Spa Hotel, and Perivolos Hotel.
Fira or Oia for families?
Both Fira and Oia are fantastic options for families. Fira, being Santorini's biggest village and transportation hub, offers easier access to the rest of the island, making it a convenient base for families who wish to explore more. Oia, on the other hand, is known for its stunning views and charming atmosphere. Though it tends to be quieter than Fira, it still offers plenty of family-friendly activities and accommodation options.
Access to activities?
Families staying in either Fira or Oia will have access to plenty of activities during their stay in Santorini. Some of the most popular family-friendly activities include visiting the ancient Akrotiri archaeological site, taking a boat trip to the volcano and hot springs, and exploring the various charming villages on the island. Families can also enjoy learning about Greek mythology and the island's volcanic history.
Ease of transport?
Santorini offers several transportation options for families to get around the island. Public buses run regularly between Fira, Oia, and other villages, making it easy to explore the island on a budget. Alternatively, families may choose to rent a car or scooter for more flexibility during their stay.
Kid-friendly beaches?
Santorini has several beaches suitable for children. For a unique and family-friendly beach experience, head to the Red Beach or the Black Sand Beach in Perissa, where the volcanic sands offer a memorable beach day. Other kid-friendly beaches include Kamari Beach, Monolithos Beach, and Vlychada Beach, which all have a more gentle surf and good amenities nearby.
Quiet or lively areas?
Santorini has a variety of areas suitable for families, depending on their preferences. For a quieter experience, consider staying in Imerovigli, Firostefani or the more traditional villages like Pyrgos and Megalochori. These villages offer a calm and authentic Santorini experience, while still being within easy reach of the main towns. Families who prefer a more lively atmosphere should consider staying in Fira or Oia, which offer a greater variety of dining and entertainment options while still retaining their picturesque charm.
Eleni Vasiliadis, a native of the picturesque island of Corfu and co-founder of Greek Island, is a seasoned traveller, accomplished writer, and passionate advocate for Greek culture and cuisine.