Santorini, a picturesque island in Greece, is known for its breathtaking natural beauty and unique geological features.
As the supermodel of the Greek islands, Santorini's multicoloured cliffs and whitewashed buildings create a mesmerising landscape that attracts travellers from around the globe. A visit to this enchanting island offers an unforgettable experience, with stunning sunsets, beautiful beaches, and a rich history to explore.
The journey to Santorini can be made by direct flights from within Europe, typically between April and November, or via Athens followed by a ferry or short flight.
Once you arrive, there are plenty of attractions to fill your itinerary. From the iconic windmills in the clifftop village of Oia to sampling local wine at the island's renowned wineries, Santorini truly has something for everyone.
Before setting off on your trip, it is crucial to plan ahead and gather as much information as possible about the island's offerings.
This article aims to provide you with a comprehensive guide to visiting Santorini, featuring insider tips on the best attractions, hotels, and dining options.
With this information at your fingertips, you'll be well-prepared to make the most of your time in this incredible destination.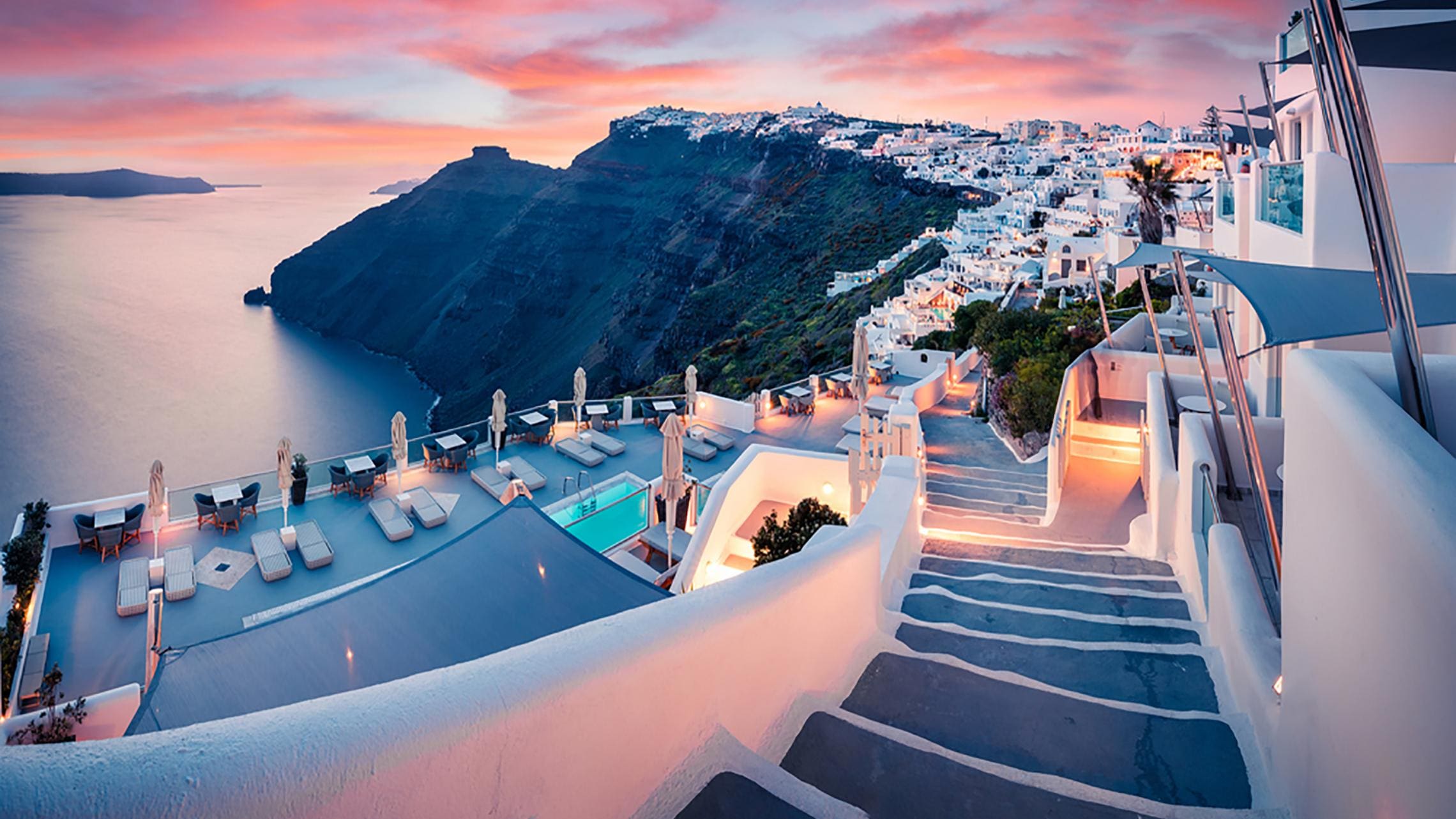 Getting to Santorini
Santorini, a beautiful Greek island, is a popular tourist destination known for its stunning sunsets, multi-coloured beaches, and rich history.
If you're planning a trip to Santorini, you have a few options for getting there.
Here, we'll look at the two ways you can reach Santorini: by air and by sea.
By Air
The most convenient and quickest way to travel to Santorini is by air.
The island has an international airport (Santorini Thira National Airport) that accommodates flights from various European cities. However, direct flights are typically available only between April and November.
If you're travelling from a destination outside Europe or during off-peak months, you can still reach Santorini by flying to Athens, Greece, and then taking a domestic flight to Santorini. The flight durations are as follows:
Direct flight from within Europe to Santorini: only available from April to November
Flight from Athens to Santorini: approximately 1 hour
By Sea
Another way to reach Santorini is by sea.
Ferries operate regularly between Athens and Santorini, providing an alternative means of transport.
Although the ferry trip takes longer than a flight, it offers a scenic journey and the opportunity to experience the beauty of the Aegean Sea.
There are two main types of ferries to choose from:
Standard ferry: takes around 8 hours to reach Santorini
High-speed ferry: takes about 5 hours to reach Santorini
Please note that actual travel times may vary depending on the season, weather conditions, and ferry operator.
To summarise, you can get to Santorini either by flying directly from European cities during peak months, or by taking a domestic flight from Athens, Greece. Alternatively, you can enjoy a more leisurely journey by sea and take a ferry from Athens to Santorini.
The Best Time to Visit Santorini
Santorini is a beautiful destination with a lot to offer travellers throughout the year. However, the experience you have can be quite different depending on when you choose to visit.
In general, the best times to visit Santorini are from September to October and April to May, as these periods provide warm weather and relatively fewer crowds.
During the high season, which occurs in July and August, Santorini becomes more crowded as holidaymakers arrive from across Europe and the rest of the world. During these months, the island's beaches, clubs, and restaurants are filled with visitors, making it essential to book accommodation and restaurant tables well ahead of time. If you're looking for a more lively atmosphere and don't mind the crowds, this could still be a great time to visit.
For those seeking a more relaxing and peaceful time, the shoulder months of June and September are ideal. The weather is still warm, and there are fewer visitors, making it easier to find accommodation and enjoy the beauty of the island without the hustle and bustle of the peak season.
The east coast of Santorini offers a different experience, with resorts such as Kamari and Perissa providing a more traditional island holiday appeal. These areas boast sun lounger-filled beaches, water sports, and taverna-lined promenades. The east coast beaches have black sand, while the south coast is famous for its multi-coloured sand. These areas can provide a more laid-back experience, regardless of the time of year.
When deciding on the best time to visit Santorini, it depends on what type of experience you're looking for.
For those who want fewer crowds and a more relaxed atmosphere, consider visiting during the shoulder months of June or September, or opt for the east or south coast. For party-goers or those who don't mind the bustle, July and August can provide an unforgettable experience.
Santorini's Top Attractions
Oia Village
Oia Village is one of the most picturesque destinations on Santorini. This charming village is known for its traditional white-washed buildings, blue-domed churches, and breathtaking sunset views. Stroll through the narrow streets, visit art galleries, and enjoy some of the island's finest dining experiences.
Fira Town
As the island's capital, Fira Town offers both stunning views and a lively atmosphere. Fira is known for its vibrant nightlife, excellent shopping, and countless dining options. Wander through the labyrinth of streets and alleys to discover charming boutiques, lively bars, and beautiful sunset spots.
Red Beach
The striking Red Beach is famous for its unique red sands and soaring cliffs. This colourful beach offers a truly distinctive scenery and is perfect for a relaxing day soaking up the sun or snorkelling in crystal-clear waters. Be sure to visit early in the day as the beach can become crowded during peak hours.
Ancient Thira
History enthusiasts should not miss a visit to Ancient Thira. This archaeological site dates back to the 9th century BC and offers remarkable ruins, including temples, theatres, and ancient marketplaces. Explore the site to learn about the island's rich history and take in the impressive views of the surrounding landscape.
Remember, your time in Santorini wouldn't be complete without exploring these fascinating top attractions!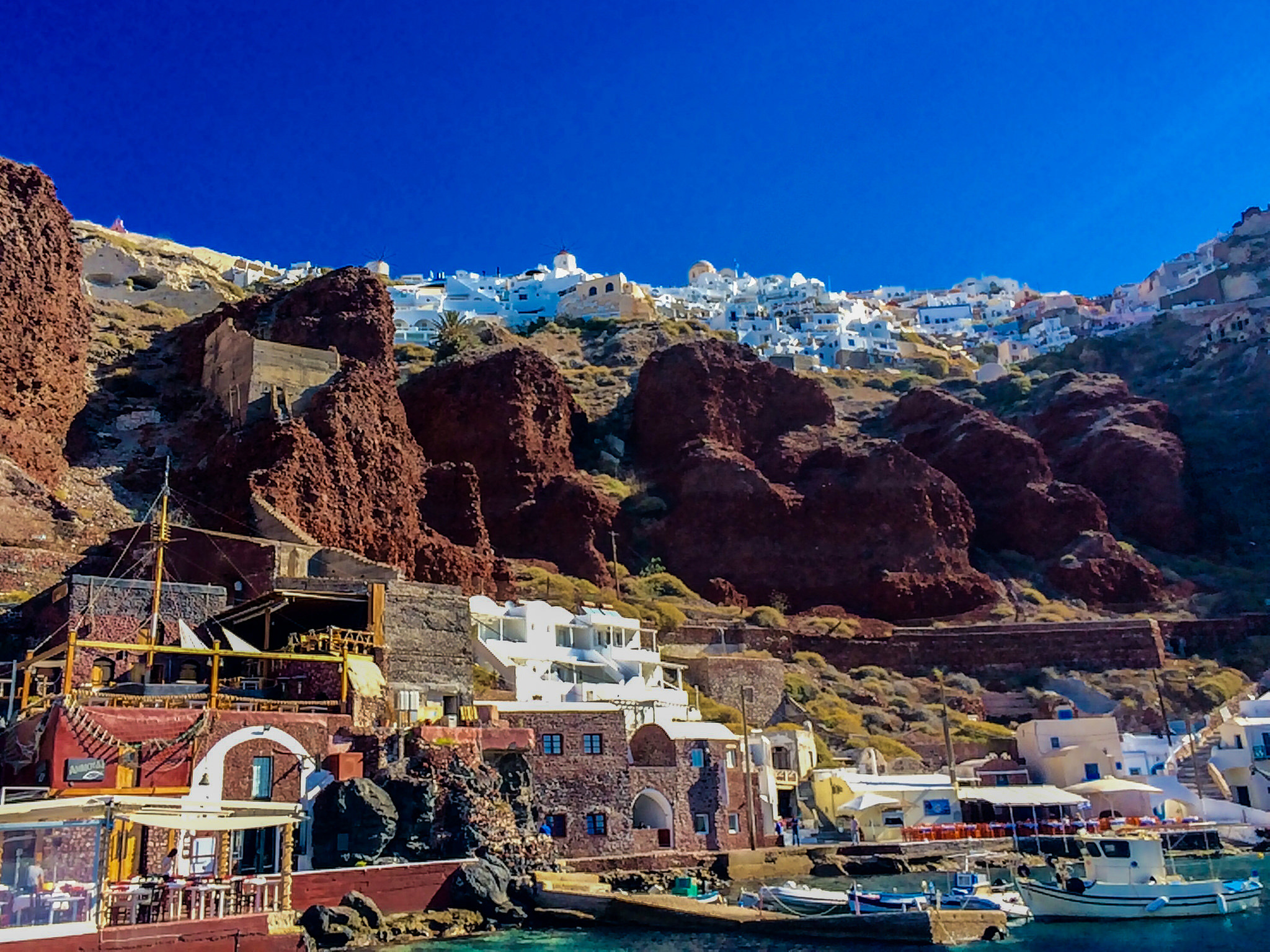 Accommodation in Santorini
When visiting Santorini, there are a variety of accommodation options to suit your preferences and budget, including both luxury hotels and budget choices.
Luxury Hotels
Santorini is home to many luxury hotels, mostly located along the inside of the crescent-shaped island, in the cliffside towns of Oia, Fira, Imerovigli and Firostefani. These hotels offer a spectacular view of the caldera, top-notch amenities and outstanding service.
Some popular luxury hotels in Santorini include:
Andronis Luxury Suites: Located in Oia, this upscale hotel boasts elegant suites, private pools and a fine-dining restaurant.
Astra Suites: Situated in Imerovigli, this hotel offers stunning views, spacious suites, and an impressive infinity pool.
Katikies Hotel: Nestled in Oia, this renowned hotel provides luxurious accommodations, exceptional service and breathtaking views of the Aegean Sea.
Budget Accommodation
For those who are on a tighter budget or prefer a more social atmosphere, there are several budget accommodations options such as hostels and guesthouses available across the island. Some are located in the popular coastal towns of Kamari and Perissa, where you can find a more traditional island-holiday atmosphere, with beaches, water sports, bars and tavernas.
Notable budget accommodations in Santorini include:
Youth Hostel Anna: Found in Perissa, this hostel offers a great location at an affordable price.

Villa Kasteli: Located in Kamari, this guesthouse provides simple and comfortable rooms within walking distance to the black-sand beach.

Fira Backpackers Place: Situated in the heart of Fira, this budget-friendly option features dormitory-style accommodation and a communal kitchen.
Remember to book your accommodation well in advance, as Santorini is a popular destination and rooms may fill up quickly during peak seasons.
Santorini's Local Cuisine
Santorini is famous for its stunning views, whitewashed houses, and, of course, its local cuisine. The island is filled with a variety of mouth-watering dishes that you can't miss out on during your visit.
Popular Dishes
Fava Beans: Santorini is well-known for its delicious fava beans. They are served in various versions and are a must-try on the island.
Tomato and Pumpkin Meatballs: These refer to fluffy vegetable-based meatballs, such as tomato and pumpkin meatballs, which are common in Santorini cuisine.
Eggplant Salad: A local favourite, this spicy eggplant salad is a fantastic appetiser or side dish.
Sun-dried Tomatoes: The island's sun-dried tomatoes are juicy and flavourful, perfect for a quick snack or addition to your meal.
Fried White Eggplants: Another popular local dish is fried white eggplants, which are soft and incredibly tasty.
Seafood: Santorini's proximity to the sea means there's an abundance of fresh seafood for you to enjoy.
Santorini's Best Restaurants
Selene: Selene is a fine dining option with a fantastic caldera view. Here, you can enjoy some of the best traditional Greek food that Santorini has to offer.
Ammoudi Tavernas: Located at the seafront of Oia, there are several great tavernas in Ammoudi, such as Dimitris, Sunset, and Katina's, which serve fresh seafood along with spectacular views.
Casual Tavernas: For a more laid-back experience, there are numerous casual tavernas scattered across the island where you can try local dishes in a relaxed atmosphere.
Practical Tips for Visiting Santorini
Public Transport
Santorini has a reliable public transportation system consisting of buses that connect the main villages and towns. The main bus station is in Fira, and it offers frequent services to popular destinations like Oia, Kamari, and Perissa. Keep in mind that bus schedules may vary depending on the season, so it's a good idea to check the timings before planning your day. To make the most of your trip, consider purchasing a day pass for unlimited rides on the island's buses.
Health and Safety
Santorini is generally a safe destination, but it's essential to take some precautions during your visit. When travelling around the island, ensure your belongings are secure and avoid displaying valuables openly. In the summer months, the sun can be intense, so remember to apply sunscreen regularly, stay hydrated, and wear appropriate clothing, such as sunglasses, a hat, and light layers.
It's a good idea to familiarise yourself with the local emergency phone numbers, including the general emergency number (112), police (100), and ambulance (166). These numbers will connect you to English-speaking operators who can help in case of an emergency.
When exploring the cliffs and beaches of Santorini, exercise caution – some areas can be slippery or have uneven surfaces. To stay safe, always read and follow posted signs, stay on marked trails, and avoid taking risks in unfamiliar areas.
Additionally, Santorini is a popular destination for various water activities such as sailing, snorkelling, and swimming. Ensure you follow local guidelines and safety precautions, and never enter the water alone or under the influence of alcohol.
By following these practical tips, you can enjoy a safe and memorable trip to Santorini.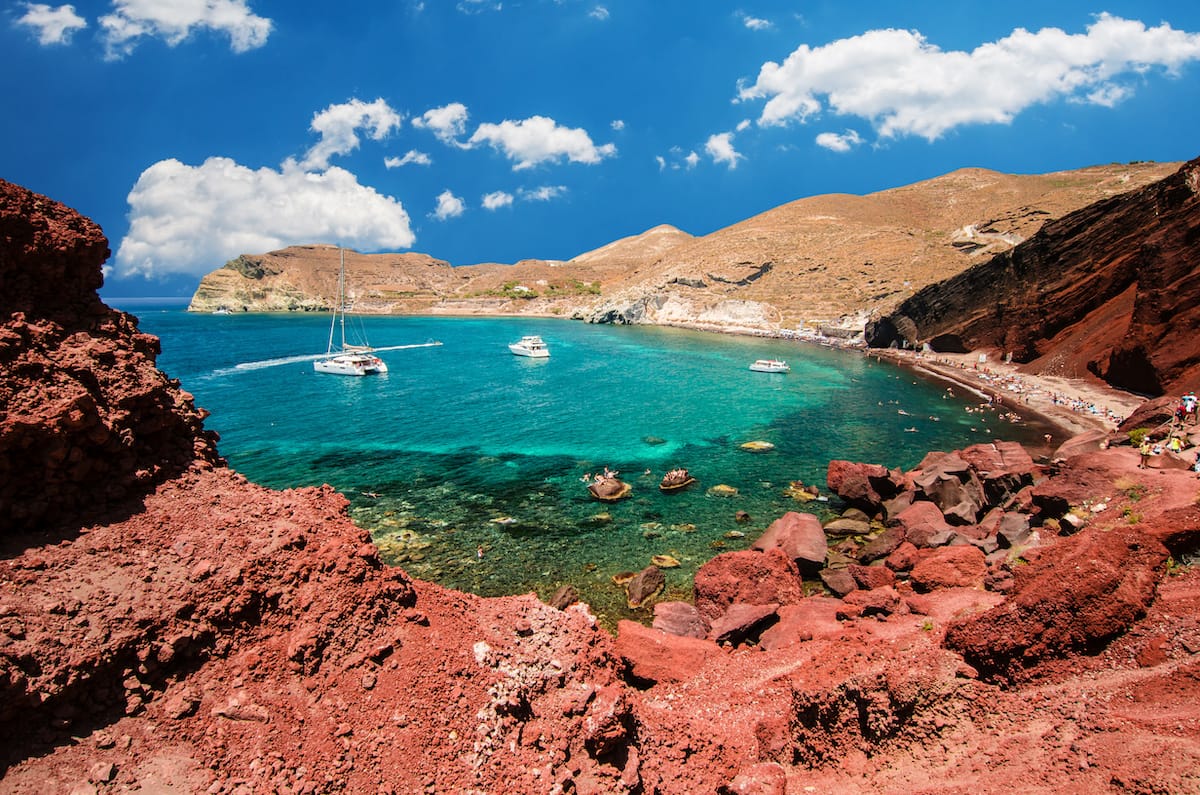 Frequently Asked Questions
When's the best time to visit Santorini?
The ideal time to visit Santorini is during the shoulder seasons of April to June and September to October. During these months, the weather is mild and pleasant, the island is less crowded, and the prices are more reasonable compared to the high season of July and August.
What's the ideal trip duration for a Santorini holiday?
A suggested length for a trip to Santorini would be around 4 to 5 days. This allows ample time to explore the main attractions, relax on the beaches, and indulge in local food and wine without feeling rushed.
What are Santorini's top attractions?
Some of the must-see attractions in Santorini include the picturesque village of Oia, known for its beautiful sunsets and architecture. Don't miss visiting the ancient city of Akrotiri, believed by some to be the lost city of Atlantis. Also, consider exploring the many wineries that Santorini is famous for, as well as taking a boat tour around the island's unique volcanic crater.
What's the best way to reach Santorini?
You can reach Santorini by direct flights from many European cities or by domestic flights from Athens and Thessaloniki. Alternatively, ferry connections are available from Athens' Piraeus port, with the journey taking about 5 to 8 hours depending on the ferry service and route.
Hailing from the historic city of Thessaloniki, Nikos Tsakiris is a passionate explorer, seasoned writer, and co-founder of Greek Island, the definitive travel blog for the Greek Islands.