Santorini, the picturesque island in Greece, is widely known for its stunning sunsets and unique landscapes. While many visitors flock to this beautiful destination during the warmer months, February offers a distinct allure to those who want to experience a different side of the island. With cooler temperatures and fewer crowds, this off-peak season presents an opportunity to explore Santorini at a leisurely pace.
During February, Santorini's weather can be quite unpredictable, with average daytime temperatures around 14°C (57°F) and nighttime temperatures dipping to 10°C (50°F). It's the time of year when the island witnesses occasional rain showers, and the sea temperatures are at their chilliest, at about 16°C (61°F). Despite the cooler weather and inevitable rainfall, February is still an excellent time to appreciate the island's captivating charm without being overrun by hordes of tourists.
Winter in Santorini also means more opportunities to mix with locals at Fira's restaurants and immerse oneself in the island's rich archaeological and winemaking heritage. So, for intrepid travellers who don't mind cooler temperatures and unpredictable weather, February in Santorini could be the perfect time to capture the spirit of this stunning island, as a more authentic and serene sojourn awaits.
Temperature and Climate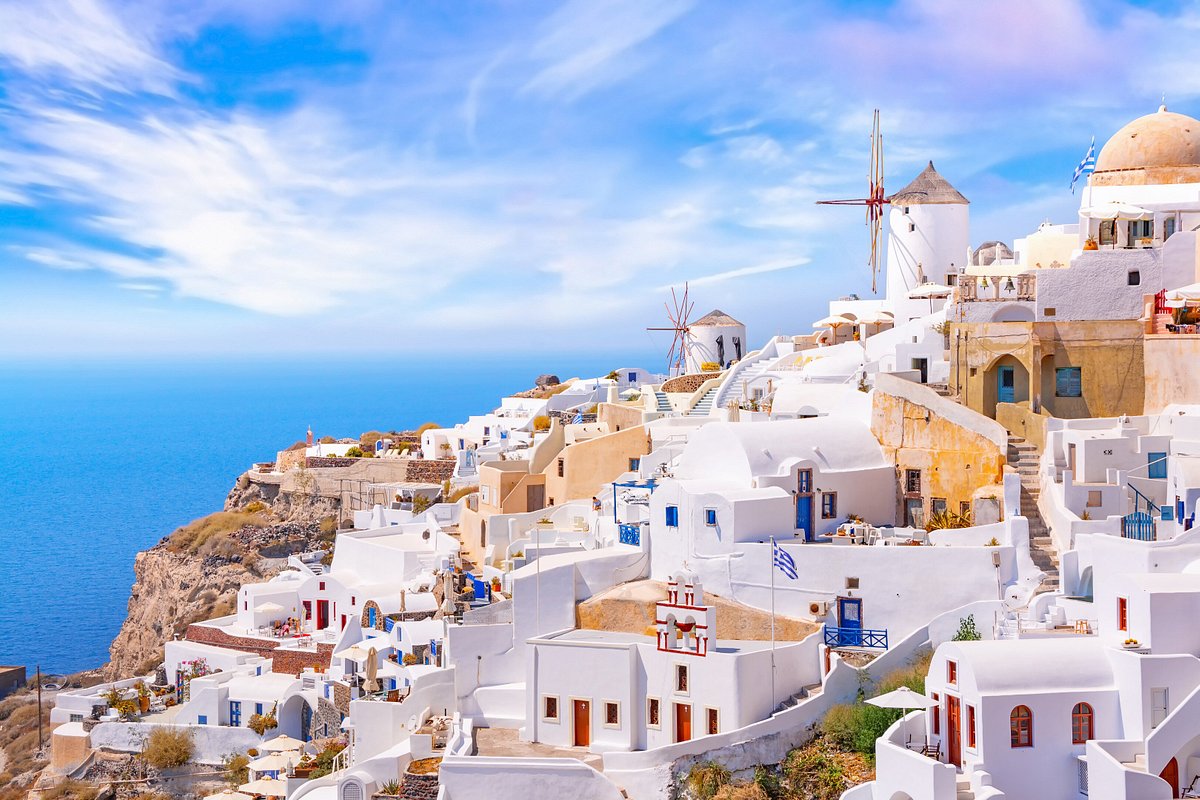 Average Temperatures
In February, Santorini experiences relatively mild temperatures compared to other areas in Europe. The island's average temperature ranges from 12°C (53.5°F) to 15°C (59°F) during the daytime, with nighttime temperatures around 8°C (46°F). As this is winter, it's generally tolerable for visitors looking to explore the island's natural beauty and rich history.
Rain and Snow
February is considered a moderate rainy month in Santorini, with an average rainfall of around 82mm (3.2 inches) throughout the month. This means that you should expect occasional rain showers during your visit. However, snow is quite unlikely on the island due to its relatively mild winter temperatures.
Although February may not offer the ideal beach weather, it provides a unique opportunity to experience the island in its off-season without the typical tourist crowds. This authentic, tourist-free atmosphere allows travellers to mingle with locals, visit dining establishments in Fira, and explore Santorini's rich archaeological and winemaking heritage.
What to Pack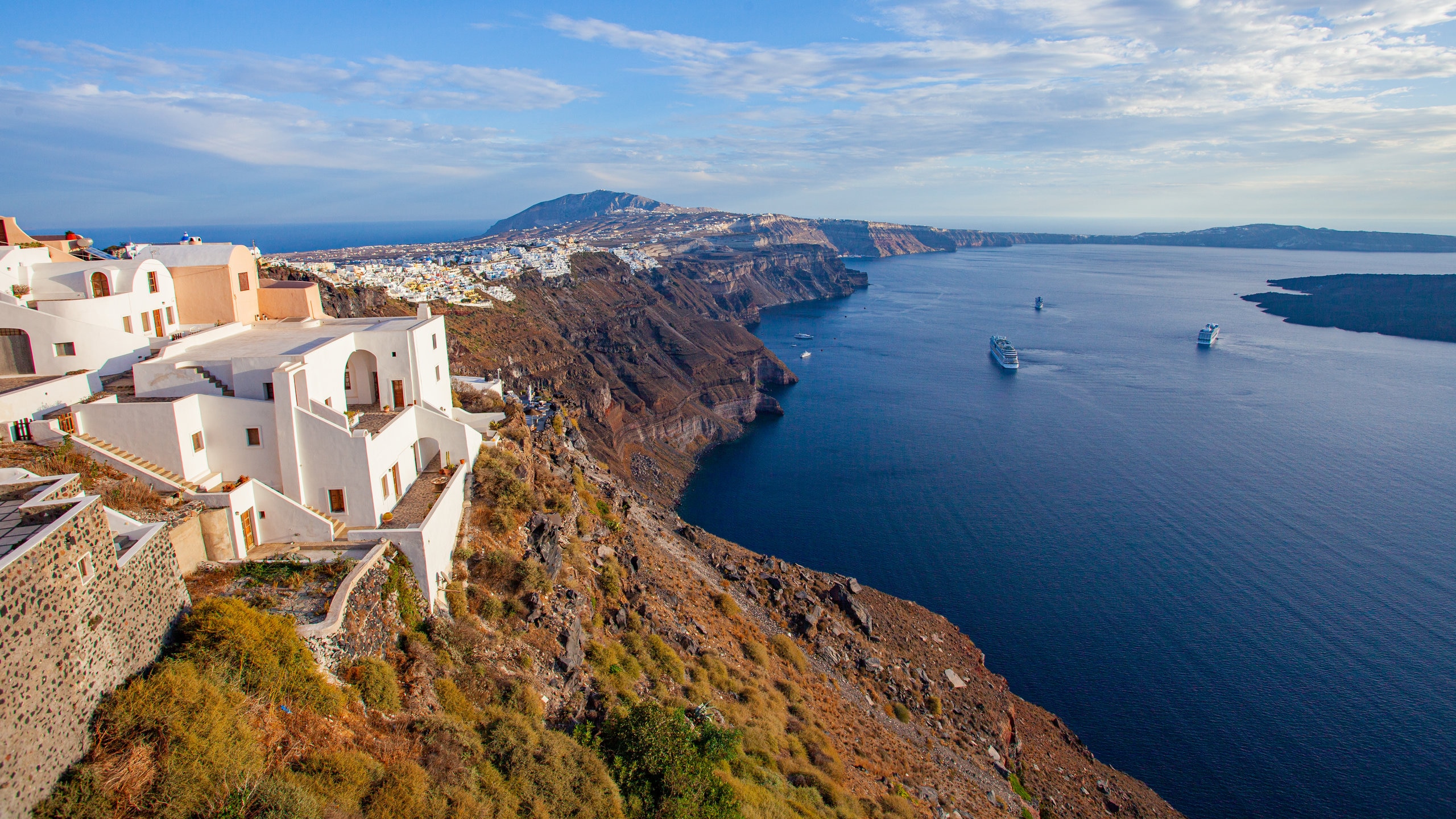 Clothing and Accessories
When visiting Santorini in February, be prepared for cooler temperatures and the possibility of rain. Pack lightweight layers such as long-sleeve shirts, cardigans, and light jumpers to accommodate the changing weather. Don't forget a waterproof jacket in case of rain showers. For the evenings, bring a light sweater or jacket, as temperatures can drop. Bring comfortable walking shoes for exploring the island and wineries, as well as a pair of sandals. You might also want to pack a hat, sunglasses, and a scarf for additional warmth.
Electronics
Since electrical outlets in Santorini use Type C and F plugs, pack a universal travel adaptor to ensure you can charge your devices. Bring your smartphone, a portable charger, and a camera to capture the stunning sceneries. If you plan on relaxing indoors during cooler days, consider bringing an e-reader, tablet, or laptop loaded with movies or books.
Travel Essentials
Pack a reusable water bottle to stay hydrated during your trip and to reduce plastic waste – tap water in Santorini is not recommended for drinking, so you'll be buying bottled water. Other essentials include travel-sized toiletries, sunscreen, a travel first aid kit, and any necessary prescription medications. Don't forget important travel documents, such as your passport, travel insurance details, and any booking confirmations. Lastly, be sure to pack packing cubes to keep your luggage organised and easy to navigate.
Activities and Attractions
Indoor Options
Visiting Santorini in February means you might encounter cooler weather, so the island offers some exceptional indoor attractions to explore. Two wonderful museums in Fira are worth exploring, the Archaeological Museum of Santorini and the Museum of Prehistoric Thera. These museums provide fascinating insights into the island's rich history and archaeology.
Another great indoor activity during February is wine-tasting. Santorini is known for its unique vineyards, making it an ideal place to sample and appreciate local wines. Several wineries offer wine tastings, but it's important to check their availability, as some may be closed during the winter months.
Outdoor Sightseeing
Despite cooler temperatures, some outdoor activities are enjoyable in February's mild weather. One such attraction is the picturesque village of Oia, perched high atop the caldera slopes of Santorini's volcano. Take a leisurely stroll through Oia's charming streets, snapping photos of the iconic blue-domed churches and traditional Cycladic architecture.
For those interested in ancient history, a visit to the Pompeii of the Aegean, also known as Akrotiri, is a must-see. This archaeological site boasts the remains of a well-preserved Minoan Bronze Age settlement that was buried by volcanic ash during an eruption. Be sure to bring comfortable shoes and a jacket, as the site is outdoors and can be chilly.
The island's unique volcanic landscape is also perfect for taking scenic hikes along the caldera rim. Enjoy striking views of the Aegean Sea and the Santorini volcano that make the island so famous. Keep in mind that though the island is quieter in February, it is always important to respect nature and be mindful of your surroundings.
Hailing from the historic city of Thessaloniki, Nikos Tsakiris is a passionate explorer, seasoned writer, and co-founder of Greek Island, the definitive travel blog for the Greek Islands.