Nestled between Skiathos and Alonissos in the Sporades island group, Skopelos, Greece, gained popularity as the filming location for the hit musical movie, Mamma Mia.
With its picturesque atmosphere and stunning beaches, it's no wonder this idyllic destination has become a favourite amongst couples and families seeking a serene escape from the everyday hustle and bustle.
Arguably the most charming aspects of Skopelos are its two main settlements: the postcard-worthy main port of Skopelos Town, situated on the southeast coast, and the equally delightful village of Glossa in the northwest, just 2km north of the island's second port, Loutraki.
Within these charming locales, visitors can stroll through cobbled streets, explore ancient monasteries, and indulge in the island's serene, laid-back lifestyle.
Skopelos offers a wealth of activities for travellers to partake in during their visit, all favouring leisurely pursuits like swimming, hiking, and discovering hidden gems among the island's breathtaking landscapes.
Among the 24 islands that make up the Sporades archipelago, Skopelos is a standout choice that guarantees unforgettable memories and adventure.
Getting to Skopelos
By Air
While Skopelos itself does not have an airport, the nearby island of Skiathos is home to the closest one. To reach Skopelos by air:
Fly into Skiathos Airport (JSI)
Take a ferry or hydrofoil from Skiathos to Skopelos
There are direct flights from several European cities to Skiathos, especially during the peak summer months. Alternatively, you could fly to Athens or Thessaloniki and connect to a domestic flight to Skiathos.
By Sea
The most common way to reach Skopelos is by sea via ferry or hydrofoil. There are a few different routes to choose from:
From Volos: Ferries and hydrofoils frequently operate from Volos on the Greek mainland to Skopelos, with journey times ranging from 2.5 hours (hydrofoil) to 4.5 hours (ferry).
From Agios Konstantinos: Another popular route is from Agios Konstantinos on the mainland, with journey times similar to those of the Volos-Skopelos route.
From Skiathos: As mentioned earlier, you can also catch a ferry or hydrofoil from neighbouring Skiathos island to Skopelos, which usually takes around 1 hour.
From Alonissos: Travelling from the nearby island of Alonissos is another option, with several ferries connecting the two islands daily.
Remember to check the schedules and book your tickets in advance, especially during the busy summer months. Happy travels!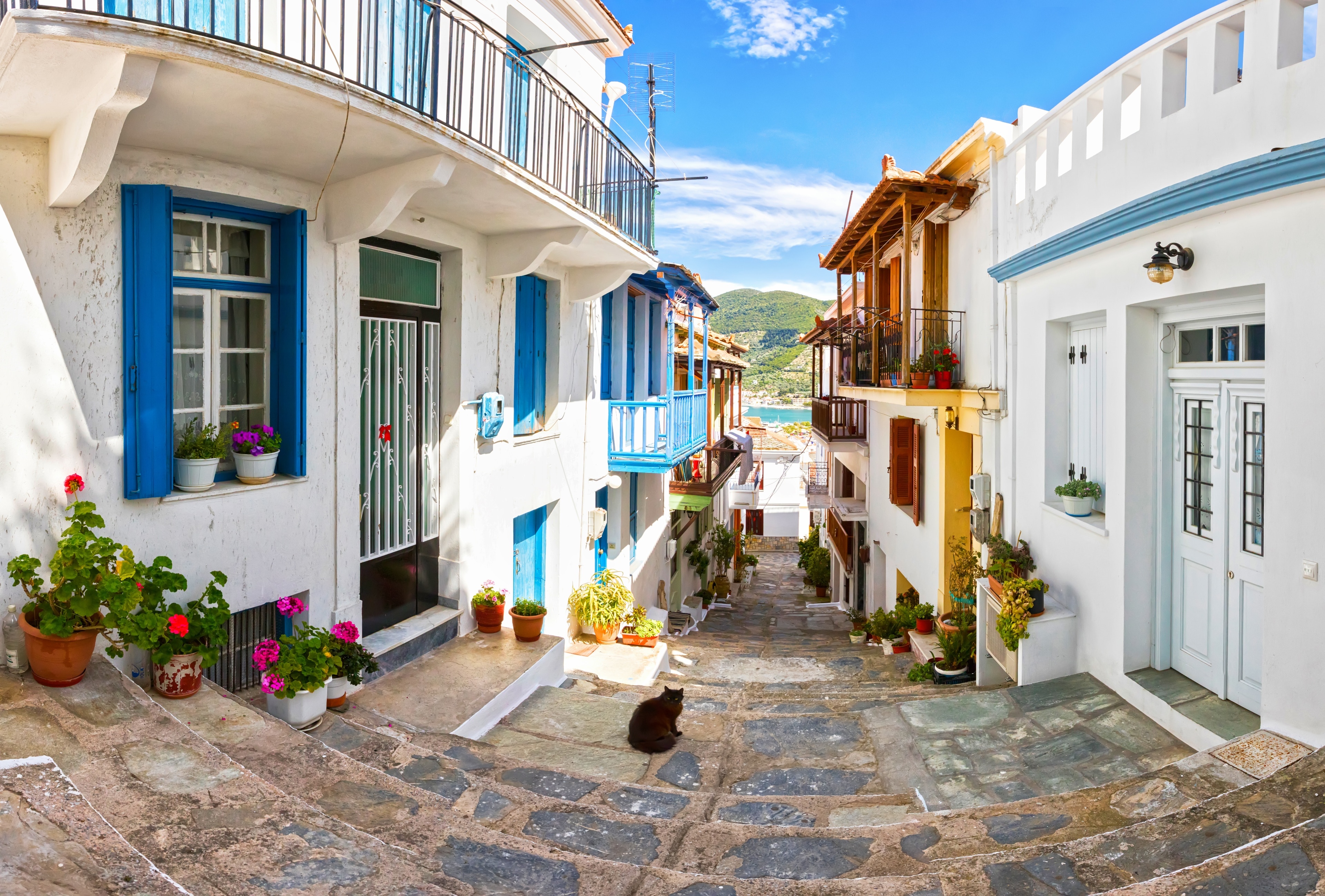 Accommodation Options in Skopelos
When visiting Skopelos, you will find a variety of accommodation options to cater to different preferences and budgets. In this section, we will explore some options in three categories: Hotels and Resorts, Villas and Apartments, and Traditional Lodgings.
Hotels and Resorts
Skopelos offers a mix of luxury and budget hotels and resorts for travellers. Here are a few recommended options:
Skopelos Town: This is the main port and the larger centre on the island. Several of the best hotels and resorts can be found here.
Glossa: Another traditional town in Skopelos offering a range of hotel options with mountain scenery.
You can also find hotels in other smaller locations like Klíma and Alikias.
Villas and Apartments
For a more private and flexible stay on the island, consider renting a villa or apartment. These accommodations often come fully furnished, allowing you to fully immerse yourself in the local experience. Here are some options:
Panormos: A sleepy beach town with pebbled beach and excellent taverns. It offers a range of beautiful villas and apartments.
Stafilos: A small village with a stunning bay and gorgeous beaches, where you can find charming villas and apartments to rent.
Traditional Lodgings
For a taste of authentic Greek living, consider staying in one of the traditional lodgings available on the island. These offer a unique experience and typically showcase local architecture and design. Some places to consider for traditional lodgings include:
Glossa: A sleepy northern Skopeliti village with narrow passageways and cobbled piazzas. It offers traditional lodging options for visitors.
Agnontas: A quaint, beautiful hamlet within walking distance of the island's best beaches. This location also provides traditional lodging options.
Remember to book your accommodation early, especially during peak travel season, to secure the best deals and availability.
Skopelos' Top Attractions
Skopelos Town
Skopelos Town is the island's capital and an enchanting destination for visitors. With its labyrinthine alleys, traditional architecture, and stunning harbour views, it's perfect for a leisurely stroll. Key places to visit in Skopelos Town include:
Panagitsa of Pyrgos: A beautiful church perched on a hill with panoramic views.
Vakratsa Mansion: A historic residence turned into a museum, showcasing traditional artefacts and interiors.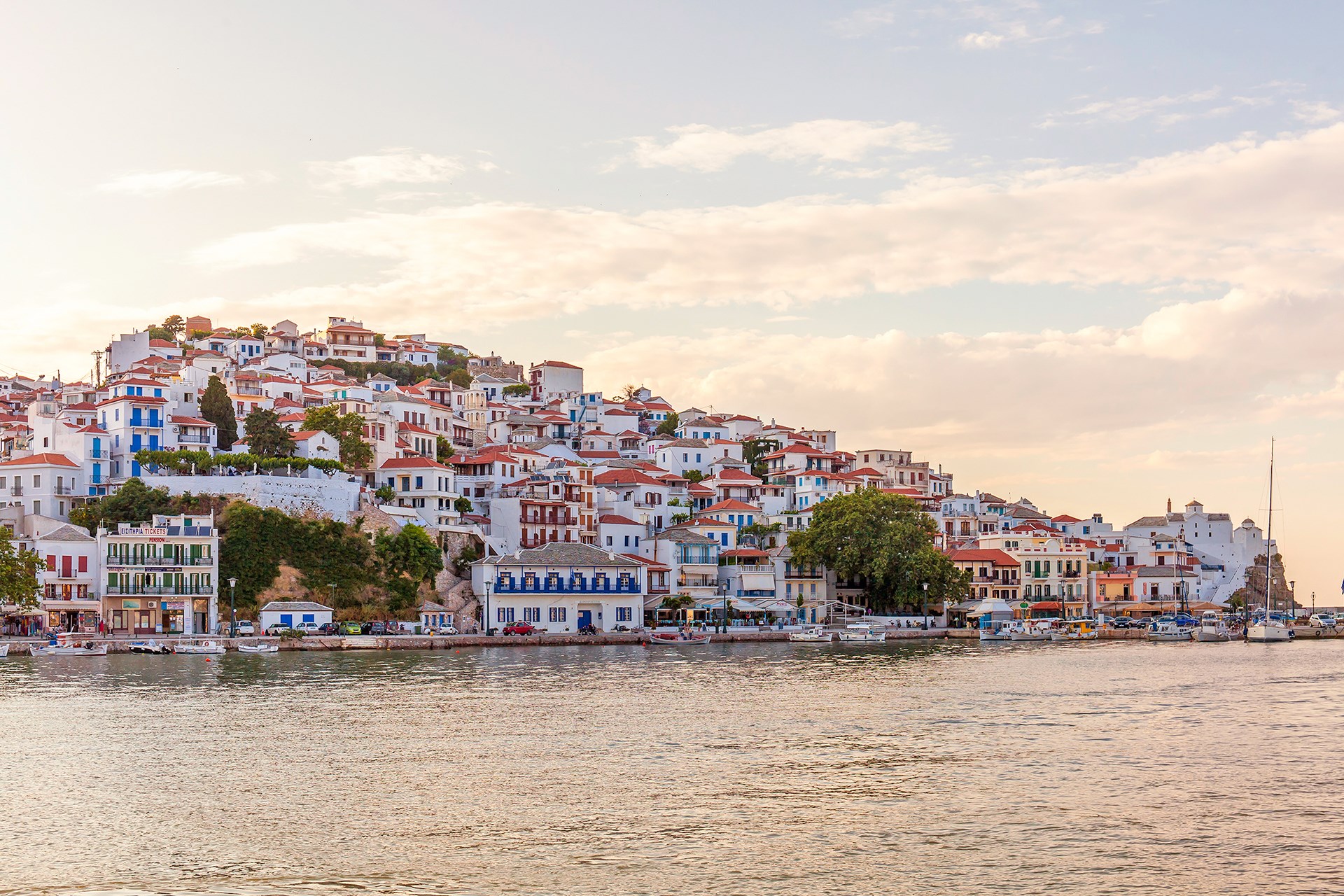 Glossa Village
Glossa Village is a picturesque settlement located in the northwest part of Skopelos island. It is the island's second-largest village and offers a more tranquil atmosphere compared to Skopelos Town. Highlights include:
Traditional architecture: Whitewashed houses adorned with flowers create a romantic ambience for walking around the village.
Kastro: The ruins of a hilltop fortress, offering breathtaking views of the surrounding countryside and sea.
Beaches
Skopelos boasts an array of stunning beaches with crystal clear waters, ideal for swimming, sunbathing, and water sports. Some of the top beaches are:
Stafylos: A family-friendly beach situated in a sheltered cove, surrounded by lush greenery.
Panormos: A picturesque and popular beach with crystal-clear waters and pine trees reaching the shoreline.
Agnondas: A quaint, pebbly beach featuring a small marina and a few waterfront tavernas.
Milia: A sandy beach with clear waters, perfect for snorkelling and watersports.
Outdoor Activities in Skopelos
Hiking and Walking Trails
Skopelos, Greece, offers numerous opportunities for tranquil experiences through its many hiking and walking trails. Explore the island's natural beauty, venture through cobbled streets of Skopelos town and Glossa, or visit the ancient monasteries nestled in lush green landscapes. The island's mild climate and diverse terrains make it a perfect destination for outdoor enthusiasts.
Water Sports
If you're looking for something more adventurous, Skopelos also provides various water sports activities to satisfy thrill-seekers. Whether you're interested in discovering scuba diving, snorkelling, or simply enjoying a refreshing swim, Skopelos' crystal-clear waters and beautiful beaches create an ideal environment for aquatic adventures. You may also find sports lessons available to enhance your experience and develop your skills.
Boat Trips
For an even more memorable experience, embark on a boat trip to explore Skopelos and its neighbouring islands. Island hopping from Skiathos or visiting the Sporades marine park in Alonissos allows you to discover the Mediterranean seal and immerse yourself in the stunning natural landscapes these islands have to offer. All-inclusive full-day cruises and lunch options add comfort and convenience to your boat trip experience.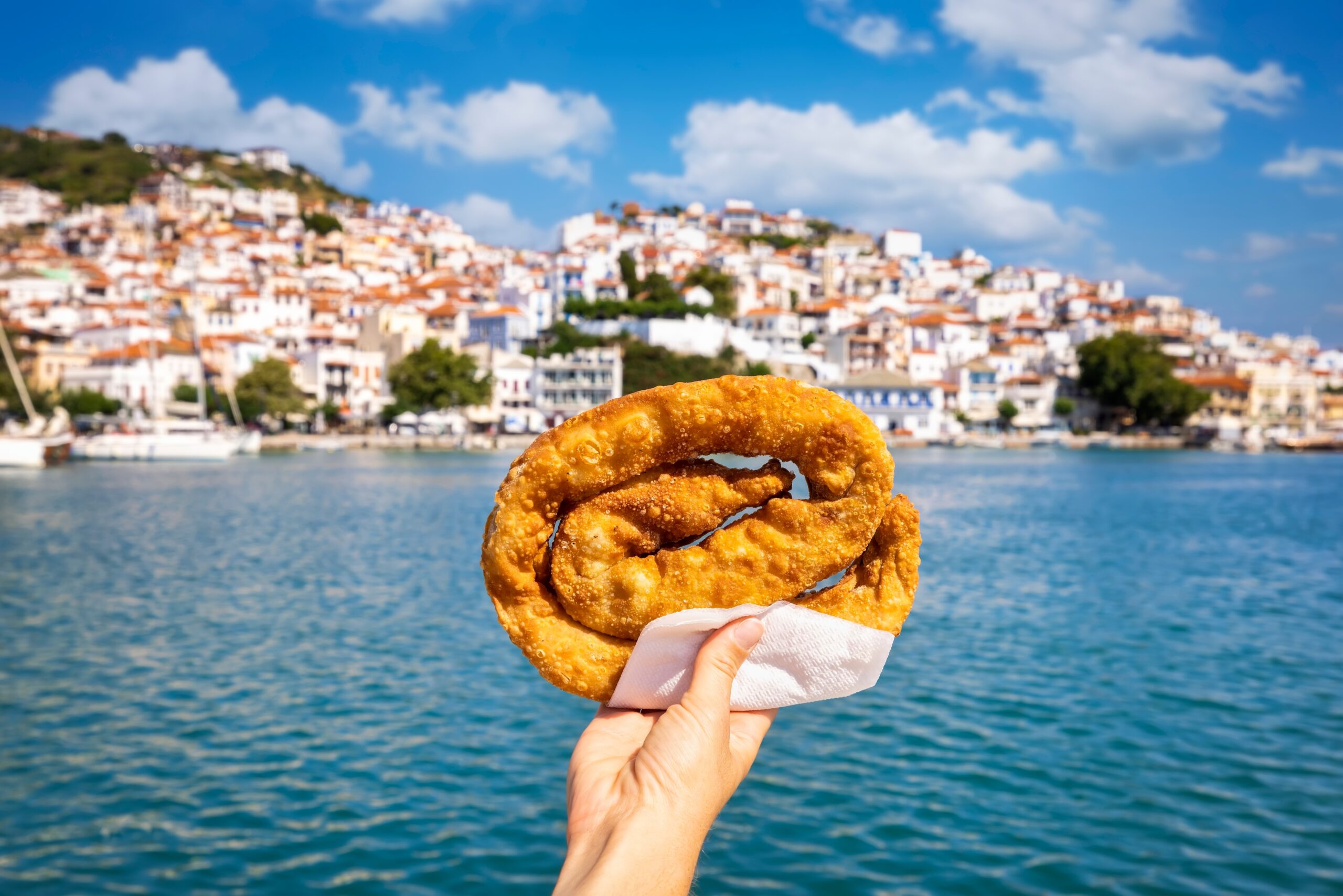 Local Cuisine
Skopelos, a beautiful island in the Sporades archipelago, offers a rich and delicious culinary experience for its visitors. The island's traditional cuisine is largely influenced by farming and seafood, featuring a perfect blend of simple, fresh ingredients that create exquisite flavours.
Traditional Dishes
Skopelos' local cuisine embraces both its farming roots and its proximity to the sea. Below are some of its signature dishes:
Skopelos cheese pie: Known as 'tyropita', this savoury pastry is filled with delicious cheese and is a staple dish on the island.
Sweet and sour goat: A unique and flavourful dish combining tender goat meat with a sweet and tangy sauce.
Octopus: Stewed or grilled octopus is commonly found on the menus of many Skopelos tavernas, showcasing the island's abundance of fresh seafood.
Shellfish: A variety of shellfish dishes, such as mussels and lobster, also feature prominently in the local cuisine.
Best Restaurants
While exploring Skopelos, you'll find a plethora of exquisite dining options across the island. Here are some of the top choices:
High Heels & a Backpack: Featured in the 2023 Local's Guide, this trendy spot offers both indulgent local dishes and a stylish atmosphere.
Fish Tavernas: As you wander the island, you'll come across classic fish tavernas showcasing the best of Skopelos' seafood, often situated right by the sea, offering an authentic dining experience.
Village Tavernas: Nestled in the villages of Skopelos, local tavernas serve top-quality meats, grilled to perfection, along with other tasty traditional dishes.
Elevated Eateries: If you're looking for a more European or Mediterranean experience, Skopelos also boasts a number of upscale dining options that cater to a variety of palates.
This guide to Skopelos' local cuisine is just a little taste of what this island has to offer. With delicious traditional dishes and an array of fantastic restaurants, your culinary journey is bound to be unforgettable.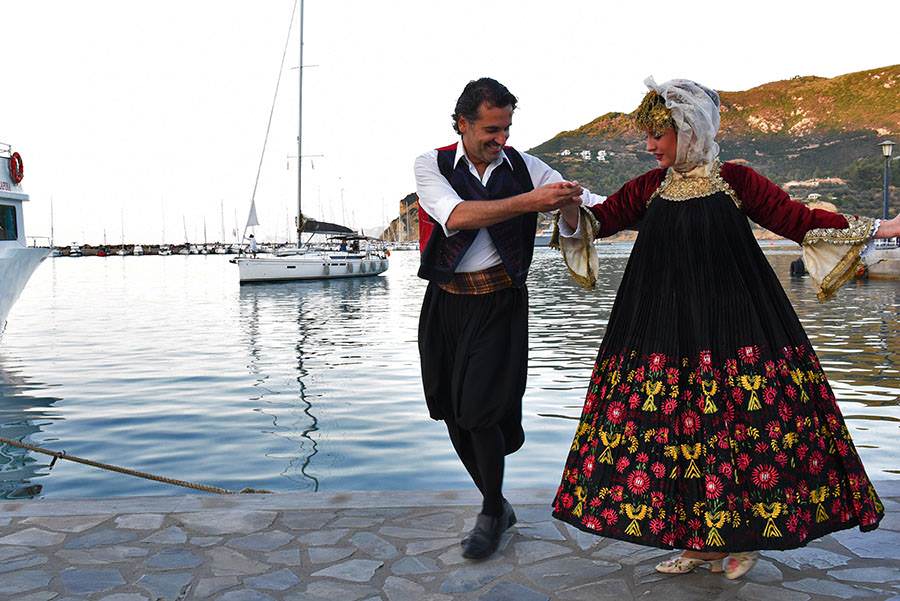 Events and Festivals
Skopelos, a beautiful island located in the Sporades Islands north of Athens, is known not only for its lush landscapes and crystal-clear waters but also for its rich cultural heritage and events. Throughout the year, numerous events and festivals take place, celebrating the island's traditions, religious customs, and lively spirit.
Religious Celebrations
One of the major religious celebrations on the island is the feast for the Transfiguration of Jesus Christ, observed on August 6th. Another significant religious event is the feast of Agios Riginos, which takes place annually on February 25th. Additionally, the feast of Agia Varvara is celebrated on December 4th. These feasts include religious ceremonies, vivid traditional processions, and joyful gatherings with food and music.
The island also honours various religious events such as the Archangels (Agion Taksiarchon), Agios Riginos, and Virgin Mary (Koimisi tis Theotokou) Celebrations, offering visitors the opportunity to witness the local traditions and engage in the vibrant Skopelos culture.
Cultural Events
One of the most famous cultural events held on the island is the Loizia Festival. This festival showcases the folk culture, music, and dances of Skopelos. Visitors can enjoy traditional performances, engaging workshops, and other artistic activities that emphasize the island's culture and history.
Apart from these popular events, the island hosts music and dance festivals, traditional fiestas, and concerts throughout the year. These events often blend seamlessly with local culture and religion, becoming an integral part of the daily experiences of both locals and visitors alike. By attending any of these events, tourists can immerse themselves in the unique and lively atmosphere that makes Skopelos genuinely memorable.
Practical Information
Currency and Payment
In Skopelos, Greece, the official currency is the Euro (€). It's always a good idea to have some cash on hand for smaller transactions at local shops and taverns. Most places also accept major credit cards, but it's best to ask beforehand to avoid any surprises. Don't forget to inform your bank about your travel plans to ensure your cards work smoothly during your trip.
Transportation
Getting to Skopelos might be a bit of a challenge, as it's not directly connected by flights, but the effort is worth it! The most common and convenient way is to first fly to Skiathos Island and then take a ferry to Skopelos. Ferries run frequently during the summer season, and the journey takes about an hour.
Once on the island, you can explore Skopelos by using local buses, taxis, or renting a car. It's worth noting that some areas of Skopelos have steep terrain, so exploring on foot might be challenging for some visitors. Here's a quick overview of your transportation options on the island:
Local buses: Affordable and covering most parts of the island. The schedule varies depending on the season.
Taxis: Available at major tourist spots and ports. Be sure to agree on the fare before starting your ride.
Car rental: A great option if you prefer flexibility and plan to visit more remote locations.
Safety Tips
Skopelos is overall a safe destination for travellers, offering a relaxed atmosphere and friendly locals. However, it's always wise to follow some general safety tips:
Always keep an eye on your belongings, especially in crowded areas such as ports or beaches.
Make sure to learn the operating hours and schedule of public transportation to avoid being stranded.
In case of an emergency, the general emergency number in Greece is 112. Add this to your contacts for peace of mind.
Stay hydrated and protect yourself from the sun, as temperatures can soar during the summer months.
Pay attention to local warnings, such as swimming conditions at beaches or weather alerts.
By following these practical tips and staying well-informed, you're sure to have an enjoyable and hassle-free visit to Skopelos, Greece.
Frequently Asked Questions
When is the best time to visit Skopelos?
The best time to visit Skopelos is from May to September, when the weather is warm and sunny, perfect for beach activities and exploring the island. July and August see the highest tourist season, so you may find the surroundings busier during this period. For a more relaxed experience, consider visiting during May, June or September when the weather is still pleasant but with fewer crowds.
What's the best way to get to Skopelos?
Skopelos can be reached by ferry from the neighbouring islands of Skiathos and Alonissos. Skiathos has an international airport with connections to various European cities, making it the most convenient option for travellers. Upon arrival at Skiathos airport, you can take a taxi or bus to the port, and then catch a ferry to Skopelos. Ferry schedules and frequencies vary depending on the season, so it's advisable to check in advance.
What are Skopelos' top attractions?
Some top attractions on Skopelos include exploring the Venetian-style Skopelos Old Town (Chora), visiting the picturesque hillside town of Glossa, and enjoying the filming locations of the musical film "Mamma Mia." The island also offers several beautiful churches and monasteries to visit, such as Panagitsa of Pyrgos and the Agios Ioannis chapel.
Skopelos or Skiathos?
Both Skopelos and Skiathos have their own unique charm, and it depends on your personal preferences. Skopelos is known for its lush green landscapes, traditional villages, and a more laid-back atmosphere. Skiathos, on the other hand, is popular for its lively nightlife, bustling beach culture and more extensive tourist infrastructure. If you can't decide between the two, consider visiting both islands during your holiday.
Where are the best beaches on Skopelos?
There are several beautiful beaches to explore on Skopelos, each unique in its own way. Some of the highly recommended ones include Panormos Beach, Agios Ioannis Beach, Milia Beach, Agnondas Beach, Limnonari Beach and Hovolo Beach. The beaches offer crystal-clear waters and charming surroundings, perfect for swimming, sunbathing and water activities.
How many days are needed to explore Skopelos?
To fully explore Skopelos and enjoy its attractions, a 4-7 day trip is recommended. This allows you enough time to visit the popular towns and beaches, enjoy the local cuisine and engage in various outdoor activities such as hiking and water sports. Of course, if you have more time on your hands, you can extend your stay to indulge in a more relaxed experience on this beautiful Greek island.
Hailing from the historic city of Thessaloniki, Nikos Tsakiris is a passionate explorer, seasoned writer, and co-founder of Greek Island, the definitive travel blog for the Greek Islands.