Greek island hopping is an unforgettable adventure that should be on every traveller's bucket list. With over 200 enchanting islands dotting the Aegean and Ionian Seas, Greece promises a unique and diverse experience to capture the hearts of globetrotters year after year. From the vibrant nightlife of Mykonos to the unparalleled beauty of Santorini, each island boasts its own charm and offers a different perspective of the captivating Greek culture.
Planning an island hopping trip can be both an exciting and daunting experience. Careful consideration of the various routes and itineraries is essential in order to make the most of your time spent in this magical country. A popular route is Athens – Mykonos – Santorini; this classic itinerary showcases the perfect blend of history and breathtaking views as you explore the Acropolis in Athens, followed by the iconic Cycladic white-washed villages in Mykonos and Santorini.
To enjoy the best of Greece without the summer crowds, try to visit between June and August when the sea is warm and the weather is hot. Keep in mind, however, that ferry schedules may be affected by the meltemi, a northerly wind. Regardless of when you choose to embark on your Greek odyssey, island hopping promises a truly memorable experience that you will cherish for a lifetime.
Top Greek Island Hopping Routes
In this section, we will explore some of the most popular Greek island hopping routes, focusing on the Cyclades, Dodecanese, Ionian, and Saronic routes.
Cyclades Route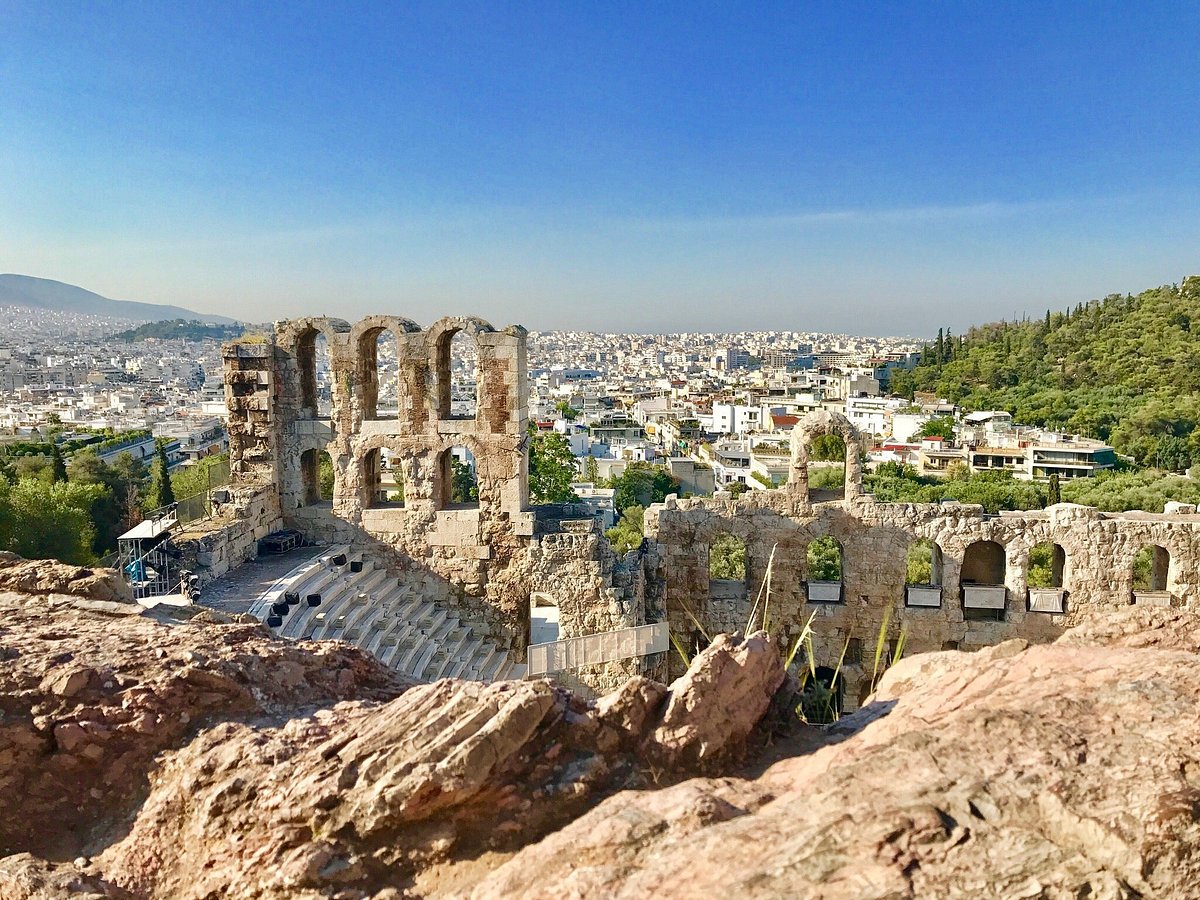 The Cyclades route is one of the most picturesque Greek island hopping itineraries, as it takes you to some iconic destinations. A classic route could include:
Athens: Start your adventure by exploring its rich history and the stunning Acropolis.
Mykonos: Enjoy the vibrant nightlife and pristine beaches of this world-famous island.
Santorini: Marvel at the breathtaking sunsets, whitewashed villages, and unique caldera views.
Naxos: Relax on the vast sandy beaches, sample local cuisine, and visit ancient sites.
Paros: Discover its charming towns, traditional fishing villages, and crystal-clear waters.
Dodecanese Route
The Dodecanese route offers a blend of history, beautiful landscapes, and rich cultural experiences. Consider the following stops:
Rhodes: Explore the medieval Old Town, ancient ruins, and stunning beaches.
Kos: Visit the ancient Agora, impressive castles, and enjoy vibrant nightlife.
Symi: Admire the colourful neoclassical architecture, and enjoy a more relaxed atmosphere.
Patmos: Visit the Monastery of St. John and the Cave of the Apocalypse, significant religious sites.
Ionian Route
The Ionian route showcases lush green landscapes, idyllic beaches, and charming villages. Don't miss these islands:
Corfu: Explore the UNESCO-listed Old Town, verdant landscapes, and crystal-clear waters.
Kefalonia: Discover the stunning Myrtos Beach, caves, and picturesque villages.
Zakynthos: Visit the famous Navagio (Shipwreck) Beach, and observe the protected Loggerhead turtle nesting sites.
Lefkada: Marvel at the breathtaking beaches, and enjoy various water activities.
Saronic Route
The Saronic route is perfect for a shorter island hopping adventure, as the islands are closer to Athens. Include these destinations:
Aegina: Discover the ancient Temple of Aphaia, traditional villages, and lovely beaches.
Poros: Relax in the charming town, visit the Monastery of Zoodochos Pigi, and enjoy water sports.
Hydra: Wander the picturesque harbour town, and enjoy the car-free, idyllic lifestyle.
Spetses: Explore the elegant neoclassical mansions, historical sites, and beautiful beaches.
How to Choose the Right Route
When planning a Greek island-hopping adventure, it's essential to select the best route that suits your preferences and schedule. This section will guide you through the process of choosing the perfect route by considering the route length, your preferred islands, and the type of travel experience you're after.
Route Length
Firstly, consider how long you intend to spend island hopping. For a short trip of 7-10 days, consider routes that include 2-3 islands, such as Athens – Mykonos – Santorini. For longer trips of two or more weeks, you could explore more islands like the Western Cyclades or Dodecanese Islands. Keep in mind that travel time between islands can vary, so factor this into your planning.
Short trip (7-10 days): 2-3 islands
Longer trip (14+ days): 4 or more islands
Preferred Islands
Next, think about what type of islands you want to visit. The Greek Islands all have their unique charm and attractions, but some cater to different preferences. For example, Santorini is ideal for a romantic getaway, Mykonos is known for its glamour and nightlife, and Naxos offers a more laid-back atmosphere. Do some research on islands in each group, like the Cyclades, Ionian, or Northern Aegean, and make a list of islands that interest you.
Romantic: Santorini
Nightlife: Mykonos
Relaxing: Naxos
Travel Experience
Lastly, consider the type of travel experience you're seeking. Some travellers prefer luxury vacations with upscale hotels and dining, while others might enjoy a more authentic, budget-friendly trip. Remember to factor in the availability of ferries or flights between your chosen islands to ensure smooth transportation during your journey. All in all, the key to a memorable Greek island hopping adventure is to select a route that resonates with your personal preferences and travel goals.
Luxury
Authentic
Budget-friendly
Types of Accommodations
When planning a Greek island-hopping adventure, it's essential to choose the right type of accommodation to suit your preferences and budget. Here are some popular options for travellers exploring the Greek islands.
Hotels and Resorts
Hotels and resorts are widely available throughout the Greek islands, catering to a range of budgets and preferences. Many luxury resorts offer all-inclusive packages, while budget hotels provide comfortable accommodation for those looking to save on costs. Some features to consider when choosing a hotel or resort include:
Location: Proximity to beaches, restaurants, and local attractions.
Amenities: On-site facilities such as swimming pools, fitness centres, and spa services.
Room options: Various room types, such as double rooms or suites, to accommodate different group sizes.
Guesthouses
Guesthouses are a more intimate and often affordable alternative to hotels and resorts. These establishments usually feature a smaller number of rooms and provide a more personalised experience. Some things to consider when selecting a guesthouse include:
Hosts: Friendly and welcoming hosts can enhance the overall travel experience.
Local knowledge: Guesthouse hosts often have insider tips on what to see and do in the area.
Shared spaces: Guesthouses may include shared living and dining spaces, allowing for interaction with other guests.
Villas and Holiday Homes
For those seeking more privacy and flexibility in their accommodation, renting a villa or holiday home can be an excellent choice. Villas and holiday homes typically offer self-catering facilities, making them ideal for longer stays or groups travelling together. Factors to consider when booking a villa or holiday home include:
Capacity: Choose a property with enough bedrooms and living spaces to accommodate your group comfortably.
Amenities: Look for features such as private pools, outdoor dining areas, and fully equipped kitchens.
Location: Ensure the property is situated close to local attractions, beaches, and amenities.
By considering these factors when selecting accommodation for your Greek island-hopping trip, you can find the perfect place to rest and recharge after a day of exploration.
Transportation Options
Ferries
Ferries are the most popular mode of transport for island hopping in Greece. They offer a reliable and cost-effective way to get between islands. There are several companies operating ferry services, with different types of vessels and travel times. Regular ferries are slower but often cheaper, while high-speed ferries can be more expensive but save time. Reservations for popular routes in peak season are recommended. Some ferry companies that operate in Greece include:
Blue Star Ferries
Hellenic Seaways
Seajets
Golden Star Ferries
Minoan Lines
Catamarans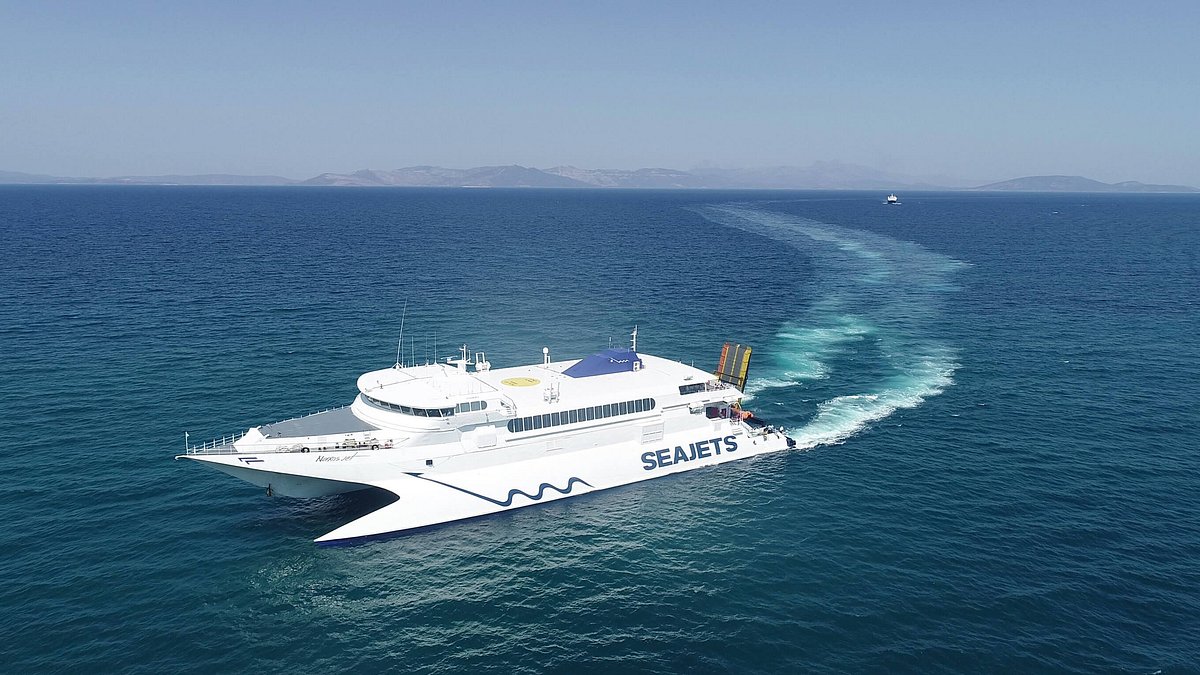 For visitors seeking a faster transportation option while island hopping, catamarans can be an excellent choice. While more expensive than ferries, catamarans are considerably faster and often boast more comfortable seating and amenities. Catamarans are a popular choice for visitors who have limited time to explore the Greek islands and want to maximise their time on each island. Some companies that offer catamaran services in Greece are:
Seajets
Minoan Lines
Golden Star Ferries
Yachts
For a more luxurious and personalised island-hopping experience, travellers can opt to rent a yacht. Yacht charters provide a unique opportunity to explore the Greek islands at your own pace and access remote beaches and secluded coves unreachable by ferry or catamaran. Various types of yachts and sailboats can be rented, ranging from simple and budget-friendly options to lavish, crewed vessels. Some recommended yacht charter companies in Greece are:
Istion Yachting
Kiriacoulis
Sun Yachting Greece
The Moorings
Packing Tips and Essentials
When planning a Greek island hopping adventure, it's essential to pack smartly in order to make your trip as enjoyable and comfortable as possible. This section covers packing tips and essentials, broken down into Clothing, Toiletries, and Travel Documents.
Clothing
When packing for a Greek island hopping trip, keep in mind that the weather is usually warm and sunny, but it can get chilly during the evenings and on boat trips. Here's a list of clothing essentials to consider:
Lightweight clothing: Pack plenty of breathable, light clothing such as dresses, shorts, and T-shirts.
Swimwear: Don't forget to bring at least two sets of swimwear, as you'll be spending lots of time at the beach or by the pool.
Outerwear: A light jacket or sweater is necessary for cooler evenings or windy boat rides.
Footwear: Comfortable sandals or flip-flops for the beach and supportive walking shoes for exploring the islands.
Beachwear: A beach cover-up, sun hat, and sunglasses will keep you protected from the Mediterranean sun.
Accessories: Bring a reusable water bottle, a quick-dry travel towel, and a small daypack for carrying your essentials during daily excursions.
Toiletries
Apart from personal items, here are some toiletry essentials for your Greek island hopping trip:
Sun protection: Bring sunscreen with a high SPF, as well as lip balm with an SPF to protect your lips from sunburn.
Insect repellent: Mosquitoes can be a nuisance on the islands, so pack an appropriate repellent to keep them at bay.
Travel-size toiletries: Shampoo, conditioner, body wash, and other essentials should be in travel-size containers to save space in your luggage.
First-aid kit: A basic first-aid kit with bandages, pain relievers, and any necessary medication is a must-have.
Hygiene: Hand sanitiser and wet wipes can help keep you refreshed and clean during your travels.
Travel Documents
Ensure that all your necessary travel documents are organised and ready for your trip. Here's a checklist of important documents:
Valid passport: Make sure your passport is valid for at least six months beyond your travel dates.
Visa: If required, obtain a visa in advance from the Greek consulate or embassy in your country.
Travel insurance: Purchase comprehensive travel insurance that covers medical emergencies, loss of luggage, and trip cancellations.
Accommodation bookings: Print and organise all your hotel or accommodation reservation confirmations.
Transportation tickets: Keep your flight, ferry, and other transportation tickets readily accessible.
Emergency contacts: Have a list of emergency contacts, such as the local embassy, your travel insurer, and trusted family or friends.
By following these packing tips and essentials, you'll be well-prepared for a memorable and enjoyable Greek island hopping adventure.
Hailing from the historic city of Thessaloniki, Nikos Tsakiris is a passionate explorer, seasoned writer, and co-founder of Greek Island, the definitive travel blog for the Greek Islands.