Euboea Island, also known as Evia, is the second-largest Greek island and boasts a vast array of stunning beaches to explore. The island is a popular destination among both international travelers and Athenians looking for a perfect seaside retreat. Renowned for its crystal-clear waters, sandy shores and charming seaside villages, Euboea has something to suit everyone's tastes.
The coastlines of Euboea are adorned with beaches ranging from secluded coves to lively family-oriented havens, giving visitors the opportunity to experience true serenity or vibrant energy, depending on their preferences. Some popular beaches include Lichadas (Kavos) Beach, known for its warm waters and delicious nearby souvlaki; and the picturesque Chiliadou Beach, with its mountainous backdrop and combination of sand and pebbles.
In addition to its spectacular beaches, Euboea Island offers a rich cultural experience with its proximity to archaeological sites and the bustling capital of Chalkis. Visitors can easily combine a relaxing holiday with fascinating excursions to historical locations and beautiful surrounding destinations, ensuring a memorable trip to this enchanting island.
Top Beaches in Euboea
Euboea, also known as Evia, is a beautiful Greek island that attracts travelers from all over the world due to its diverse landscape, rich history, and picturesque beaches. In this section, we will focus on three of the must-visit beaches on the island: Agia Anna Beach, Rovies Beach, and Lefkandi Beach.
Agia Anna Beach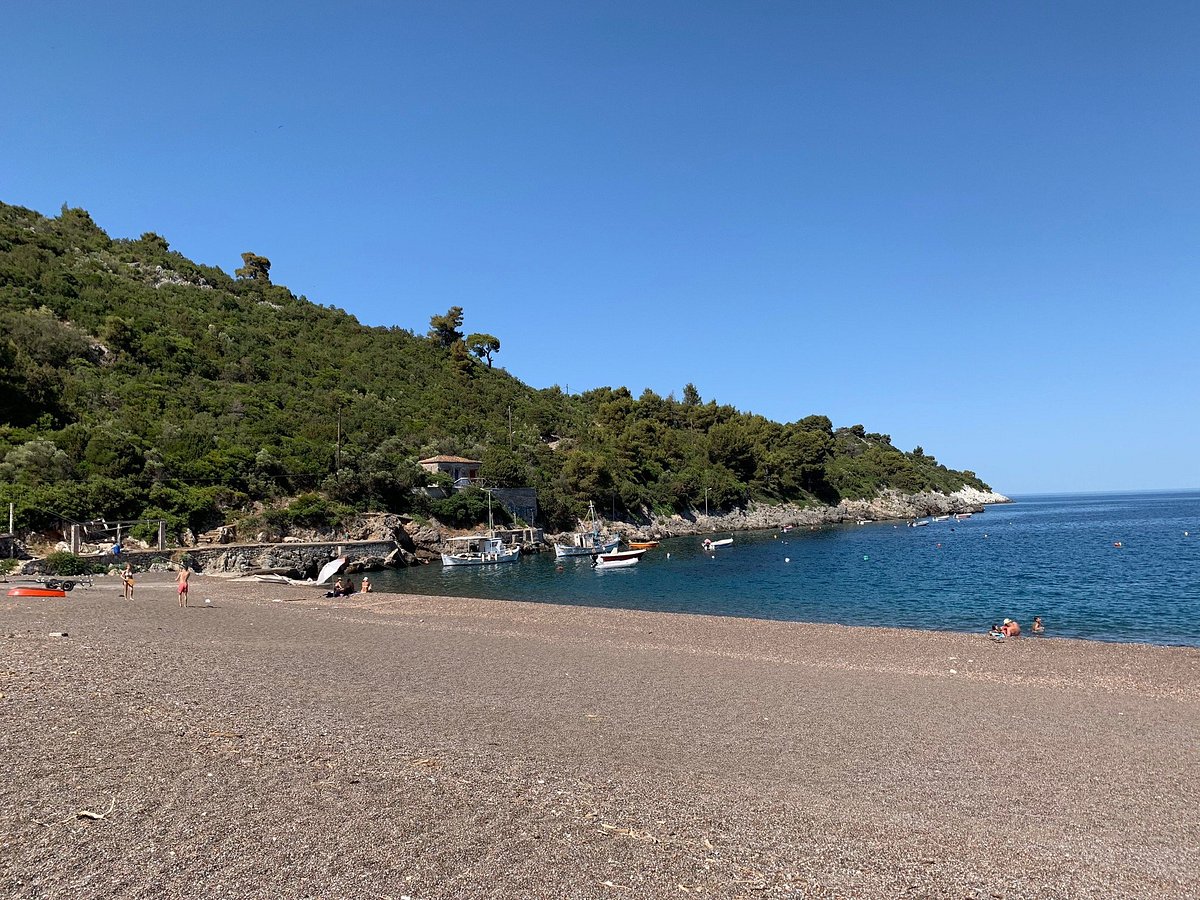 Agia Anna Beach is a stunning destination located on the northern part of Euboea. The beach features a mixture of soft, white sand and pebbles, making it ideal for sunbathing and taking leisurely strolls. Crystal-clear waters dominate the shoreline, providing an excellent environment for swimming and snorkelling. The beach is lined with swaying palm trees and a variety of local amenities, including tavernas, shops, and cafes. Agia Anna Beach is an excellent choice for both families and couples seeking a tranquil beach experience on Euboea.
Rovies Beach
Rovies Beach is situated on the west coast of Euboea and is known for its beautiful, natural surroundings. The beach is surrounded by lush green hills and olive groves, providing a serene setting for those looking to unwind. The coast is lined with pebbles and a fine stretch of dark sand, while the water is calm and suitable for swimmers of all levels. Rovies Beach is also home to several excellent seafood tavernas, making it a popular spot for locals and visitors who want to enjoy a delicious meal while taking in the stunning views of the sea.
Lefkandi Beach
Lefkandi Beach, located on the central part of Euboea Island, is a great spot for those seeking a quiet, low-key beach experience. The beach offers visitors a combination of golden sand and clear blue waters, making it perfect for swimming, sunbathing, and playing beach games. Lefkandi Beach is less crowded than other popular destinations on the island, giving visitors the opportunity to enjoy the natural beauty and tranquillity of Euboea without feeling overwhelmed. The beach is dotted with a few local tavernas where visitors can taste authentic Greek cuisine and enjoy a fantastic seaside view while they dine.
Activities at Euboea Beaches
Euboea Island, located in Greece, offers visitors an array of exciting activities to enjoy while visiting their beautiful beaches. This section highlights some of the watersports and hiking experiences that can be found on the island.
Watersports
A plethora of watersport activities await beachgoers in Euboea. Some popular options include:
Boat Tours

: Explore the crystal clear waters and scenic coastlines of Euboea by joining a boat tour. These tours provide a unique way to experience the island's beauty while learning about its history and local marine life.

Scuba Diving & Snorkelling

: Dive beneath the waves to discover a vibrant, underwater world full of colourful fish, fascinating sea creatures, and coral reefs. Euboea offers numerous diving and snorkelling sites suitable for both beginners and experienced divers.

Windsurfing & Kitesurfing

: With its steady winds and stunning water conditions, Euboea is an ideal destination for windsurfing and kitesurfing enthusiasts.
Hiking
Euboea's diverse landscape offers numerous opportunities for hiking. Here are two popular trails:
Chiliadou Beach Trail

: Chiliadou Beach, known for its relaxed atmosphere and scenic coastline, is a great starting point for hikers in search of a tranquil trek. The trail offers a variety of terrain, including sand, pebbles, and rocky paths that lead to magnificent views of the island.

Eretria Archeological Site Trail

: For history lovers, this trail provides a chance to explore Eretria's ancient archeological site. While hiking this route, visitors can enjoy breathtaking views of the surrounding landscape and gain insight into the island's rich cultural heritage.
Whether you are attracted to the adrenaline rush of watersports or the peacefulness found in hiking, Euboea's beaches offer a wealth of activities to suit every preference.
Euboea Beaches for Families
Euboea is an excellent destination for families, thanks to its picturesque coastline and numerous beaches that cater to visitors of all ages. In this section, we will discuss some of the child-friendly beaches and safety tips that you should consider when visiting Euboea with your family.
Child-Friendly Beaches
Agia Anna Beach

: Located on the east coast of the island, Agia Anna is a pebbled beach that's popular among families with kids. The clear waters and ample amenities make it a perfect spot for a fun day out.

Kavos Beach

: Found on the northwesternmost tip of Evia, Kavos is a unique two-way-facing beach. It doesn't face the Aegean Sea directly, which results in calmer and shallower waters that are ideal for families with young children.

Hiliadu Beach

: If you prefer a quieter, more relaxed atmosphere, Hiliadu beach offers a spacious sand and pebble coastline and stunning views. Families can enjoy a more laid-back experience here.
Safety Tips
When visiting Euboea's beaches with your family, keep the following safety tips in mind:
Swim only in designated areas

: Stick to areas marked for swimming, as they are known to be safe for swimmers of all ages.

Supervise children

: Always keep a close watch on your kids while they're in the water, even if they're strong swimmers.

Wear sunscreen

: To protect your family's skin from sunburn, make sure everyone applies sunscreen with at least SPF 30 and reapply it every two hours or after swimming.

Stay hydrated

: Be sure to drink plenty of water throughout the day, as spending time in the sun and swimming can lead to dehydration.

Be cautious of marine life

: While Euboea's waters are generally safe, it's important to be mindful of marine life, such as sea urchins and jellyfish. Teach your children not to touch any unfamiliar creatures they encounter in the water.
Cuisine around Euboea Island
Beachside Dining
Euboea Island offers a variety of dining options along its beautiful beaches. Many of these restaurants provide stunning views of the crystal-clear waters while serving up delicious local Greek cuisine. Diners can choose from beach bars, taverns, and more traditional restaurants that showcase breathtaking views. The atmosphere is often laidback and relaxed, giving visitors a chance to unwind and enjoy their meals amidst the beauty of the island.
Local Seafood Dishes
Euboea Island is renowned for its delicious seafood dishes, thanks to its thriving fishing communities. The local fishermen bring in fresh catches every day, ensuring that the seafood served on the island is of the highest quality. Some of the most popular seafood dishes found in Euboea Island include:
Grilled Octopus: Served as a tender and flavourful appetiser or part of a shared meze platter.
Mussels Saganaki: A Greek classic made with fresh mussels cooked in a tomato and feta cheese sauce.
Shrimp Giouvetsi: Baked shrimp with orzo pasta, tomato sauce, and a sprinkling of feta cheese.
Fish Soup Kakavia: A traditional fish soup with various fish varieties, vegetables, and olive oil.
Fried Calamari: Lightly battered and fried squid rings, a popular choice as a starter or snack.
These delightful dishes showcase the flavours of the sea, while incorporating local herbs, olive oil, and other ingredients that Euboea Island is known for. Whether enjoyed in a beachside tavern or a more upscale restaurant, guests are sure to be impressed by the flavours and diversity of the island's seafood cuisine.
Frequently Asked Questions
Where are the best beaches to visit on Euboea?
Among the top beaches to visit on Euboea Island, Chiliadou Beach is a popular choice. This beautiful beach consists of a mixture of sand and pebbles and attracts locals and tourists alike. Dafni beach, near Politika village, is also a stunning option for those looking for a quick day trip from Athens.
Which Euboea beaches have clear water?
The east coast of Euboea Island offers some of the best options for clear water beaches. The pristine waters and wild landscapes can be found on beaches along this coast, making it perfect for a refreshing swim and stunning views.
Does Euboea have sandy or pebble beaches?
Euboea Island features a variety of beaches, some with sandy shores and others with pebbles. Chiliadou Beach, for example, has a mix of sand and pebbles, offering a unique, textured experience. Some beaches may lean more towards one or the other, so choose according to your preference.
Where are the most popular Euboea beaches for couples?
Chiliadou Beach's mix of sand and pebbles, along with the beautiful surrounding landscapes, make it a romantic destination for couples visiting Euboea Island. Other fantastic options include Dafni beach and beaches along the east coast, which are more secluded and wild.
Where are the quietest beaches on Euboea Island?
The quietest beaches on Euboea Island are often found along the east coast, with its wild landscapes and secluded shores. Visiting these beaches will give you the opportunity to enjoy a peaceful day in nature away from the bustle of the more popular and crowded options.
Where are the best swimming spots on Euboea?
Euboea's east coast beaches provide excellent swimming spots due to their clear water and stunning surroundings. Beaches like Chiliadou and Dafni also offer beautiful swimming conditions, so you can relax and enjoy the refreshing waters of the Aegean Sea while taking in the beauty of this Greek island.
Eleni Vasiliadis, a native of the picturesque island of Corfu and co-founder of Greek Island, is a seasoned traveller, accomplished writer, and passionate advocate for Greek culture and cuisine.