The Cyclades Islands in Greece offer an enchanting experience for travelers seeking sun-kissed landscapes, quaint white villages, and azure seas. As a group of more than 200 islands sprinkled across the Aegean Sea, these stunning destinations captivate visitors with their rich history, archaeological sites, and breathtaking beaches. Of the many islands to choose from, the most popular include Santorini, Mykonos, Paros, Naxos, Milos, Ios, and Koufonisia.
Each island brings a unique flavour to the Cyclades' tapestry, ranging from chic and bustling destinations like Mykonos, famous for its cosmopolitan lifestyle and lively nightlife, to peaceful getaways like Amorgos, offering unspoilt natural beauty that appeals to outdoor enthusiasts. As you explore this alluring archipelago, you'll marvel at the traditional Cycladic architecture featuring domed churches, windmills, and charming cobbled streets.
Embarking on a journey to the Cyclades Islands is an unforgettable way to uncover all that Greece has to offer. So whether you're seeking island hopping adventures, immersing yourself in the local culture or unwinding on sandy shores, there's no doubt that a trip to the Cyclades will create memories to last a lifetime.
Cyclades Islands Overview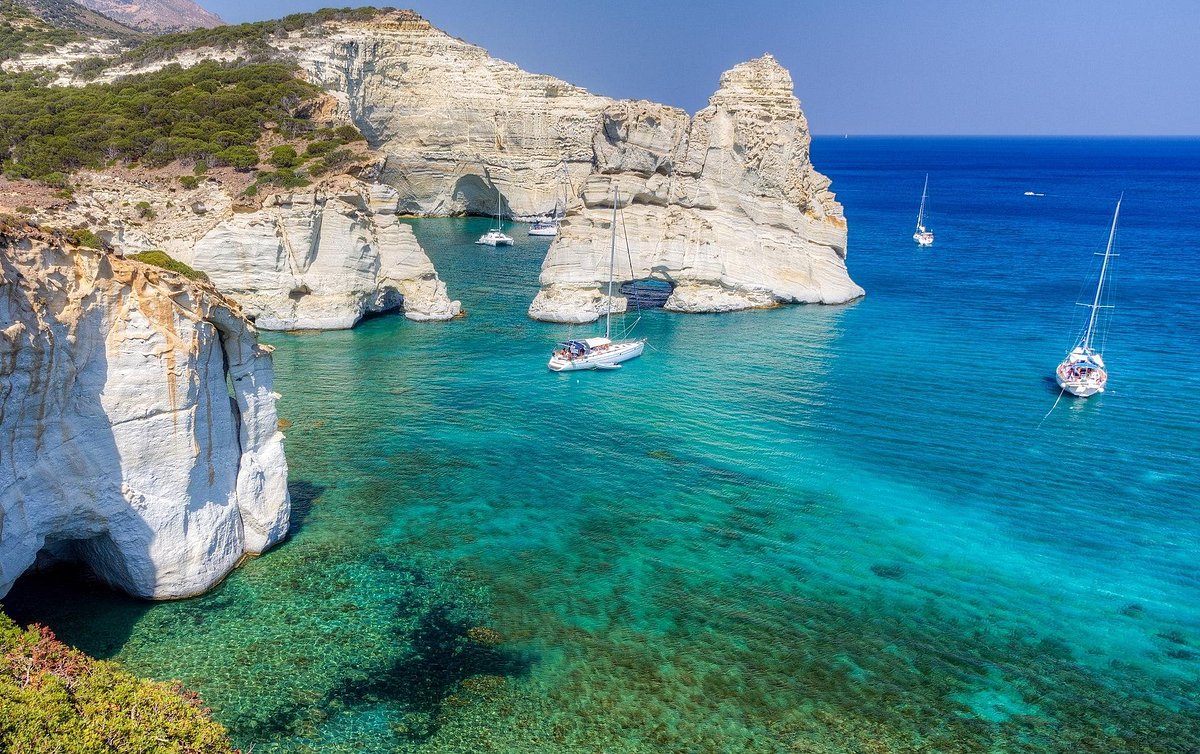 Location and Geography
The Cyclades islands are a group of around 220 islands located in the southern part of Greece, between Athens and Crete. However, only 24 of these islands are inhabited. They form a circle around the sacred island of Delos and include popular destinations such as Mykonos, Santorini, Paros, and Naxos.
Climate and Best Time to Visit
The Cyclades have a Mediterranean climate with mild winters and warm, dry summers. The best time to visit these islands is between late April and early October when the weather is warm and sunny, but not unbearably hot. Peak season falls in July and August, so if you're looking to avoid the crowds, consider visiting during late spring or early autumn.
Island Hopping Possibilities
Island hopping in the Cyclades is a popular way to explore the different islands and their unique charm. There are numerous ferry connections between the islands, making it easy to create your own itinerary. Some popular island hopping routes include:
Mykonos to Santorini
Naxos to Paros
Santorini to Ios
Paros to Antiparos
With their picturesque white and blue houses, stunning scenery, dazzling beaches, and rich cultural history, the Cyclades islands offer endless possibilities for a memorable island-hopping experience.
Top Islands to Visit
Santorini
Santorini is a must-visit island in the Cyclades, known for its stunning caldera views, white-washed buildings, and signature blue-domed churches. This picturesque island offers a romantic atmosphere and breathtaking sunsets. The towns of Oia and Fira are popular spots to explore, with their charming shops, delicious eateries, and wine-tasting experiences. Don't miss visiting the beaches such as Red Beach and Kamari, as well as the ancient archaeological site of Akrotiri.
Mykonos
Mykonos is the perfect destination for those wanting to experience the vibrant nightlife and cosmopolitan atmosphere that the Cyclades are known for. The picturesque white-washed alleys of Mykonos Town create a maze-like structure that houses fashionable boutiques, lively bars, and traditional tavernas. Make sure to visit iconic landmarks such as the famous windmills and Little Venice. During the day, relax on beautiful beaches like Elia, Super Paradise, and Psarou.
Paros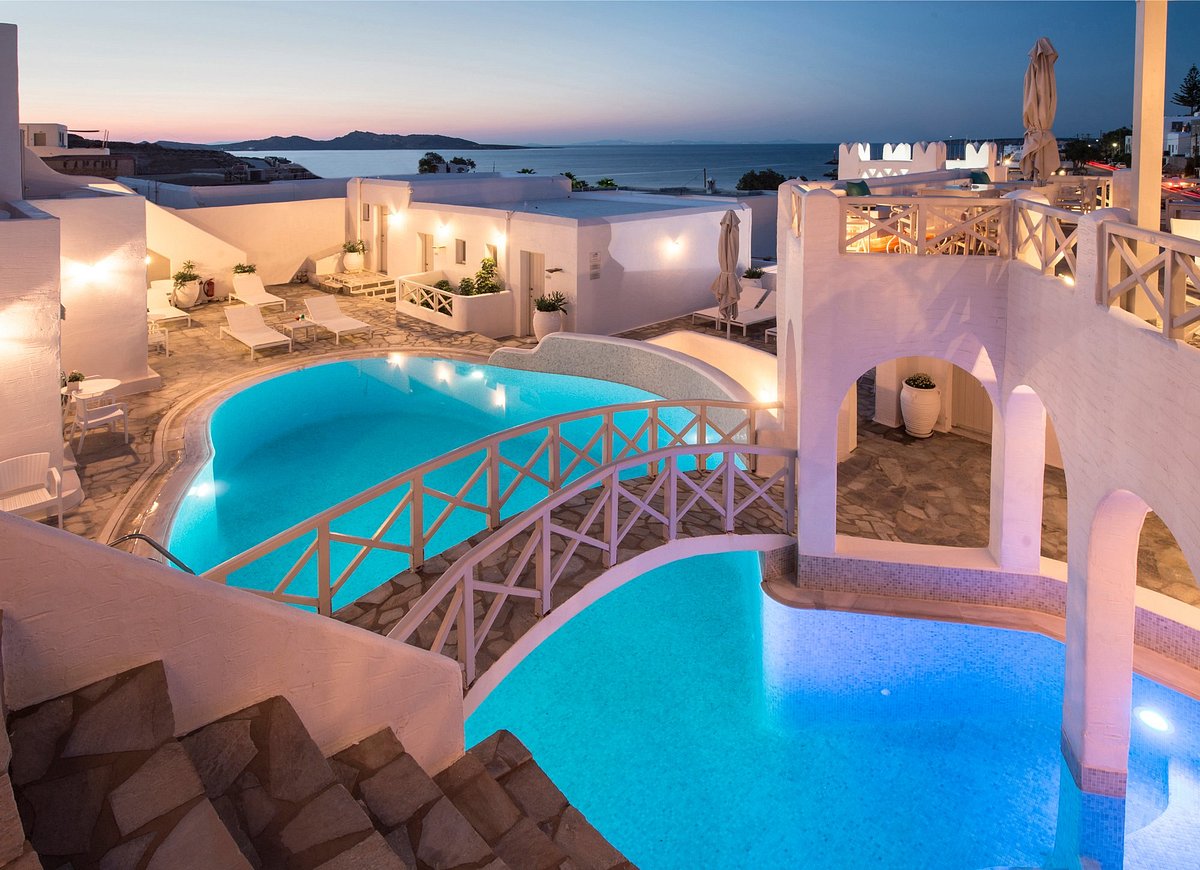 Paros is the ideal destination for a taste of the traditional Cycladic charm with its beautiful beaches, quaint villages, and relaxed atmosphere. Explore the picturesque villages of Parikia, Naoussa and Lefkes, with their classic white and blue architecture. Paros boasts beautiful beaches such as Kolymbithres, Golden Beach, and Santa Maria, perfect for swimming, sunbathing, and enjoying water sports like windsurfing.
Naxos
Naxos is the largest island in the Cyclades and offers a mix of stunning beaches, charming villages, and historic treasures. Explore the island's Venetian-style Old Town, known as the Kastro, and visit the iconic Portara, a marble gate that once led to an ancient temple. Naxos has superb sandy beaches such as Agios Prokopios, Agia Anna, and Plaka, ideal for sunbathing and water sports. Be sure to try the local Naxos cheeses and olive oil during your visit.
Milos
Milos is a unique island known for its otherworldly volcanic landscapes, colourful beaches, and striking fishing villages. Discover the island's rich history by visiting the ancient theatre and catacombs, or take a boat tour to the mesmerising Kleftiko cove. Some must-see beaches on the island include Sarakiniko, Tsigrado, and Firiplaka. Milos is also a food lover's paradise, offering exquisite local dishes such as seafood and tomato fritters.
Accommodation Options
Luxury Hotels and Resorts
The Cyclades Islands offer a variety of luxurious hotels and resorts for those seeking a lavish stay. Santorini, famous for its caldera views and breathtaking sunsets, is home to numerous high-end properties, for instance, Grace Santorini and Canaves Oia Luxury Suites. Mykonos, known for its vibrant nightlife, also offers upscale options like Cavo Tagoo and Santa Marina Resort & Villas.
Mid-Range Choices
There are plenty of mid-range accommodations available in the Cyclades, catering to various tastes and budgets. On the island of Paros, you may consider Minois Village Hotel or Paros Agnanti Hotel as comfortable options that won't break the bank. Naxos, a popular family destination, also boasts mid-range choices such as Nissaki Beach Hotel and Lagos Mare Hotel.
Budget-Friendly Options
For travellers on a budget, the Cyclades continue to deliver a wide range of affordable choices. On the island of Milos, consider staying at Milos Breeze Boutique Hotel or Melian Boutique Hotel, which offer value and charm. Ios, a favourite destination for young travellers, has numerous budget-friendly options like Homer's Inn Hotel or FarOut Beach Club. Lastly, for a more off-the-beaten-path experience, Koufonisia boasts budget accommodations like Koufonisia Hotel and Myrto Hotel.
Transportation and Getting Around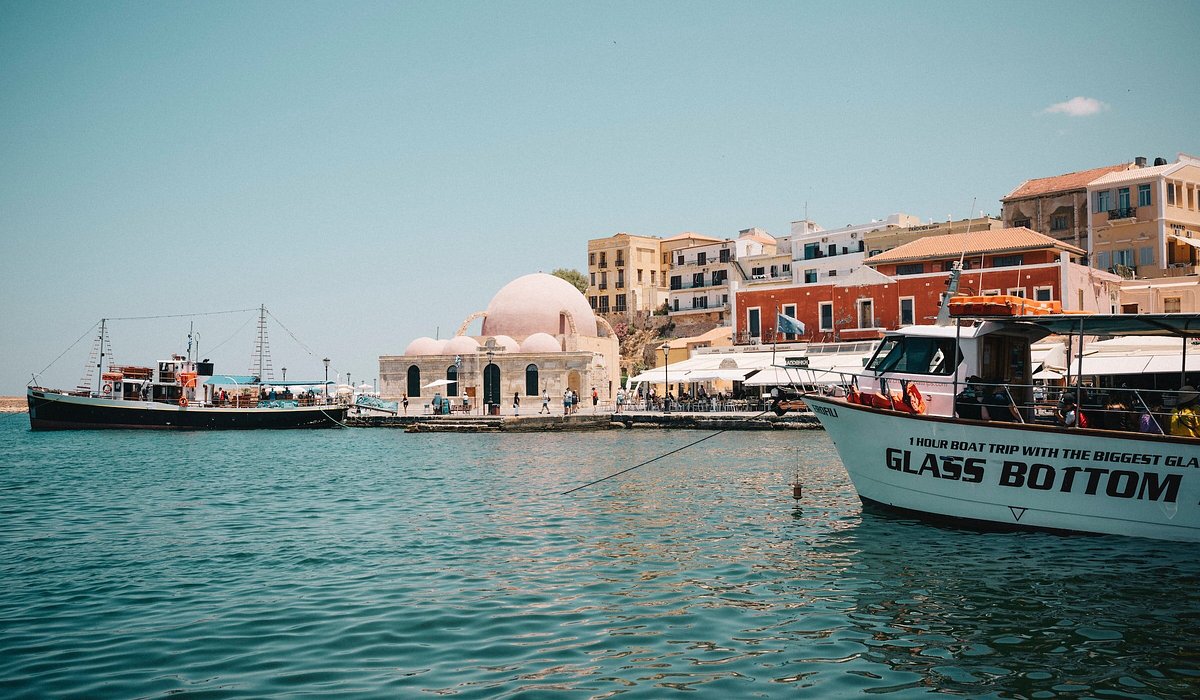 Ferries and Boat Services
The primary mode of transportation between the Cyclades islands is via ferries and boat services. There are frequent connections between Athens and the islands, as well as among the islands themselves. Various ferry companies operate different routes, with options for high-speed ferries or more affordable, slower boats. When planning your trip, it's essential to check ferry schedules and book tickets in advance, especially during peak travel seasons.
Local Buses and Taxis
Once you're on the islands, local buses are a convenient way to get around. Most of the Cyclades islands have a reliable bus network that connects the main towns and villages to popular beaches and tourist sites. Bus schedules may vary depending on the season, so it's worth checking the latest timetables at local tourist information offices.
In addition to buses, taxis are another option for getting around the islands. They can be relatively expensive compared to buses, but they offer added convenience, particularly if you're travelling with luggage or in a larger group. Some islands even have taxi boat services, which provide transportation between various coastal locations.
Car and Scooter Rentals
Renting a car or scooter is an excellent way to explore the Cyclades islands at your own pace. Many rental agencies are available on the islands, offering a range of vehicles to suit your needs and budget. Keep in mind that some islands have specific regulations and restrictions regarding vehicle rentals, so it's essential to research this in advance.
When driving or riding a scooter in the Cyclades, be cautious of narrow roads, steep inclines, and winding turns, particularly on smaller islands. And, of course, always wear a helmet when riding a scooter for your safety.
Cultural Experiences and Attractions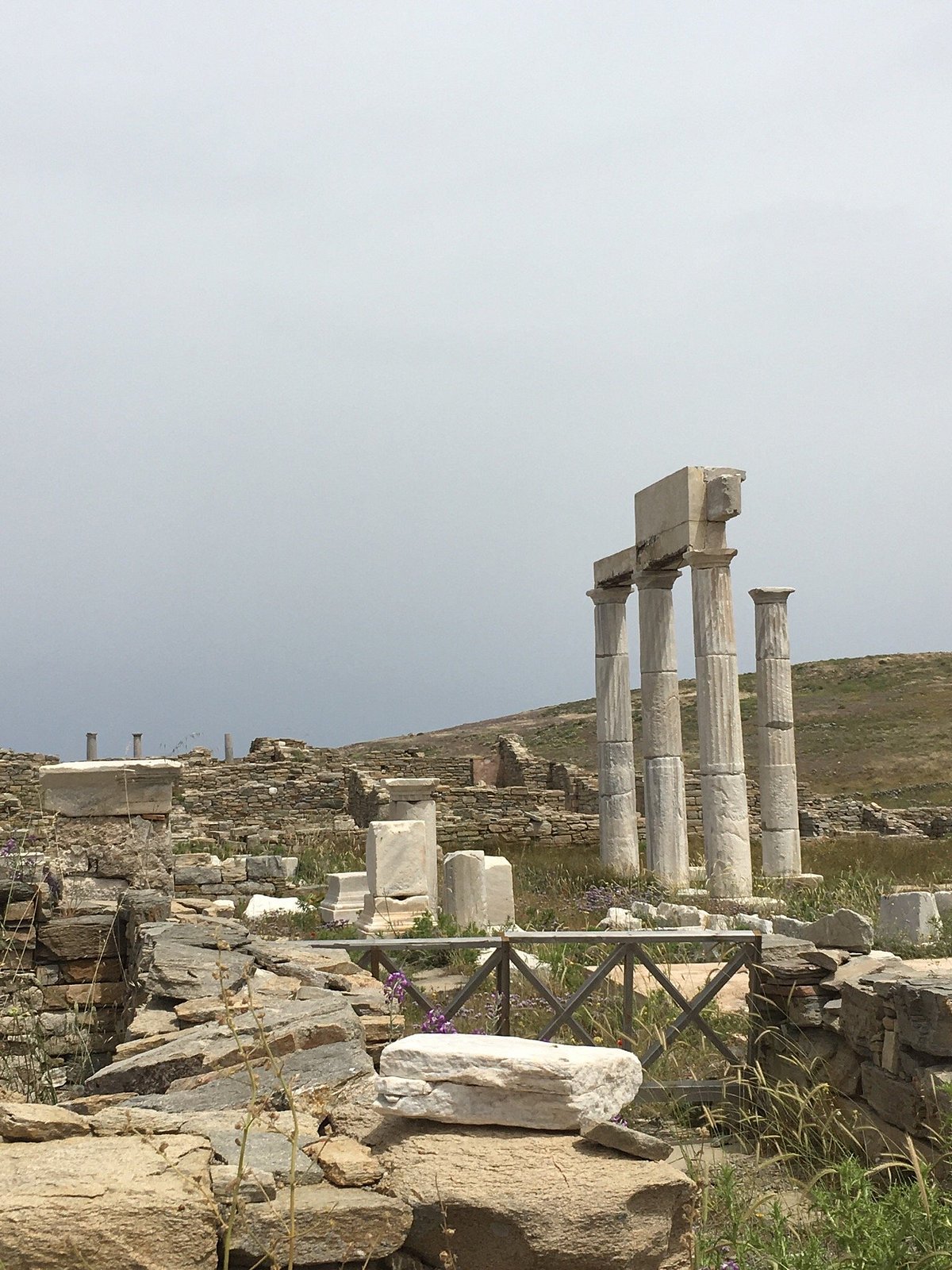 Historical Sites
The Cyclades islands are rich in historical sites, reflecting the region's long and colourful past. Delos, a small island near Mykonos, is a UNESCO World Heritage Site known for its extensive archaeological findings. The Sanctuary of Apollo and the Terrace of the Lions are must-see spots on Delos.
Santorini also offers many historical sites, such as the ancient city of Akrotiri, which was buried under volcanic ash thousands of years ago. The preserved remains of buildings, streets, and frescoes provide a unique insight into ancient Minoan life.
Traditional Villages
Each island in the Cyclades group has its own set of charming traditional villages to explore. On Paros, visit the village of Lefkes, with its cobbled streets, whitewashed houses, and panoramic views. In Naxos, discover the picturesque village of Apeiranthos, a jewel of traditional Greek architecture, with marble streets and Venetian towers.
Tinos is another island that boasts a number of captivating traditional villages, like Volax, renowned for its fascinating history of granite craftsmanship and artful stone arrangements.
Museums and Galleries
The Cyclades islands are home to several museums and galleries that exhibit the region's rich cultural heritage. On Santorini, visit the Museum of Prehistoric Thira, which houses a collection of artefacts from the archaeological site of Akrotiri. The Archaeological Museum of Mykonos displays a variety of exhibits from the neighbouring islet of Delos, which is also one of the most famous historical sites of the Cyclades.
On Paros, explore the local arts scene by visiting the Moraitis Winery Art Space, where you can view contemporary exhibitions and indulge in a tasting of the island's finest wines.
Whether you are a history buff, an art lover, or simply seeking to experience the local culture, the Cyclades islands offer a wealth of opportunities for an unforgettable visit.
Outdoor Activities and Adventures
Beaches and Water Sports
The Cyclades Islands are known for their stunning beaches with crystal-clear waters, perfect for a relaxing day under the sun. Mykonos, for example, offers various water activities such as windsurfing and jet skiing. Make sure to visit nearby beaches on Paros and Naxos, which are just a few hours away on a ferry.
Hiking and Nature Trails
For those who enjoy a more active holiday, the Cyclades Islands boast numerous hiking and nature trails. On the island of Amorgos, embark on a journey through the island's rugged landscape, discovering old monasteries and traditional villages. Meanwhile, Naxos offers a wide variety of nature trails, featuring ancient ruins and lush valleys. Here is a brief list of popular trails:
Naxos: Trail from Filoti to Zas Cave and Mount Zas
Amorgos: Chora to the Monastery of Hozoviotissa
Santorini: Fira to Oia, exploring the Caldera rim
Sailing and Boat Tours
One of the best ways to experience the Cyclades Islands, sailing and boat tours allow you to explore hidden coves, remote beaches, and charming villages. Nea Kameni, for instance, offers remarkable views of the volcanic crater from the top, making it a popular boat tour destination. Several islands also provide boat rentals and gear rentals to help satisfy your seafaring needs.
Cuisine and Local Delicacies
The Cyclades Islands offer a unique culinary experience with traditional Greek flavours, fresh ingredients, and mouth-watering dishes. The cuisine is mainly focused on local vegetables, seafood, and traditional recipes that have been passed down through generations.
Popular Dishes to Try
Tomatokeftedes: Tomato fritters made with fresh tomatoes, feta cheese, and mint. This dish is perfect as an appetiser or a light meal.
Fava: A creamy and delicious split pea puree, served with olive oil and often topped with caramelised onions.
Melitinia: Sweet cheese pastries filled with a mixture of soft cheese, sugar, and cinnamon, perfect for dessert or an afternoon treat.
Koukouvagia: A traditional sponge cake soaked in syrup and usually flavoured with cinnamon and orange.
Top Restaurants and Tavernas
Selene: Located in Santorini, Selene is known for its exquisite fine dining experience and its focus on locally sourced ingredients, blending traditional Cycladic cuisine with a modern twist.
Scorpios: A trendy beachfront restaurant in Mykonos, offering Mediterranean and Greek dishes in a relaxed atmosphere with stunning views of the sea.
Axinos: In Naxos, Axinos is a family-run taverna serving delicious Cycladic cuisine with a focus on locally caught seafood.
Remezzo: Found in Paros, Remezzo boasts a vibrant dining scene and a menu full of authentic Greek dishes prepared with fresh local ingredients.
Frequently Asked Questions
When to visit the Cyclades?
The best time to visit the Cyclades is between June and September, when the weather is warm and sunny, and the sea is ideal for swimming. However, if you prefer fewer crowds and lower prices, consider visiting during the shoulder seasons of May and October. During these months, the weather is still pleasant, but some tourist facilities may be closed.
Island hopping in the Cyclades?
Island hopping is a popular way to explore the Cyclades, thanks to their close proximity and regular ferry services. Santorini, Mykonos, Paros, Naxos, and Ios are some of the most popular islands to visit. While planning your trip, aim to spend 2-3 days on each island to fully experience their unique beauty and charm.
Cyclades for couples?
The Cyclades are a romantic destination for couples, with stunning sunsets, intimate beaches, and quaint towns. Santorini and Mykonos are particularly popular, offering luxurious hotels, fine dining, and vibrant nightlife. For a quieter experience, consider visiting the less touristic islands like Amorgos, Folegandros, and Sifnos.
Cyclades for families?
There's plenty for families to enjoy in the Cyclades, from sandy beaches and clear waters to exciting water sports and friendly locals. The islands of Naxos and Paros are family-friendly, with plenty of activities to keep children entertained, while also providing a more relaxed atmosphere for parents.
How many days for Greek island hopping?
To fully enjoy Greek island hopping in the Cyclades, allow yourself at least 7-10 days. This will give you enough time to explore several islands and soak up their unique atmosphere. If you have limited time, prioritize the islands you'd like to visit most and plan accordingly.
Best Greek islands for 7 days?
If you have a week to explore the Cyclades, a great island combination would be Santorini, Mykonos, and Naxos. These islands offer diverse experiences – from the breathtaking beauty of Santorini to the cosmopolitan vibe of Mykonos, and the family-friendly activities in Naxos. Prioritize your interests and plan an unforgettable 7-day adventure in the enchanting Cyclades.
Eleni Vasiliadis, a native of the picturesque island of Corfu and co-founder of Greek Island, is a seasoned traveller, accomplished writer, and passionate advocate for Greek culture and cuisine.