Discovering the perfect destination for a family holiday can be a challenge, but Corfu, the beautiful Greek island in the Ionian Sea, offers a variety of family-friendly areas to accommodate all tastes and preferences.
Known for its picturesque landscapes, stunning beaches, and rich history, this captivating island has something for everyone, making it the ideal choice for your next family getaway.
Among the many charming locations on the island, some stand out as particularly well-suited for families.
Acharavi, located on the northern coast, is an excellent area for families in search of tranquillity and natural beauty. Offering a serene seaside atmosphere and a multitude of facilities and activities catering to visitors of all ages, Acharavi is an idyllic retreat for both children and adults.
Another popular area for families is Agios Georgios Pagon, nestled on the northwest coast of the island. This picturesque village boasts a stunning beach surrounded by lush green hills, making it an ideal destination for families seeking a peaceful haven for relaxation and recreation.
With a range of accommodation options and family-friendly activities, Agios Georgios Pagon is not to be missed on your visit to the enchanting island of Corfu.
The Best Area for Families: Sidari
Sidari is an ideal destination for families seeking a holiday in Corfu. This resort town offers a wide range of activities and entertainment options that cater to all ages, making it a great choice for families with kids.
Beaches and Waterparks
Sidari is home to beautiful sandy beaches perfect for families with children. The shallow and calm waters offer a safe environment for kids to swim and play. Moreover, there are several waterparks nearby providing endless fun for the whole family. Some popular options include:
Sidari Water Park: This waterpark offers various slides, pools, and activities suitable for kids of all ages. They also have a restaurant and a bar for the grown-ups to enjoy.
Canal d'Amour: Besides its unique geological formations, the area offers clean and shallow waters perfect for children to swim and paddle in safely.
Child-Friendly Restaurants
Families visiting Sidari will have no trouble finding child-friendly restaurants to dine in. Most eateries offer kids menus and family-friendly environments, ensuring an enjoyable time for everyone. A few popular spots include:
Aquarium Bar: Besides its unique underwater theme, this restaurant is known for its spacious and comfortable setting, suitable for families and children.
The Family: As the name suggests, this restaurant is geared towards families offering a welcoming atmosphere and a wide selection of meals.
Sidari Fish Taverna: For those looking for a Greek seafood experience, this taverna offers fresh fish dishes and a family-friendly environment.
Family Accommodations
Sidari has a wide variety of family-friendly accommodation options to choose from. Many hotels and resorts offer amenities such as swimming pools, kids clubs, and playgrounds to keep the little ones entertained. Some top-rated family hotels in Sidari include:
The Lagoon Hotel: A highly-rated property in Corfu that offers comfortable rooms and a lovely pool area for families.
Tondoris Apartments: Known for their clean and well-kept apartments, this accommodation is run by a welcoming and friendly family.
Sidari Beach Hotel: This hotel provides a range of facilities and activities designed specifically for families, including playgrounds and a kids pool.
With its beautiful beaches, waterparks, family-friendly restaurants, and accommodations, Sidari is undoubtedly a fantastic choice for families visiting Corfu.
Acharavi: A Family Resort Destination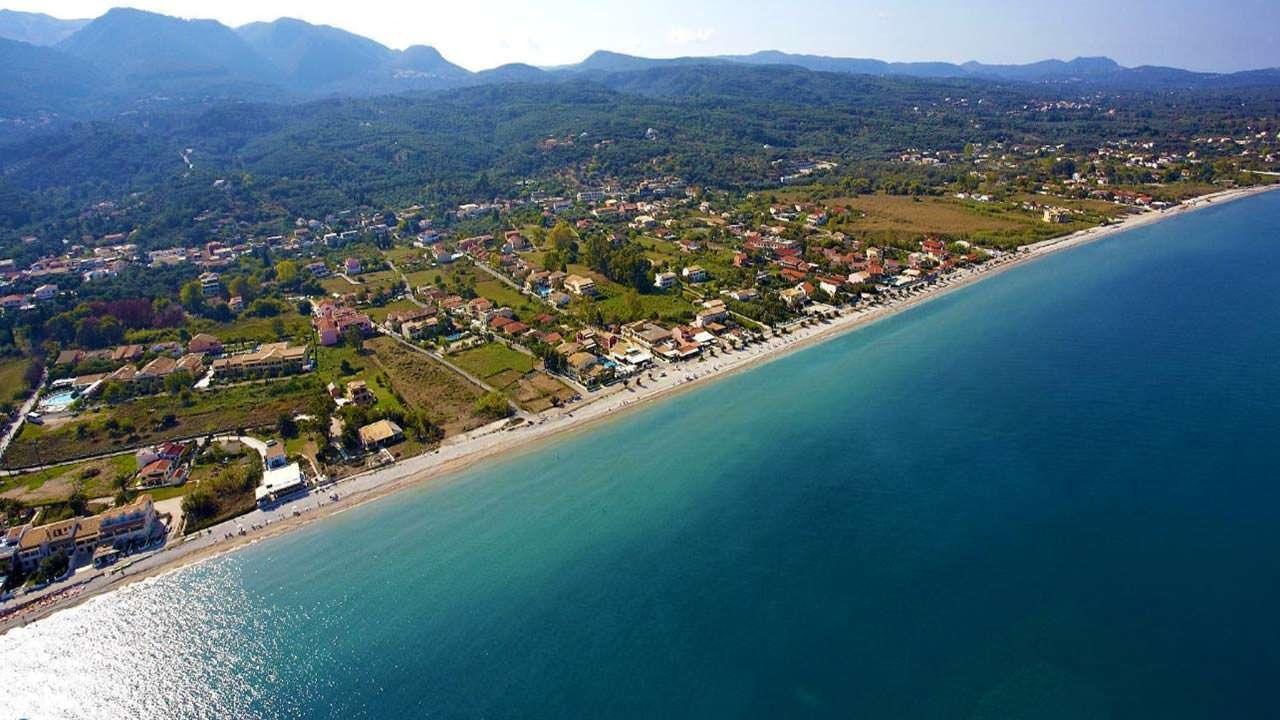 Activities and Entertainment
Acharavi is a fantastic family destination on the north coast of Corfu. This spacious beach resort offers a wide variety of activities and entertainment options for everyone in the family. From water sports, such as kayaking and windsurfing, to exploring the surrounding nature and vibrant Corfiot culture, Acharavi has something for everyone. Families can also enjoy mini-golf, horseback riding, and visits to local historic sites like ancient ruins and traditional villages.
Wide Range of Accommodations
In Acharavi, there is a diverse selection of family-friendly accommodations to suit all budgets and needs. Families can choose from affordable hotels and apartments, to luxurious villas and all-inclusive resorts. Many of these establishments offer essential facilities and amenities for a comfortable and enjoyable stay, such as swimming pools, playgrounds, and kid-friendly dining options.
Some of the popular family hotels in Acharavi include:
Hotel A: Offering family suites and a kids' club
Hotel B: Featuring a playground and children's pool
Hotel C: Providing all-inclusive options for the whole family
Acharavi Beach
A significant attraction in Acharavi is its stunning, sandy beach, considered one of the best in Corfu. With gentle slopes and shallow waters, it is an ideal spot for children and novice swimmers. The beach is also lined with sun loungers, umbrellas, and beach bars, allowing families to enjoy a relaxing day by the sea. In addition, Acharavi Beach is a great destination for water sports, such as snorkelling, paddleboarding, and boat rides, creating fun-filled adventures for all ages.
Gouvia: A Balanced Destination for a Family Holiday
Local Attractions
Gouvia, a former fishing village, has transformed into a popular tourist destination perfect for families. The east coast of Corfu offers a plethora of activities for children and adults alike. Visit Madalena Boat Trips for an unforgettable day on the water exploring the nearby coastlines and hidden coves. For land-based adventures, consider Trailriders Horse Trekking to experience the natural beauty of the island from a different perspective.
Convenient Location and Accommodations
Gouvia's ideal position on the east coast has made it a favourite destination for families visiting Corfu. With the airport and the island's capital, Kerkyra, only 10km away, Gouvia's proximity to important attractions provides guests with a short transfer time and easy access to Corfu town. Families can choose from a range of accommodation options in Gouvia, including hotels, villas, B&Bs, and inns. Finding the perfect place to stay with family-friendly facilities has never been easier.
Gouvia Marina
A significant attraction in the area is the Gouvia Marina, which has grown over the years from a small local fishing port into a major marina housing impressive yachts. If your family loves boating, the marina is a great place not only to look at beautiful boats but also to enjoy waterside dining at one of the many restaurants in the area. Parents can unwind at charming tavernas, while children can enjoy the play areas nearby. Gouvia Marina ensures a fun and relaxing atmosphere for the whole family during their Corfu adventure.
Frequently Asked Questions
What are Corfu's top family-friendly resorts?
Several family-friendly resorts in Corfu are perfect for a relaxing holiday. Some of the top options include:
Acharavi, a resort town known for its extensive beach and family-friendly atmosphere.
Sidari, a town with beautiful beaches and plenty of activities for children.
Agios Georgios, a quieter resort providing a relaxing atmosphere for families.
Where are the best beaches for kids in Corfu?
Corfu has numerous beaches that are ideal for children, including:
Agios Gordios, which boasts a shallow and calm shoreline, perfect for young kids.
Glyfada, a sandy beach with plenty of facilities and shallow waters.
Issos Beach, a large beach with shallow waters and various beach activities.
How safe is Corfu for families?
Corfu is generally a safe destination for families. However, always exercise caution with belongings and respect local customs. Healthcare in Corfu is reliable, with several hospitals and medical centres available in case of emergencies.
What public transport options exist in Corfu?
Corfu offers various public transport options for families, such as buses that connect the island's major towns and resorts.
Car rental services are also widely available for families who prefer the flexibility of having their own vehicle when exploring the island.
Hailing from the historic city of Thessaloniki, Nikos Tsakiris is a passionate explorer, seasoned writer, and co-founder of Greek Island, the definitive travel blog for the Greek Islands.