Corfu, a stunning Greek island in the Ionian Sea, boasts an incredible array of breathtaking beaches that cater to every traveller's preference.
With its picturesque landscape, crystal-clear waters, and inviting Mediterranean climate, Corfu is a paradise for beach lovers and a perfect holiday destination for relaxation and rejuvenation.
Paleokastritsa, one of the island's most famous beach resorts, features a collection of six beautiful beaches in an area that has been a tourist favourite for decades. Visitors can enjoy various activities such as water skiing, parasailing, and boat rentals, while numerous bars and restaurants ensure a lively atmosphere.
Another captivating beach in Corfu is the enchanting Canal d'Amour, known for its remarkable rock formations that create hidden coves and caves along the coastline. Cliff jumping and sunbathing on the smooth rocks are popular pastimes for those who visit this charming spot.
Other noteworthy beaches in Corfu include Agios Gordis, Pelekas, and Glyfada.
Many of these beaches are well-organized, featuring hotels, restaurants, watersports centres, and beach bars, catering to the needs of visitors seeking an unforgettable sun-soaked holiday.
With such an incredible variety of beaches to choose from, Corfu guarantees an exceptional experience for its visitors, leaving them with memories to cherish for a lifetime.
Revealed: The Best Beaches in Corfu
Paleokastritsa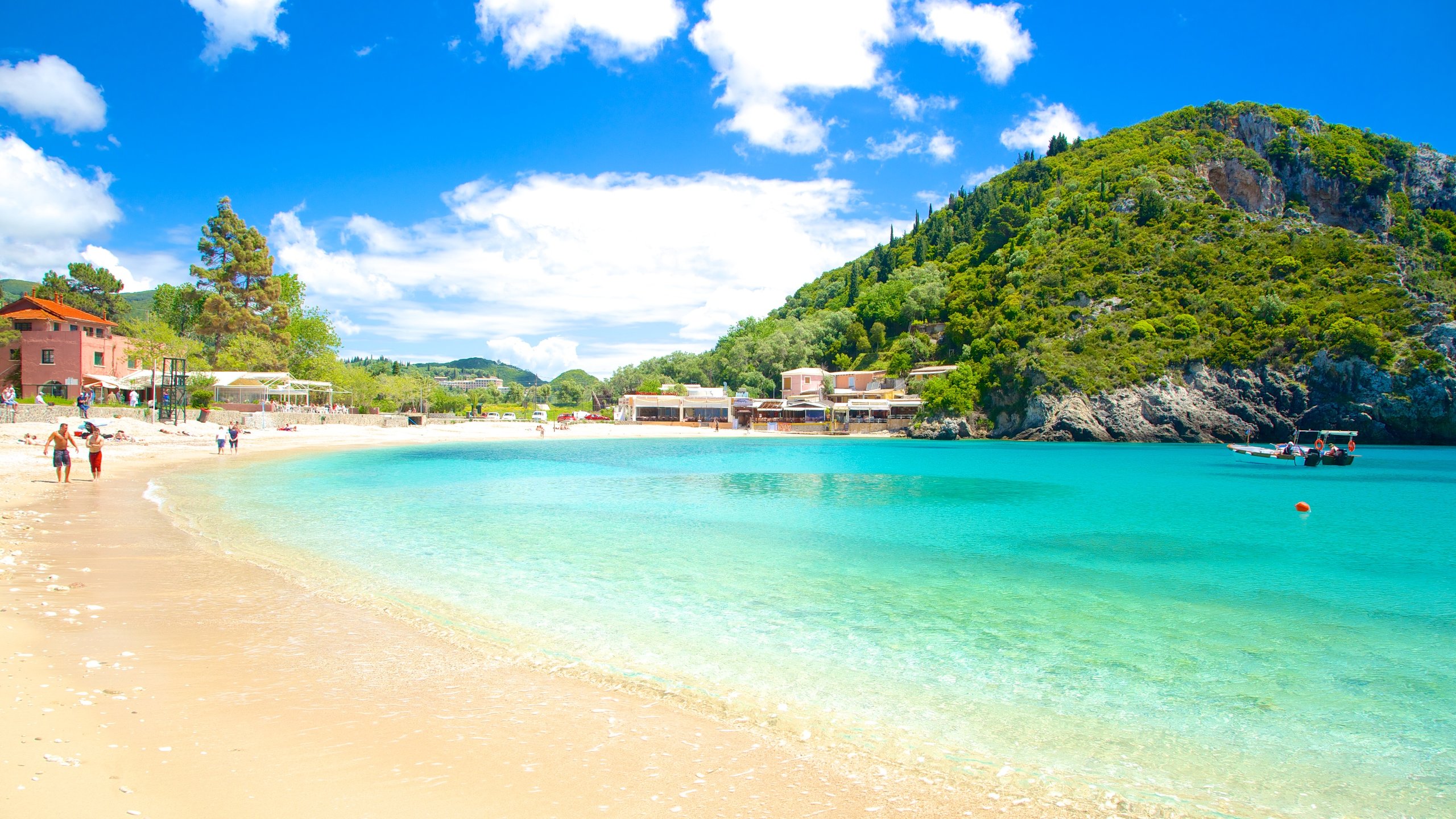 Paleokastritsa is arguably the best beach on Corfu and one of the most well-known. Located on the western coastline of Corfu, Paleokastritsa has several beaches, including Agios Spiridon, Spiros Beach, and Agia Triada.
The area has been a popular tourist destination for decades and offers deep waters with a mix of rocky and sandy seabeds. Facilities and activities include:
Water skiing
Parasailing
Boat rentals
Bars and restaurants
Glyfada
Glyfada is another beautiful beach in Corfu, famous for its picturesque coastlines and organised facilities.
Lined with hotels, seaside restaurants, water sports centres, and beach bars, Glyfada beach offers the perfect beach holiday experience. Visitors can enjoy:
Swimming in calm waters
Sunbathing on golden sand
Participating in various water sports
Dining in cosy seaside restaurants
Agios Gordios
Agios Gordios is a picturesque beach in Corfu with a blend of sand and pebbles, surrounded by lush green cliffs and crystal-clear waters.
This beach offers a more tranquil environment and is ideal for those looking for a peaceful retreat. Visitors can enjoy:
Relaxing on sunbeds under umbrellas
Swimming and snorkelling in clear waters
Hiking in the surrounding green environment
Sampling local cuisine at nearby tavernas and restaurants
The Best Family-Friendly Beaches in Corfu
Dassia
Dassia Beach is located on the east coast of Corfu, and it's an excellent choice for families. The water is shallow and calm, making it perfect for small children to splash and play. This well-organised beach offers sunbeds, umbrellas, and a variety of water sports activities for older kids and adults.
There are plenty of cafes, restaurants, and shops nearby, ensuring you have all the amenities you need for a fun and relaxing day at the beach.
Issos
Issos beach is situated on the southwestern coast of the island and is known for its wide expanse of golden sand and crystal-clear waters.
The shallow water makes it suitable for children, and it's a popular spot for families to enjoy a day of sunbathing, swimming, and building sandcastles.
Issos beach is well-equipped with sunbeds, umbrellas, and beach bars, ensuring a comfortable and enjoyable day for everyone. Additionally, there's a range of water sports available for the more adventurous family members, including windsurfing and water skiing.
Acharavi
Located in the northern part of Corfu, Acharavi beach is another excellent family-friendly destination.
The long stretch of fine pebble and sand shoreline features calm, shallow waters that are perfect for children to safely enjoy.
The beach is well-organised, with sunbeds and umbrellas available for rent, as well as several beachfront tavernas and restaurants where visitors can refresh themselves after a day in the sun.
Acharavi beach also offers a variety of water sports activities, such as kayaking and pedal boats, adding extra fun elements for the entire family.
The Best Secluded Beaches in Corfu
Corfu, a beautiful Ionian island in Greece, offers a variety of picturesque and less crowded beaches for a serene experience.
In this section, we'll be focusing on two such secluded beaches: Myrtiotissa and Chalikounas.
Myrtiotissa
Myrtiotissa is a hidden gem nestled between lush green hills and clear blue waters on the western coast of Corfu. Known for its natural beauty and tranquil ambiance, this beach is perfect for those seeking a serene and unspoiled location.
To reach Myrtiotissa, visitors need to traverse winding roads and a downhill walk, but the effort is truly worth it. The beach is characterised by golden sand, pebbles, and cliffs that provide natural shade. Myrtiotissa is an unorganised beach, so it's advisable to bring along any necessary supplies such as sun umbrellas, snacks, and water.
Activities:
Chalikounas
Chalikounas beach, located on the southwestern coast of Corfu, offers a wild and untouched atmosphere.
Boasting a long stretch of soft sand and clear, shallow waters, Chalikounas is a great choice for those seeking peace and solitude, as well as families with young children.
The beach is adjacent to the Korission Lagoon and surrounded by cedar and juniper trees, which create a unique natural environment.
Chalikounas beach is relatively lacking of amenities, so be prepared to bring your own supplies to enjoy a comfortable day.
Activities:
Swimming
Sunbathing
Wind sports (as it experiences strong winds at times)
In conclusion, Myrtiotissa and Chalikounas are excellent choices for those seeking seclusion and natural beauty while visiting the magnificent island of Corfu.
Frequently Asked Questions
Which beach in Corfu has the clearest water?
The beach with some of the clearest water in Corfu is Canal D'Amour Beach. Known for its unique rock formations and crystal-clear water, it is a great place to relax, swim, and enjoy the beautiful surroundings.
What is the most picturesque beach in Corfu?
Barbati is among Corfu's most scenic beaches, with a stunning mountain backdrop provided by Mount Pantokrator. As a Blue Flag beach, Barbati is surrounded by lush greenery and offers a beautiful setting for a day on the sand.
What are the best sandy beaches in Corfu?
Glyfada Beach is one of the most popular sandy beaches on Corfu. With its golden sand and numerous amenities, including sun loungers, it is an ideal spot for beachgoers seeking a comfortable and lively atmosphere.
What's the best area to stay in in Corfu?
Paleokastritsa is a top choice for staying in Corfu as it has numerous beautiful beaches, such as Agios Spiridon, Spiros Beach, and Agia Triada. With plenty of activities, restaurants, and facilities nearby, it is an excellent base for exploring the island's stunning coastlines.
Where are the best beaches for groups in Corfu?
Agia Triada in Paleokastritsa is a great choice for groups. The beach boasts deep waters, a variety of sporting activities like parasailing and water skiing, boat rentals, and numerous beachfront bars and restaurants. It offers a lively atmosphere perfect for groups.
Eleni Vasiliadis, a native of the picturesque island of Corfu and co-founder of Greek Island, is a seasoned traveller, accomplished writer, and passionate advocate for Greek culture and cuisine.