Nestled in the sparkling waters of the Ionian Sea lies the lush island of Corfu, a sought-after holiday destination brimming with unparalleled charm, history, and natural beauty.
As one of the most northerly and greenest Greek islands, Corfu entices travellers with its unwavering allure that effortlessly combines cosmopolitan sophistication with an enchanting, unspoiled atmosphere.
From the vibrant streets of Corfu Town to the island's captivating shores, there's something for everyone on this Mediterranean gem.
At the heart of the island lies Corfu Town, an alluring tapestry of historical attractions and architectural marvels that reflect the influences of past Venetian, British, and French occupiers.
Visitors can meander through the quaint cobblestone streets, immerse themselves in local culture by exploring the Church of Saint Spyridon, or marvel at the majestic Palaio Frourio with its Venetian-built 14th-century fortress.
Beyond the town, travellers can immerse themselves in Corfu's breathtaking landscapes which are adorned with olive groves, forests, and verdant hills that invite exploration.
One cannot speak of Corfu without mentioning its biggest draw – the abundance of idyllic beaches that line the island's picturesque coast.
Ranging from vibrant tourist hotspots to serene, secluded coves, the sandy shores of Corfu offer the perfect setting for relaxation, adventure or romance.
Whether you're seeking an unforgettable honeymoon destination or simply looking to unwind in the lap of nature, Corfu promises a magical escape for all.
Planning Your Trip to Corfu
The Best Time to Visit Corfu
The best time to visit Corfu depends on what type of holiday you're after. If you're looking for warm weather and plenty of sunshine, the summer months of June to September are ideal, with average temperatures ranging from 23°C to 31°C. Keep in mind that this is also peak tourist season, so you'll find busier beaches and higher accommodation prices.
For a more relaxed experience and milder temperatures, consider visiting Corfu during the shoulder season in April, May, or October. You'll still enjoy pleasant temperatures ranging from 17°C to 23°C, and you'll have a better chance of finding more affordable accommodation.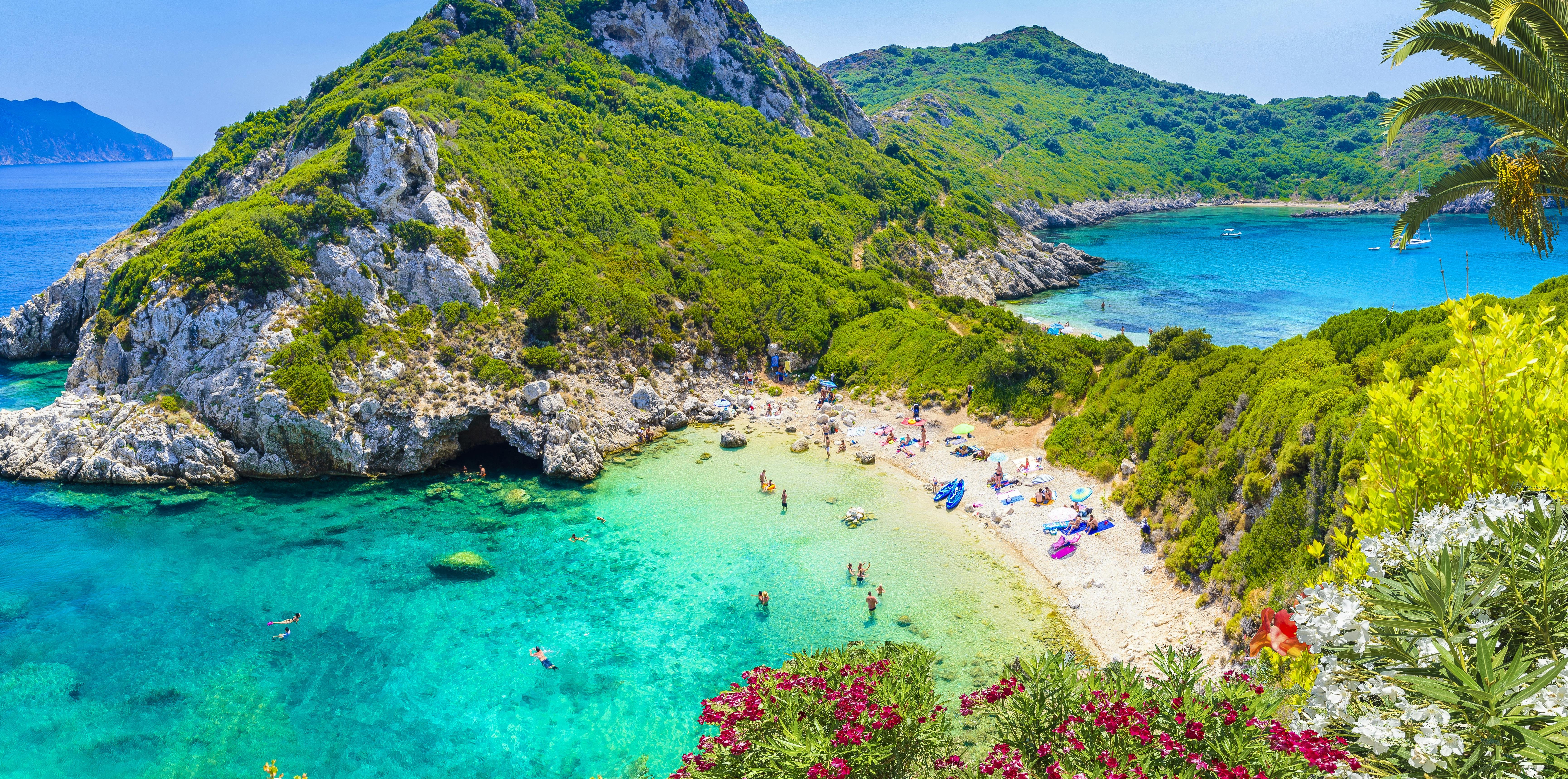 Getting to Corfu
Reaching Corfu is quite straightforward, as the island has an international airport that receives flights from Athens, Thessaloniki, and other European cities. Here are some options for getting to Corfu:
By air: Fly directly to Corfu International Airport (CFU) from various European cities or catch a connecting flight via Athens or Thessaloniki.
By boat: If you're already in Greece, you can take a ferry from the port of Igoumenitsa on the mainland or from other Ionian Islands.
Remember to check for possible travel restrictions and requirements related to COVID-19 before booking your trip to Corfu.
Sightseeing in Corfu
Old Town
Corfu's Old Town is a UNESCO World Heritage Site, and a must-visit destination while in Corfu.
This charming town, with narrow streets and picturesque architecture, showcases the island's rich history influenced by the Venetian, French, and English cultures.
Take a leisurely stroll through the winding alleys, visit historical attractions such as the Church of Saint Spyridon, and discover the many cafés and tavernas offering delicious local cuisine.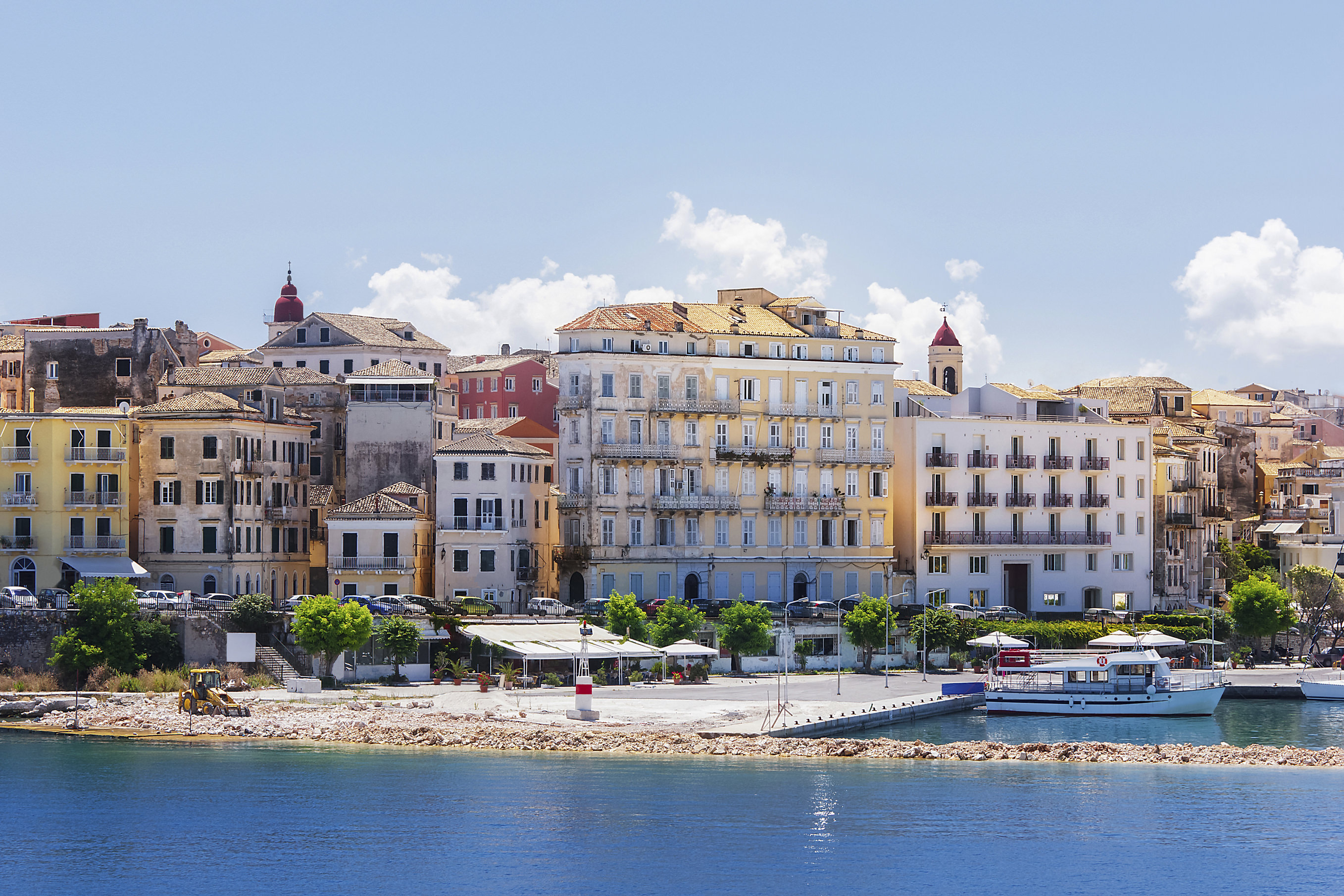 Achilleion Palace
Achilleion Palace is a magnificent neoclassical villa located in the village of Gastouri, approximately 10 kilometres from Corfu Town.
It was built in 1890 by Empress Elisabeth of Austria, also known as Sisi, as a summer retreat. The palace is adorned with beautiful statues and murals, showcasing themes from Greek mythology.
Visitors can take guided tours of the interiors, expansive gardens, and admire the stunning views of the Ionian Sea.
Paleokastritsa
Paleokastritsa, a lively village along Corfu's northwestern coastline, boasts idyllic coves and crystal-clear waters. Enjoy a swim, snorkel or sunbathe at one of the many beautiful beaches or embark on a boat tour to explore the picturesque sea caves.
Nestled on a hilltop, the 13th-century Paleokastritsa Monastery offers serene grounds and captivating panoramic sea views. Don't forget to sample typical Greek dishes at one of the local tavernas after a day of sightseeing!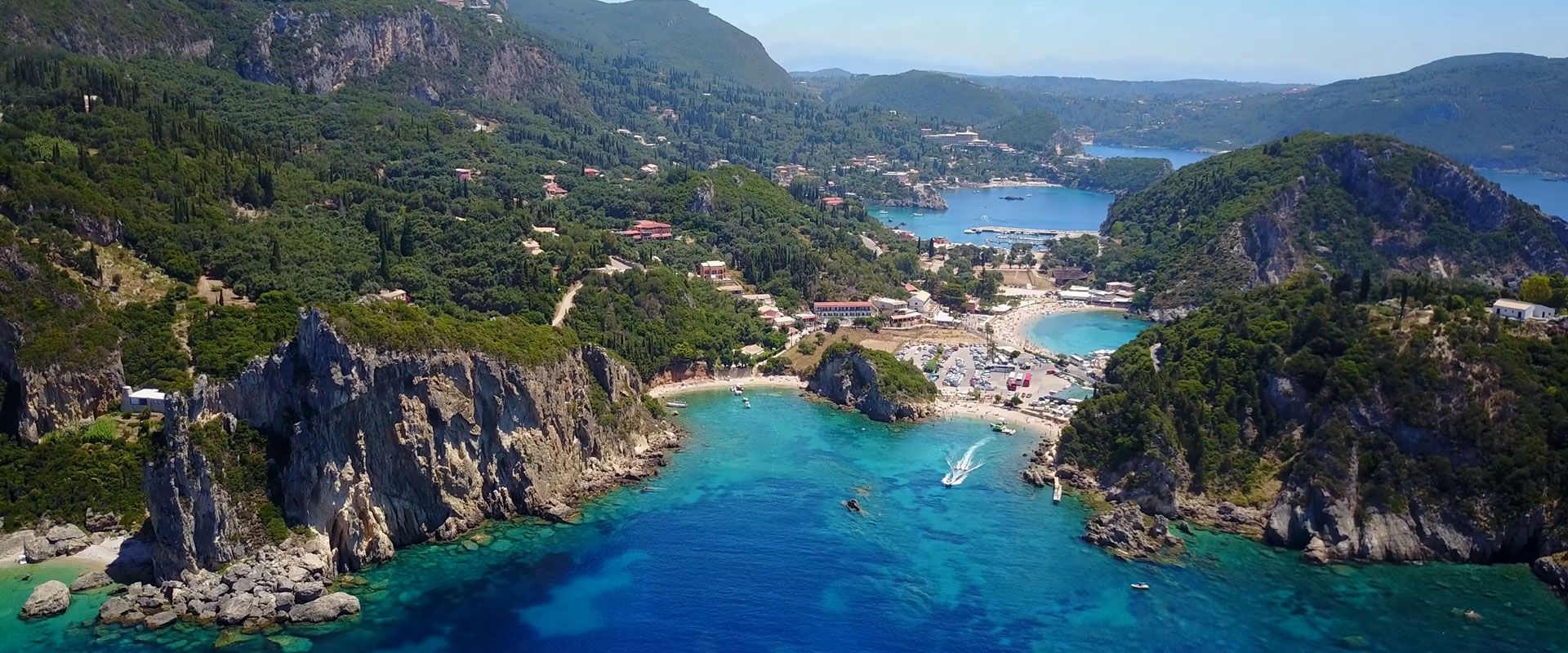 Outdoor Activities
Visiting Corfu offers a variety of outdoor activities that cater to different interests and preferences, ensuring guests have an unforgettable experience.
The island has stunning beaches, scenic hiking and walking trails that appeal to nature enthusiasts.
Beaches
Corfu boasts a plethora of beautiful beaches that serve as a major attraction for relaxation seekers. Some popular beaches include:
Paleokastritsa: A picturesque beach with crystal clear waters and surrounding hills that make it great for sunbathing and swimming
Sidari Watersports: This beach is known for its adrenaline-pumping activities like parasailing and is home to the famous Canal d'Amour, a beautiful spot for swimming
Agios Gordios: A popular spot for tourists, renowned for its golden sands, clear waters and friendly atmosphere
Hiking and Walking Trails
The island of Corfu has an extensive network of hiking and walking trails that cater to all experience levels. Here are some noteworthy trails:
Corfu Trail: This well-marked trail stretches across the island, offering a unique and diverse glimpse of Corfu's natural beauty, including forests, coastal views, and picturesque villages
Erimitis Path: A lesser-known but equally stunning trail that takes hikers through lush green landscapes, hidden beaches, and impressive sea cliffs
Pantokrator Mountain: The adventurous can hike up to the summit of Pantokrator Mountain, the highest point on the island, rewarding hikers with breathtaking panoramic views of Corfu and the surrounding islands
So, whether it's relaxing on a sandy beach or hiking along a scenic trail, outdoor enthusiasts will find plenty to enjoy during their visit to Corfu.
Food and Drink
In this section, we will explore the various traditional cuisines and the local wineries that you should experience while visiting the beautiful island of Corfu.
Traditional Cuisines
Corfu has a rich culinary heritage that visitors can enjoy. Some of the island's traditional dishes include:
Sofrito

: a veal casserole served with a white sauce of garlic, onion, pepper, and wine vinegar. The dish is a local specialty and can be found in almost every restaurant on the island.

Bourdetto

: a spicy fish stew made with red pepper and onions. This traditional dish is a must-try for seafood lovers.

Pastitsada

: a flavoursome casserole made with either rooster or beef and cooked in a tomato and red wine sauce. This dish is typically served with pasta as an accompaniment.

Loukmades

: these are small, deep-fried dough balls coated in honey and cinnamon, perfect for those with a sweet tooth.
Furthermore, Corfu is renowned for producing high-quality olive oil, honey, and fresh fish that you will often find being used in local cuisine.
Local Wineries
Corfu is also home to some exceptional wineries where locally produced wines can be tasted and purchased. Some of the standout wineries in the region include:
Theotoky Estate

: this family-run winery produces exceptional red, white, and rosé wines along with a unique dessert wine. They also produce quality olive oil.

Kanoni Winery

: located in the southern part of the island, they produce a range of high-quality wines using predominantly autochthonous grape varieties.

Ambelonas Vineyard

: this vineyard, close to Corfu Town, offers not only wine tasting but also a chance to learn about the island's culinary history, as it regularly hosts traditional Greek cooking classes.
Visiting these wineries is an excellent opportunity to sample the delicious flavours of Corfu's local wines and learn about the history and production processes involved in winemaking in the region.
Accommodation Options
Corfu offers a range of accommodation options for travellers, catering to varying tastes and budgets. This guide highlights some popular options across hotels and resorts, as well as apartments and villas.
Hotels and Resorts
Corfu Town

– Ideal for first-time visitors, Corfu Town hosts numerous hotels. A popular choice is the

Arcadion Hotel

. Centrally located, it provides easy access to local attractions.

Gouvia

– Suitable for all ages, Gouvia has evolved from a small fishing village to a bustling marina and tourist destination. You can find a variety of hotels to accommodate different budget ranges.

Kavos

– Known for its thriving nightlife, Kavos offers a range of hotels catering primarily to younger travellers and partygoers.

Kassiopi

– This quiet, picturesque fishing village in the north offers cosy stays. An ideal location for a relaxing holiday, Kassiopi has several hotels to choose from.

Acharavi

– A family-friendly destination, Acharavi provides numerous hotels aimed at accommodating families, ensuring a comfortable and enjoyable stay.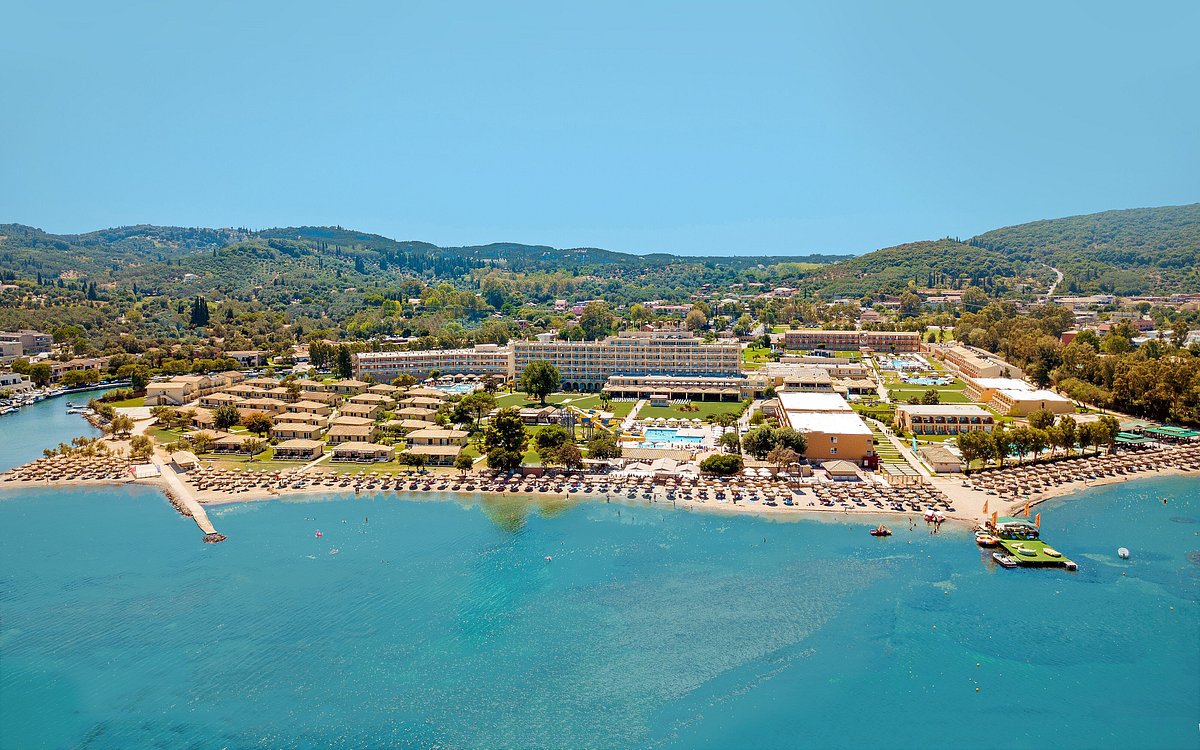 Apartments and Villas
Agios Gordios

– A budget-friendly option, Agios Gordios offers a selection of apartments and villas suitable for travellers seeking a more self-contained experience.

Paleokastritsa

– Known for its stunning beaches and natural beauty, Paleokastritsa has a range of apartments and villas that cater to those seeking a relaxing island getaway.

Nissaki

– A quieter village on the northeastern coast, Nissaki provides travellers with unique options for apartments and villas, perfect for a peaceful and serene holiday.
Always ensure you explore the available listings on reputable websites like Booking.com and Airbnb before making your booking. This will help you secure the best accommodation for your needs and budget during your stay in Corfu.
Local Tips and Etiquette
When visiting Corfu, it's essential to know some local tips and etiquette to make your trip enjoyable and respectful. Here are a few essential things to remember during your stay:
Use of language: The majority of the locals are fluent in English, making communication relatively easy; however, any attempt to speak a few Greek phrases will be appreciated. Try learning basic words like kalimera (good morning), efcharistó (thank you), and parakaló (please).
Dress code: Corfu has a laid-back approach to attire, and casual clothing is acceptable for most occasions. However, when visiting religious sites such as monasteries and churches, make sure to cover your shoulders and knees, as modest dress is expected.
Tipping: Tipping is customary but not mandatory in Corfu. Generally, a 10% tip is considered adequate in restaurants, while rounding up the fare for taxi drivers is the norm.
Beach etiquette: Corfu's beaches are among the island's top attractions, so it's crucial to follow local guidelines. Avoid leaving litter, and use the designated sunbeds and umbrellas provided at most beaches.
Driving: If you plan to rent a car, be aware that Corfu's roads can be winding and narrow. Drive cautiously, and always keep an eye out for local wildlife. Remember to carry your driving licence and other necessary documents during your trip.
By following these tips and understanding local etiquette, you'll be able to fully enjoy your time in Corfu while respecting the local culture.
Final Thoughts
Corfu, also known as Greece's emerald island, is a stunning destination in the Ionian sea with a rich history and beautiful landscapes. Its popularity as a holiday hotspot has grown since the 1970s, and it continues to charm visitors from all around the world.
When visiting Corfu, make sure to explore its fascinating history, such as the Old Fortress in the heart of Corfu Town and the Achilleion Palace, the former residence of Empress Elisabeth of Austria. Don't miss the chance to enjoy a sunset dinner at one of the many local tavernas, where you can savor traditional Corfiot cuisine and enjoy the warm hospitality of the locals.
Nature enthusiasts will be spoilt for choice with the island's lush vegetation, stunning beaches, and hidden coves waiting to be discovered. Hike the Corfu Trail to get a glimpse of the abundant flora and fauna, or hop on a boat trip to visit the smaller surrounding islands.
Speaking of accommodation, Corfu offers a variety of options to fit every traveler's budget, ranging from affordable guesthouses to luxurious hotels. No matter where you choose to stay, you're sure to find friendly hosts and a welcoming atmosphere to make your visit as enjoyable as possible.
In summary, Corfu is a captivating destination that has something for everyone, from history buffs to beach lovers and foodies alike. Bring your camera, your appetite, and your sense of adventure when you embark on your unforgettable journey to this beautiful Greek island.
Frequently Asked Questions
When is the best time to visit Corfu?
The ideal times to visit Corfu are April to May and September to November. During these periods, the weather is pleasant, and the crowds are less compared to the high season. The winter months are also a possibility, but expect some rain and cooler temperatures.
What are the best activities in Corfu?
Explore the picturesque fishing village of Kassiopi, located on the northern side of Corfu.
Discover the historic Old Fortress and the hilltop New Fortress, both providing stunning views of Corfu Town.
Take a day trip to Pontikonisi, a tiny island with a striking Byzantine chapel.
Roam around the charming streets of Corfu Town, filled with Venetian architecture and vibrant shops.
Visit the stunning beaches along the island's coast to swim, sunbathe, or enjoy watersports.
What's the best way to get to Corfu?
Accessible by air and sea, Corfu has an international airport (Ioannis Kapodistrias International Airport) that connects with several European destinations. Regular ferry services are also available between Corfu and both the Greek mainland and other nearby islands.
How many days should you stay in Corfu?
To get a true taste of Corfu, it's recommended to spend at least 5-7 days on the island. This gives you ample time to explore the main attractions, relax on the many beautiful beaches, and immerse yourself in the local culture.
Where are the safest places to visit in Corfu?
Corfu is generally a safe destination for tourists. Stick to well-populated areas, and take precautions when visiting crowded spots or engaging in nighttime activities. It's always wise to follow local rules, respect the community, and maintain a level of caution during your stay.
Hailing from the historic city of Thessaloniki, Nikos Tsakiris is a passionate explorer, seasoned writer, and co-founder of Greek Island, the definitive travel blog for the Greek Islands.