Travelling between two stunning Greek islands, Corfu and Kefalonia, can be a thrilling adventure.
With their breathtaking landscapes and unique cultures, both islands offer an unforgettable experience to travellers, and knowing the best way to get from Corfu to Kefalonia can maximise the enjoyment of your journey, ensuring a smooth transition between these paradisiacal destinations.
There are several options for travelling between Corfu and Kefalonia, including car ferries, buses, and flights. Considering factors such as time, budget, and personal preferences will guide you towards the most convenient mode of transportation for your needs. As each route presents its own appeal, weighing the pros and cons of each choice is essential.
In this article, we'll explore the various ways to travel between these enchanting islands. We'll provide you with information on ticket prices, travel times, and step-by-step directions as you plan your journey. By understanding the different options available, you can make the best decision for your adventure from Corfu to Kefalonia.
From Corfu to Kefalonia: Your Options
The Fastest Route
The quickest way to travel from Corfu to Kefalonia is by flying.
The total travel time for this route can be around 4 hours. You can find flights with a stopover in Athens, although the layover can make the total journey longer. The flight option may be suitable for those who are pressed for time and are willing to spend extra money for the convenience of flying.
A Budget-Friendly Option
For a more budget-friendly option, you can choose to take the car ferry from Corfu to Sami, Kefalonia.
This journey takes around 7 hours and 17 minutes and costs between €57 and €63.
It's an affordable alternative to flying and offers a relatively quick way to travel between the two islands.
Additionally, travelling by ferry allows you to bring your own vehicle, if desired.
The Scenic Route
If you prefer a more scenic and leisurely journey between Corfu and Kefalonia, consider combining bus and ferry services. First, take a bus and ferry from Corfu to Agrinio, then board a car ferry from Astakós to Sami in Kefalonia.
This route allows you to enjoy the picturesque views of the Ionian Sea and its surrounding islands.
The travel time for this option may vary depending on the connections and waiting times between buses and ferries.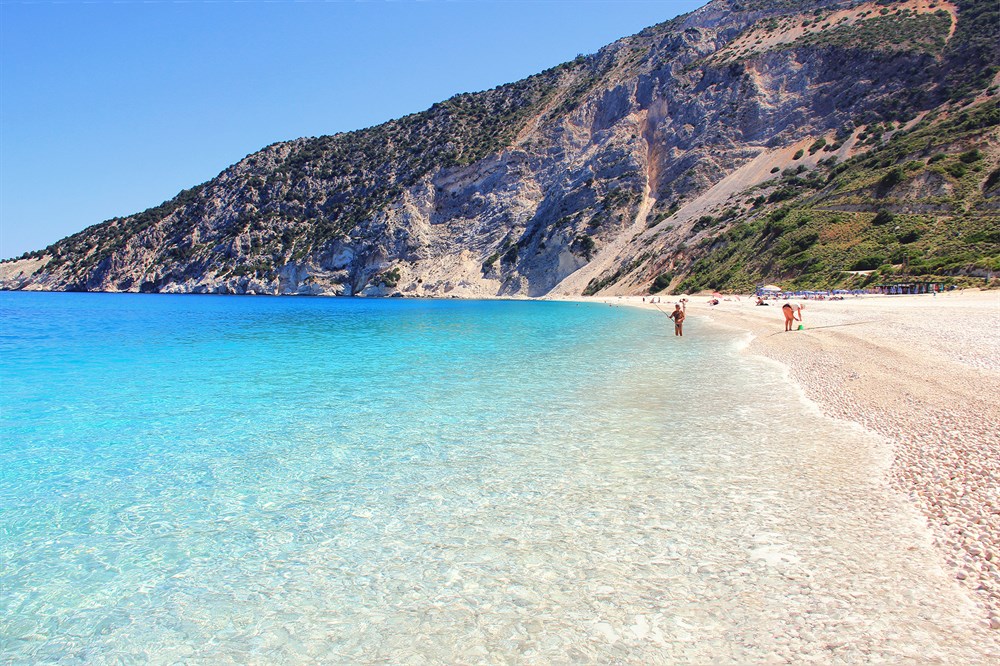 Transport Options Between Corfu and Kefalonia
Ferries
There are a few options to travel between Corfu and Kefalonia using ferries.
The most popular one is taking a car ferry from Corfu to Sami, which takes about 7 hours and 17 minutes, and costs around €55-€65.
Another option involves taking a combination of a bus and ferry from Corfu to Agrinio, and then a car ferry from Astakos to Sami.
Car ferry from Corfu to Sami: around 7h 17m, €55-€65
Bus and ferry from Corfu to Agrinio, then car ferry from Astakos to Sami: about 7h 51m
Flights
While there are no direct flights between Corfu and Kefalonia, it might still be a viable option for some travellers.
You can take connecting flights through Athens, which usually takes around 4 hours, depending on the layover times.
However, this could be more expensive than travelling by ferry.
Connecting flights through Athens: approximately 4h, prices may vary
Private Boats
If you prefer a more personalized and luxurious travel experience, you can opt for private boat transfers or yacht charters to travel between the two islands. This option provides flexibility and privacy, as you can set your own schedule and route. However, do note that this would likely be the most expensive option when compared to ferries and flights.
Private boats and yacht charters: flexible timings and routes, potentially more expensive
Remember to always compare different travel options, ticket prices, and travel times to find the best option that fits your preferences and budget.
Travel Tips
Booking Tickets
When planning your trip from Corfu to Kefalonia, it's essential to book your tickets in advance. You can choose between various transportation options, such as car ferries, bus and ferry combinations, or flying. Car ferries take approximately 7 hours and 17 minutes and cost between €72 and €78. On the other hand, flying tends to be the fastest but may not be the cheapest option. In any case, make sure to compare ticket prices and travel times to find the best option for your needs.
Accommodation
While travelling from Corfu to Kefalonia, it's crucial to plan and book your accommodation ahead of time.
Both islands offer a wide range of lodging options, from budget-friendly hostels to luxurious hotels and villas.
Some popular areas to consider for accommodation in Kefalonia include Fiskardo, Lassi, Skala and Argostoli. When booking, pay attention to:
Location: Consider the proximity to popular attractions, restaurants, and beach access.
Price range: Stick to your budget while balancing comfort and convenience.
Amenities: Look out for features such as Wi-Fi, air conditioning, and parking, based on your preferences.
Local Customs
Before visiting Kefalonia, it's beneficial to familiarise yourself with local customs and etiquette. Here are some tips to help you have a smooth and enjoyable experience:
Language: Greek is the official language in Kefalonia. While most locals, especially in tourist areas, speak English, learning a few basic Greek phrases can be helpful and appreciated.
Currency: Kefalonia uses the Euro (€) as its official currency. It's essential to carry cash for smaller transactions, as some establishments might not accept credit cards.
Tipping: In Kefalonia, it is customary to tip around 10% of the bill at restaurants, and around €1 per item for hotel porters.
Dress code: When visiting religious sites, such as monasteries or churches, dress modestly. Cover your shoulders, and wear long skirts or trousers.
Beach etiquette: Topless sunbathing is not widely accepted in Kefalonia, so it's advised to be aware of local attitudes.
By following these travel tips, you'll be well-prepared to enjoy a delightful journey from Corfu to Kefalonia.
Hailing from the historic city of Thessaloniki, Nikos Tsakiris is a passionate explorer, seasoned writer, and co-founder of Greek Island, the definitive travel blog for the Greek Islands.