May is a wonderful time to experience the charming island of Corfu, Greece.
As spring comes to an end and the summer season is just around the corner, the island starts to awaken from its winter snooze, allowing visitors to bask in favourable weather conditions without overwhelming tourist crowds.
With temperatures gradually increasing throughout the month, Corfu in May offers an ideal climate for engaging in various outdoor activities, whether that be wandering around the enchanting Old Town or simply soaking up the sun on one of its stunning beaches.
During May, Corfu's average temperature hovers around 18°C (64°F), while highs can reach up to a warm 23°C (73°F), and lows may drop to 13°C (55°F) during the evenings.
These pleasant temperatures are complemented by an extended period of sunlight, with the sun shining an average of nine hours per day. The humidity level remains moderate at around 69.5%, and the likelihood of rainfall diminishes as the month progresses.
So, if you're looking for a destination that offers the perfect balance between favourable weather and a relaxed atmosphere, consider visiting Corfu in May.
With its delightful mix of nature, culture, history, and opportunities for adventure, it's an enjoyable destination that ticks all the right boxes for a memorable spring getaway.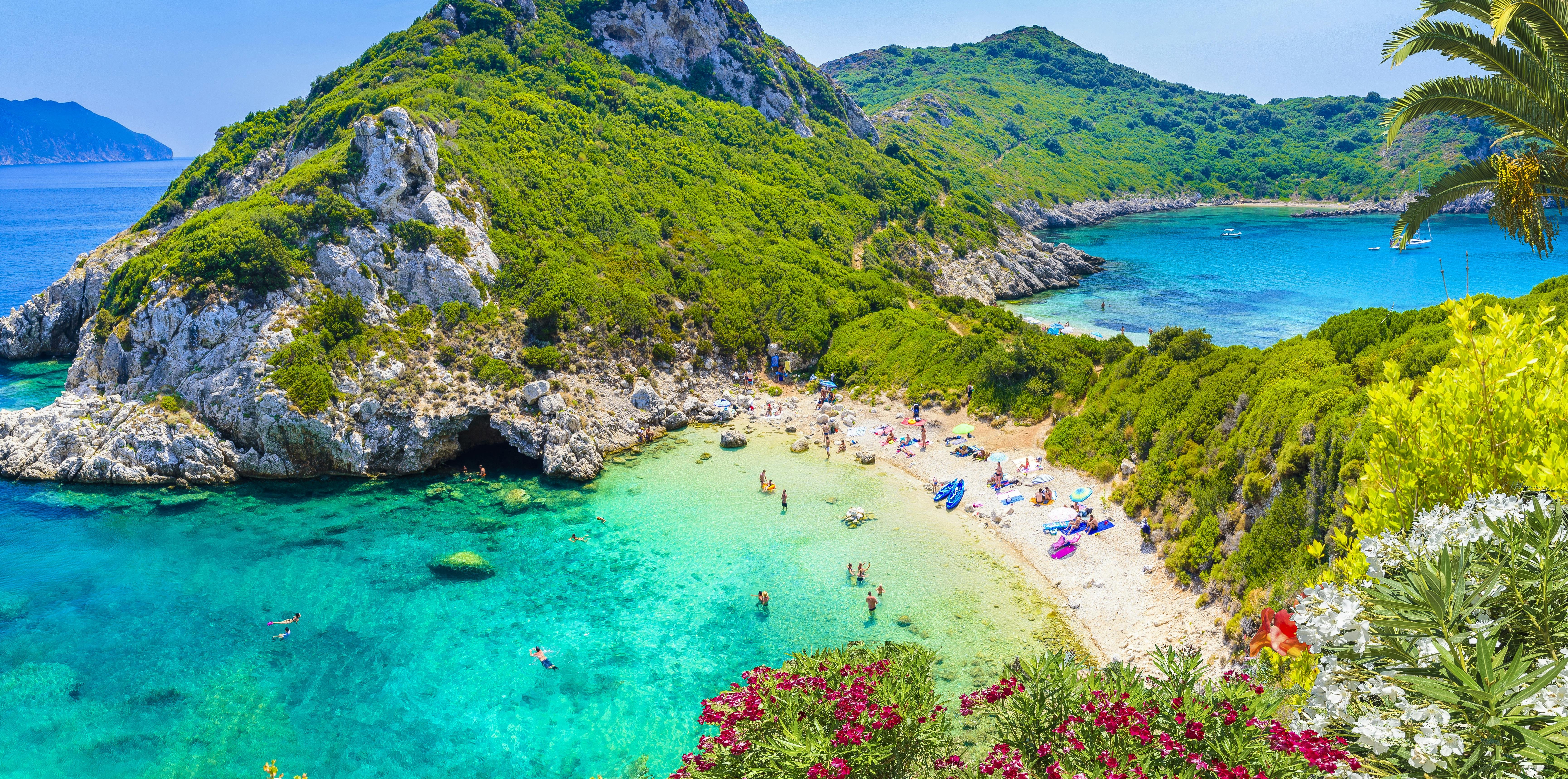 May's Weather in Corfu
Average Temperatures
In Corfu, May marks the transition from spring to summer, with temperatures starting to climb. During this month, the average high temperature is around 23.8°C (74.8°F), while the average low temperature is approximately 12.9°C (55.2°F). This makes May a comfortable and warm time to visit the beautiful island of Corfu.
Rainfall and Humidity
As we move further into spring, rainfall in Corfu starts to decline. In May, the island typically experiences about 40mm of rainfall, spread across 8 days. Despite the decreasing rainfall, Corfu still maintains a relatively high average humidity of 69.5% during the month of May.
Sunshine Hours
May brings longer, sunnier days to Corfu, with an average of 10 hours of sunshine per day. As the month progresses, you can expect more clear blue skies and an abundance of sunshine, ideal for a range of outdoor activities and soaking up the Mediterranean atmosphere.
Enjoy a pleasant mix of warm temperatures, decreasing rainfall, and long sunny days during your visit to Corfu in May. Take advantage of the comfortable weather to explore the island and create unforgettable memories on your holiday.
What to Pack for Corfu in May
Clothing
When packing for a trip to Corfu in May, consider the mild and pleasant weather during this time. Daytime temperatures usually hover around 20°C, with moderate humidity at 72%. Nighttime temperatures can drop slightly, so be prepared for cooler evenings.
Pack lightweight and breathable clothes for the daytime: t-shirts, shorts, and skirts.
Bring a light sweater or cardigan for the cooler evenings.
Don't forget swimwear for enjoying the beautiful beaches of Corfu.
A light waterproof jacket or raincoat might come in handy, as there's an average rainfall of 74mm per month in May.
Accessories
When it comes to accessories, make sure to pack items that will make your holiday comfortable and enjoyable.
Sunglasses are essential for protecting your eyes from the sun.
Suncream is a must to protect your skin from harmful UV rays.
A wide-brimmed hat will help keep the sun off your face and neck.
Bring a reusable water bottle to stay hydrated, especially during outdoor activities.
Comfortable and sturdy footwear, such as sandals or walking shoes, is ideal for exploring the island.
Pack compact, quick-drying towels for days at the beach or by the pool.
Remember to pack mindfully for the weather in Corfu in May, balancing your needs for daytime activities and leisure with the cooler temperatures of early mornings and evenings.
Outdoor Activities in Corfu in May
Beaches
One of the highlights of visiting Corfu in May is the lovely beach weather.
With an average temperature of 18°C (64°F), highs of 23°C (73°F), and lows of 13°C (55°F), it's a comfortable time to enjoy the island's beaches.
There are fewer crowds compared to the peak summer months, so you can have a more peaceful beach experience.
Some popular beaches in Corfu include:
Paleokastritsa: Known for its stunning turquoise waters and cliffs, this beach is ideal for taking a refreshing dip.
Agios Gordios: Boasting soft sand and mesmerising sunsets, this beach is a must-visit for relaxation and natural beauty.
Sidari: One of the most famous beaches in Corfu, Sidari offers fun water sports like parasailing and an opportunity to witness incredible rock formations.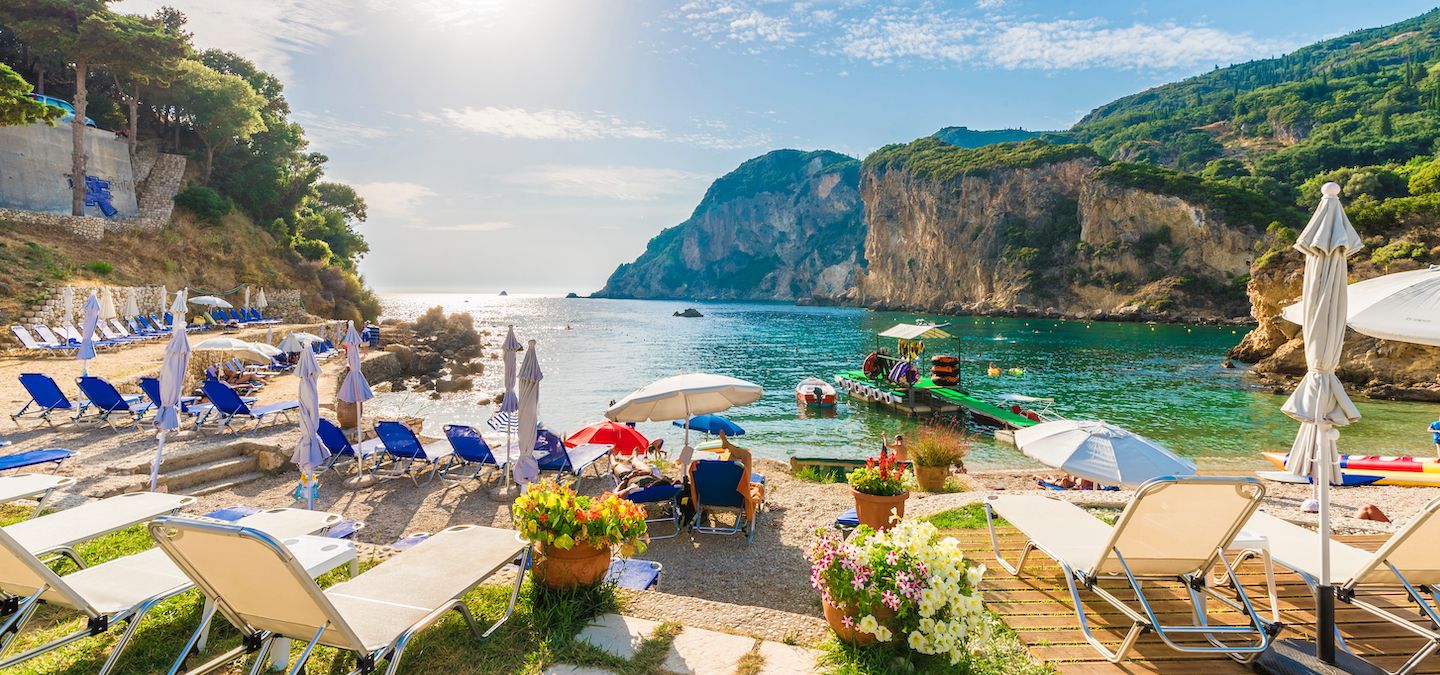 Sightseeing
With 9 hours of sunlight per day and a pleasant climate in May, outdoor sightseeing becomes enjoyable in Corfu.
Explore the scenic landscapes, historical sites, and vibrant culture of the island.
Here are some popular spots for sightseeing:
Corfu Old Town: Stroll through narrow alleys, marvel at the Venetian-style architecture and visit iconic landmarks such as the Old Fortress and St. Spyridon Church.
Achilleion Palace: Built in the 19th century by Empress Elizabeth of Austria, this elegant palace is surrounded by lush gardens and offers panoramic views of Corfu.
Pontikonisi: Take a boat trip to this picturesque islet, home to the Byzantine monastery of Pantokrator.
Remember to pack sunscreen, sunglasses, and a hat to protect yourself from the sun during your outdoor activities. Don't forget your swimwear for the beach and comfortable shoes for exploring the island. Enjoy your time under the beautiful May weather in Corfu!
Festivals and Events
Corfu Easter
The celebrations in Corfu during Easter are a truly unique and exciting experience. The entire island comes alive with various religious and cultural events, such as church services, processions, and firework displays.
A particularly popular event during Corfu Easter is the Epitaphios procession, which takes place on Good Friday.
This event sees the beautifully decorated Epitaphios being paraded through the streets of Corfu Town and the surrounding villages, accompanied by lit candles.
Another highlight of the Easter festivities is the "Botides" event, which takes place on Holy Saturday.
In this tradition, large clay pots filled with water are thrown from balconies in Corfu Town to symbolise the end of the devil's power, following Jesus' death and resurrection. It's a thrilling and loud event that draws large crowds of locals and visitors alike.
May Day Celebration
May Day, or International Workers' Day, is a public holiday in Greece. It is traditionally celebrated on the 1st of May.
In Corfu, it is an opportunity for locals and visitors to enjoy the island's beautiful spring weather and vibrant atmosphere. Various outdoor concerts, parades, and picnics take place throughout the day, often in parks and other public spaces.
During the May Day Celebration in Corfu, it is customary for locals to create and display colourful flower wreaths, symbolising the arrival of spring. Hand-crafted wreaths are hung on home doors, balconies, and even on vehicles, adding a festive touch to the island.
In summary, the month of May offers a lively and exciting time to visit Corfu, with the Corfu Easter celebrations and the May Day festivities giving visitors a unique insight into the island's rich cultural traditions, all while enjoying the lovely May weather.
Hailing from the historic city of Thessaloniki, Nikos Tsakiris is a passionate explorer, seasoned writer, and co-founder of Greek Island, the definitive travel blog for the Greek Islands.