Santorini, a picturesque island in Greece, is often thought of as the perfect destination for couples.
With its world-famous sunsets, blue-domed churches, and stunning cliffs, it is understandable why many associates this charming destination with honeymooners and romantic getaways. However, one might wonder if Santorini is also suitable for families.
The answer is yes, Santorini can be a fantastic destination for families, as long as you know what to expect and plan accordingly.
The island offers unique experiences that can be enjoyed by both adults and children, such as exploring volcanic landscapes, learning about Greek mythology, and discovering hidden beaches.
While it may not be the ideal location for a laid-back poolside vacation, the island has plenty to offer in terms of cultural experiences and outdoor adventures.
That being said, Santorini does come with its challenges when travelling with children, such as navigating the endless steps and dealing with tourist crowds during peak seasons.
Planning your accommodation, activities, and transportation in advance can help make your family trip to Santorini a memorable and enjoyable one.
Family-Friendly Accommodations
Child-Friendly Hotels
Santorini offers a variety of child-friendly hotels to make your stay comfortable and enjoyable. One outstanding option is the Aria Suites in Fira, which is known for its size and generous spacing. Located in the main town, it is one of the few family-friendly hotels on the crater's edge.
Two other popular child-friendly areas for accommodation are Kamari, Perivolos, and Perissa. Hotels situated near the beach in these locations are perfect for families, as your children can play on the beach while you relax by the shore.
Villas
Renting a villa can provide your family with the perfect private space while exploring the island. Villas offer flexibility, allowing you to cook meals, have separate rooms for children, and enjoy your own pool or garden. Make sure to consider the location of the villa and its proximity to local attractions when searching for the ideal property.
Resorts
Resorts in Santorini often cater to families, providing an all-inclusive experience that allows you to unwind while the kids are entertained. Some resorts may offer children's clubs, babysitting services, and a range of activities and amenities suitable for families, such as swimming pools and playgrounds. When considering a resort, be sure to research which facilities are available to ensure a stress-free stay for the whole family.
Activities for Families
Beaches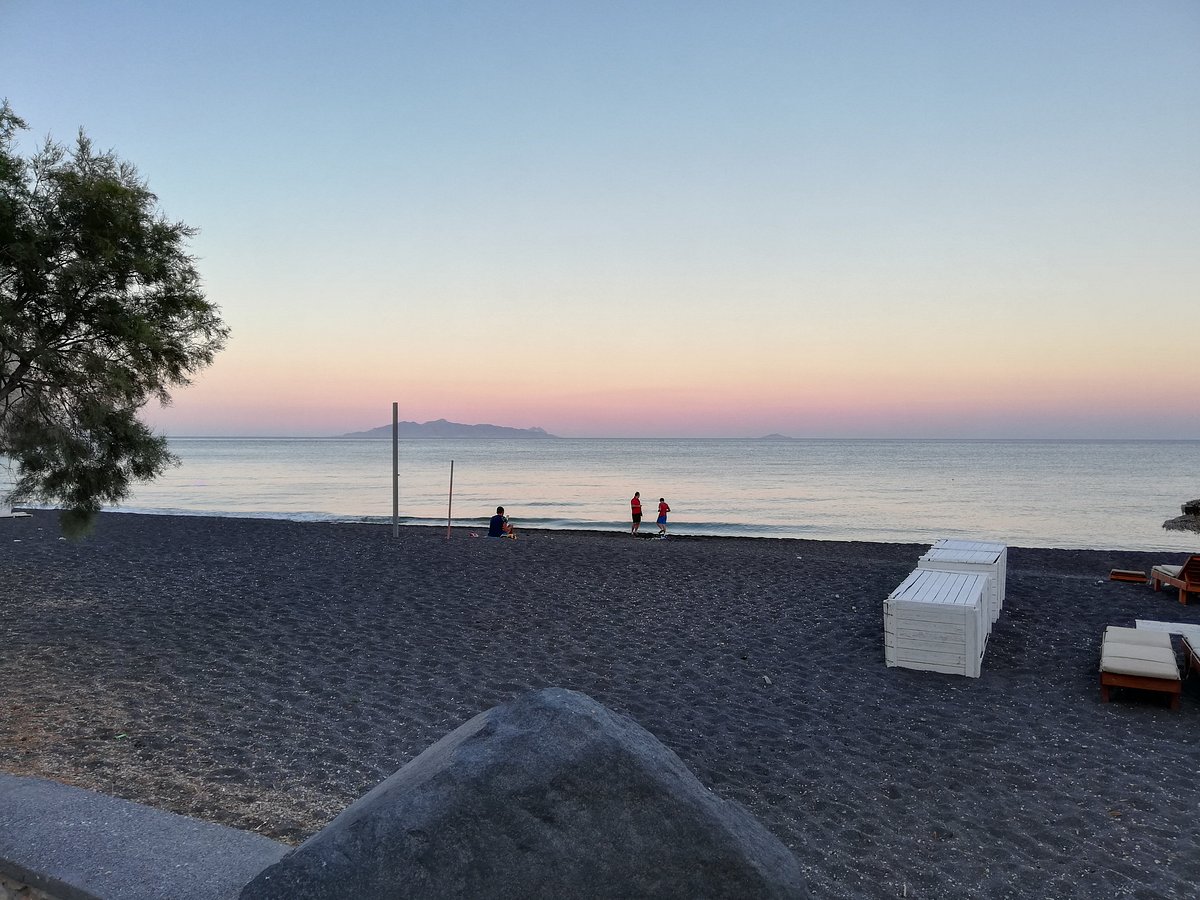 Santorini offers several family-friendly beaches, perfect for a day out with the kids. Perissa Black Sand Beach and Kamari Beach are two popular options with plenty of free parking along the seafront. Both beaches offer a range of water sports and activities suitable for children of all ages. Another unique beach to visit is Red Beach, known for its distinctive colour. These beaches provide a relaxing environment for families to unwind while the children play on the sand.
Cultural Attractions
Explore Santorini's rich history by visiting some cultural attractions. A good place to start is the Archaeological Museum of Thera in Fira, which houses artefacts from the ancient city of Akrotiri and other settlements on the island. This is a great way to engage your children in the local history and make their holiday a learning experience. Don't miss out on a visit to the scenic village of Oia, where you can enjoy a breathtaking sunset with your family.
Outdoor Adventures
For families with older children seeking some adventure, Santorini provides a variety of outdoor activities. One such activity is the 10-km walk from Fira to Oia. This trek offers stunning views of the caldera and picturesque landscapes that are sure to captivate your family's imagination. If you are interested in exploring the island's natural terrain, consider a guided volcano tour. These tours often include a visit to the volcanic islands of Nea Kameni and Palea Kameni, where you can hike to the volcanic craters and even enjoy a relaxing dip in the hot springs.
Child-Friendly Dining
Family Restaurants
Santorini offers a variety of family-friendly restaurants that cater to the needs of children and provide a warm and welcoming atmosphere. One popular choice is Mezzo in Imerovigli, with its stunning cliff-side views and delicious cuisine. Other options for family dining can be found on TripAdvisor's list of "The 10 Best Family Restaurants in Santorini".
When exploring Santorini with children, it's essential to consider their dining preferences and needs. Many restaurants on the island have kids' menus with smaller portions and familiar dishes, ensuring that young diners enjoy their meals.
Kid-Friendly Cuisine
Greek cuisine is diverse and offers plenty of kid-friendly options. Some popular dishes for children include:
Souvlaki: Grilled meat skewers served with pita bread, tzatziki sauce, and salad.
Moussaka: A hearty baked casserole made with layers of aubergine, minced meat, and bechamel sauce.
Pastitsio: A pasta dish similar to lasagne, with layers of pasta, ground meat, and béchamel sauce.
Dolmades: Stuffed vine leaves filled with rice and herbs.
In addition to these Greek specialities, children may also enjoy some international dishes commonly available in Santorini, such as pizza, pasta, and burgers.
In conclusion, Santorini offers a range of child-friendly dining options to cater to families visiting the island. With its delicious cuisine and numerous family-oriented restaurants, Santorini is an excellent destination for a family holiday.
Practical Considerations
Transportation
One of the keys to a successful family trip to Santorini is figuring out the transportation. The island is small enough for getting around by rented car, though buses and taxis are available as well. Hiring a car will give you the flexibility to explore the island at your own pace. The public bus system provides a cost-effective way to travel between major locations, such as Fira, Oia, and popular beaches. For families with young children, ensure car seats are available, or bring your own for the rental car to guarantee your child's safety.
Safety Tips
When travelling to Santorini with children, being aware of safety is important. Here are a few tips to ensure a safe family holiday:
Beaches: Some beaches in Santorini have shallow waters and are family-friendly, like Monolithos Beach. However, others may have steep cliffs or rough waves – be cautious about the beach you select to ensure it's safe for your children.
Sun protection: The Greek sun can be strong, so don't forget to apply sunscreen with high SPF, wear protective clothing and hats, and stay hydrated throughout the day.
Navigation: Santorini is famous for its winding pathways and steps. When exploring the island with kids, keep an eye out for steep drops or potential tripping hazards, particularly in busy, tourist-frequented areas.
Accommodation: Choose a family-friendly hotel or apartment that has the necessary facilities like a kids' club, swimming pools, and playgrounds. Make sure to check if they provide baby cots or high chairs if needed.
By considering these practicalities, your family's trip to Santorini will be as enjoyable and safe as possible.
Hailing from the historic city of Thessaloniki, Nikos Tsakiris is a passionate explorer, seasoned writer, and co-founder of Greek Island, the definitive travel blog for the Greek Islands.