Corfu, one of Greece's most popular islands, is an ideal destination for families with children seeking a memorable holiday experience.
Blessed with beautiful beaches, lush green landscapes, and charming villages, the island offers a range of activities for all ages. Visitors can easily spend a couple of weeks exploring the various attractions scattered across the island, ensuring that there is always something new to experience during the stay.
The pristine shores of Corfu provide ample opportunity for relaxation and beach fun for kids of all ages.
With safe beaches, such as Issos, Halikounas, and Rovinia, youngsters can splash around in the water or unwind on sun loungers while parents enjoy the uninterrupted views of the crystal-clear waters.
Moreover, the island's inviting hinterland makes it an excellent spot for hikes and nature excursions, allowing families to delve into the heart of Corfu's natural beauty.
A wealth of family-friendly activities awaits those venturing to Corfu with their little ones.
In addition to spending time at the numerous beaches, kids will love taking part in boat excursions and sailing trips around the island.
These unique experiences offer a chance to explore the secrets of the coast, swim in secluded bays, and snorkel in captivating coves.
With such a diversity of options, it's clear that a holiday to Corfu is certainly an unbeatable choice for families with kids.
Is Corfu Kid Friendly?
Corfu, one of the largest and most popular Greek islands, is indeed a kid-friendly destination, making it a fantastic choice for family holidays. The island boasts numerous beaches, villages, and attractions that cater to all ages, ensuring that everyone has an unforgettable experience.
There are countless family attractions in Corfu to explore, such as Aqualand Water Park, an adventure-filled destination with thrilling slides and pools suitable for children. Nature and wildlife lovers can visit the Corfu Aquarium or take part in guided horseback riding tours that lead visitors through beautiful landscapes.
Kids will enjoy the various fun and games available across the island, including mini-golf, interactive classes, workshops, and visits to zoos and aquariums. Corfu's rich history and culture also offer various sights and landmarks that are both educational and entertaining for families.
Taking a 1-day sailing trip is another excellent way to spend time with your children in Corfu. Sailing excursions enable families to explore the island's magnificent coastal areas, swim and snorkel in secluded bays and coves, and enjoy a taste of the local cuisine.
When it comes to accommodation, several resorts and hotels in Corfu are specifically designed for families. These resorts offer spacious rooms and amenities catering to the needs of families with children, ensuring a comfortable and enjoyable stay for everyone.
In conclusion, Corfu is a kid-friendly destination with a plethora of activities and attractions that cater to children and families alike, making it an ideal choice for an unforgettable family holiday.
Kid-Friendly Activities in Corfu
Corfu, an enchanting Greek Island, offers numerous family-friendly activities catering to all ages. Let's explore the different kinds of kid-friendly activities available on Corfu.
Beaches and Water Sports
Corfu is blessed with fantastic beaches, which are perfect for families to spend quality time together. Some popular choices include:
Issos Beach: A lovely beach offering sun loungers and walkable from Saint George South.
Halikounas Beach: A huge sandy beach in the south of Corfu, contrasting with the greenery of the island.
Rovinia Beach: A beautiful and picturesque beach with clear waters, perfect for families.
Besides basking in the sun, families can also enjoy various water sports available at these beaches, such as:
Boat tours
Kayaking
Snorkelling
Historical Sites
Corfu is rich in history and offers several historical sites that can be both educational and fun for kids. Notable sites include:
Achilleion Palace: A beautiful palace dedicated to the mythical hero Achilles, featuring fascinating architecture and gardens.
Old Fortress: A must-visit landmark with panoramic views, perfect for a family photo session.
Angelokastro: A hilltop fortress offering stunning views of the island, where families can learn about the history of Corfu.
Outdoor Activities
If your family loves outdoor activities, Corfu has plenty to offer:
Nature parks: The island is home to various nature parks that provide countless hours of natural beauty and fun activities for families. Hiking and spotting the local flora and fauna can be a great bonding experience for the entire family.
Horse riding: Several companies offer horse riding experiences tailored to families, allowing you to explore the island's beauty on horseback.
Mini football: Some resorts, such as Villa 1870 Corfu, offer facilities like mini football areas, inviting families to enjoy a friendly game together.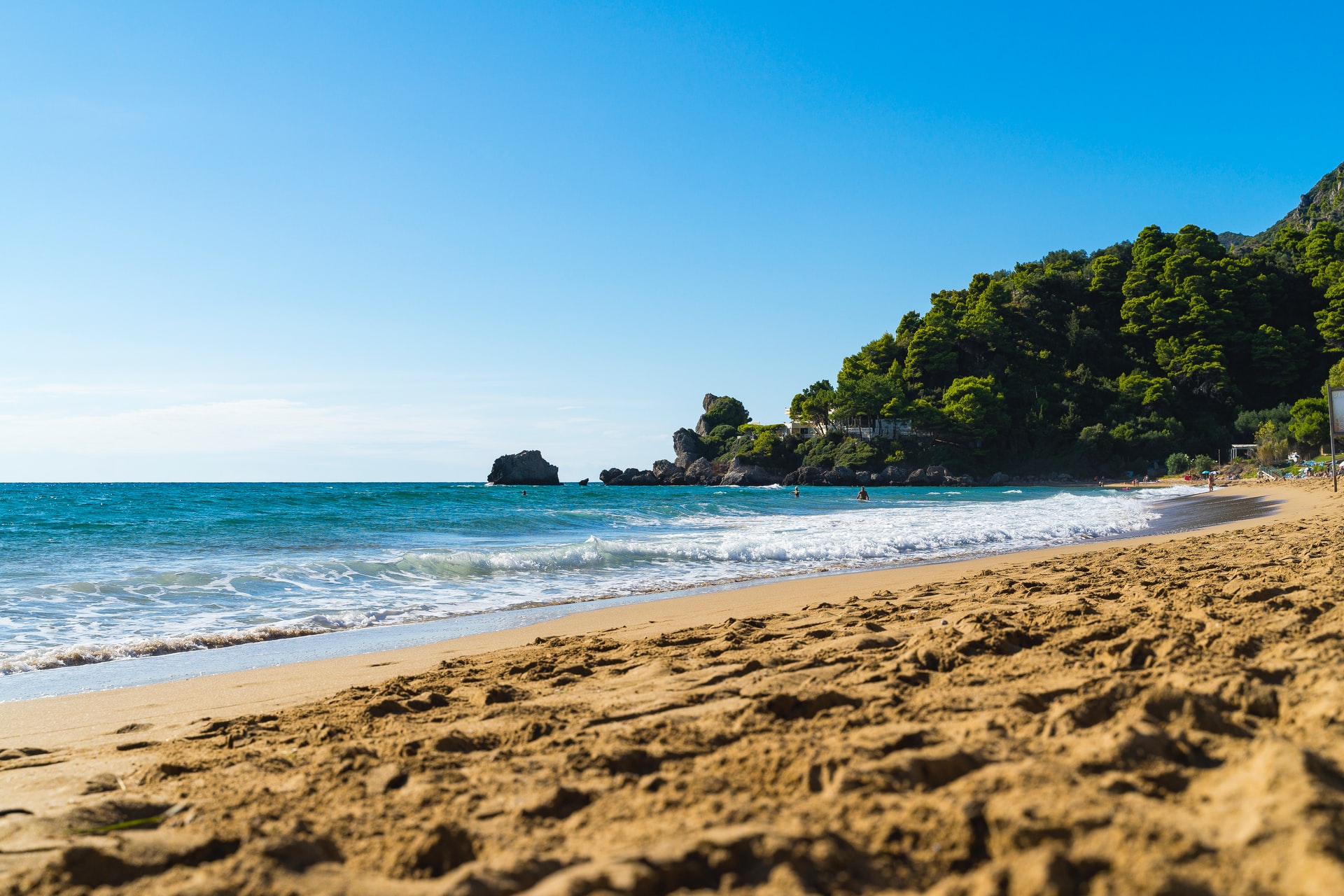 Family-Friendly Accommodation in Corfu
Resorts and Hotels
Corfu is an ideal destination for families and offers a variety of family-friendly hotels and resorts. One popular option is the Corfu Palace Hotel located in Corfu Town. This classic hotel has comfortable 2-bedroom suites suitable for a family of 6, featuring a lounge, marble bathrooms, mini-bars, and balconies with panoramic bay views. Higher-floor rooms offer unobstructed sea views.
For those seeking a luxury family holiday, consider staying at a 5-star resort. These resorts typically offer amenities such as pools, children's clubs, and family-friendly dining options.
Villas and Apartments
Families travelling to Corfu can also opt for private villas and apartments. These accommodations offer a more spacious and personalised experience, ideal for large families or those seeking a more intimate setting. Some of the advantages of staying in a villa or apartment include:
Space: Villas and apartments often provide more space than hotel rooms, with multiple bedrooms, living areas, and sometimes even private outdoor spaces such as gardens or terraces.
Privacy: Staying in a villa or apartment allows families to have more privacy compared to staying in a hotel.
Amenities: Many villas and apartments come with fully equipped kitchens, giving families the freedom to cook their own meals and cater to specific dietary requirements.
One such option in Corfu is NV Luxury Residence, located in the heart of Corfu Town. This accommodation offers city views and is within walking distance to popular attractions. Keep in mind that when booking a villa or apartment, it is important to research and verify customer reviews to find the perfect family-friendly accommodation.
Dining Options for Families in Corfu
Corfu, a beautiful Greek island in the Ionian Sea, offers a wide variety of dining options suitable for families with children. While visiting the island, you can explore both traditional local cuisine and international options that cater to different tastes and preferences.
Local Cuisine
When it comes to family-friendly local cuisine, Corfu has several great options. George & Elena's Taverna in Messonghi is a traditional taverna that is highly rated for its kid-friendly atmosphere and delicious Greek dishes. Another popular choice is Nikos Family Restaurant, known for its Mediterranean and Greek flavours. For those seeking authentic Greek barbecue and grilled dishes, Stavros Traditional Grill House is an excellent choice.
Some of the best local family-friendly restaurants in Corfu include:
George & Elena's Taverna, Messonghi
Nikos Family Restaurant
Stavros Traditional Grill House
These establishments offer a warm atmosphere, welcoming staff, and menus that cater to both children and adults. Parents can enjoy traditional Greek dishes while kids can choose from kid-friendly options such as spaghetti or simple grilled dishes.
International Options
In addition to local cuisine, Corfu also offers a variety of international options that are perfect for families. For instance, Petrino Kassiopi is a popular local restaurant in the coastal town of Kassiopi that serves traditional Greek food alongside spaghetti dishes for kids. The restaurant also boasts a beautiful view if you request a table upstairs.
Another international option is Boukari Beach Restaurant in Boukari, which provides a versatile menu suitable for the whole family. The dishes served cater to various tastes, making it a perfect choice for families seeking a diverse selection of food options.
In summary, Corfu has a diverse range of dining options for families, including both local Greek cuisine and international choices. With plenty of eateries catering to children and adults alike, your family can enjoy a delightful culinary experience during your stay on this beautiful Greek island.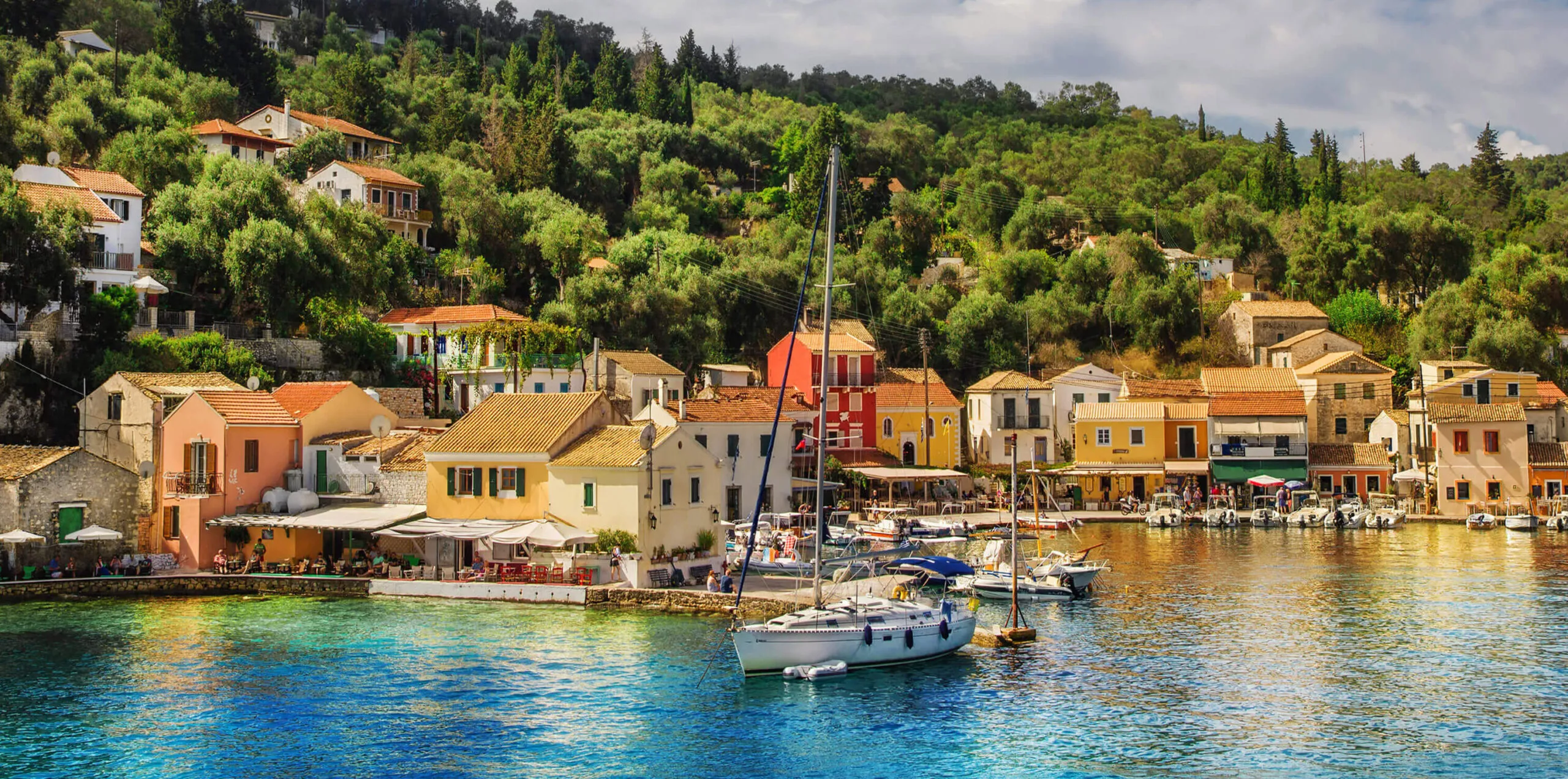 Travel Tips for Families Visiting Corfu
Safety Precautions
When visiting Corfu with kids, it is essential to take some safety precautions to ensure a worry-free holiday. Here are some recommendations:
Apply sunscreen with a high SPF to protect and reapply regularly, especially after swimming.
Equip your children with UPF swimsuits or rash guards for extra sun protection.
Keep children hydrated, provide water frequently, and avoid excessive sun exposure during the hottest part of the day.
Ensure children know what to do in case they get lost, such as memorising the contact details of where you are staying and instructing them to seek help from a trusted local or a fellow tourist.
Transportation
Getting around in Corfu with kids can be convenient and hassle-free if you consider the following transportation options:
Car hire: Renting a car is the best way to explore the island at your own pace. Many car rental agencies offer reliable and child-friendly vehicles with car seats available upon request.
Public buses: There are frequent buses connecting the main towns and tourist attractions on the island. Although this is a cost-effective option, it might be less convenient for families with young kids due to the limited space for pushchairs.
Ferry services: Enjoy a day trip by ferry from Corfu to nearby islands or even to the Greek mainland. Igoumenitsa is just two hours away, while Patra can be reached in up to 8 hours.
Boat tours: Corfu offers a wide range of boat tours and water sports for the whole family to enjoy together.
By following these travel tips, families can experience an unforgettable holiday in the kid-friendly destination of Corfu.
Hailing from the historic city of Thessaloniki, Nikos Tsakiris is a passionate explorer, seasoned writer, and co-founder of Greek Island, the definitive travel blog for the Greek Islands.