Santorini, a stunning Greek island in the Aegean Sea, is renowned for its beautiful beaches, each with unique characteristics that make them well worth a visit.
With its dramatic cliff formations, crystal-clear waters, and vibrant sunsets, Santorini has beaches that offer visitors a truly unforgettable experience.
This article will explore some of the best beaches in Santorini, giving you a taste of what to expect during your next visit.
Perissa and Perivolos beaches are top choices for their beautiful black sand and excellent swimming opportunities. Being essentially one long beach, Perissa Beach is the northern part while Perivolos Beach is the southern portion.
Visitors can also enjoy the famous Red Beach, which boasts stunning red and black volcanic pebbles, making it a truly unique destination.
Another popular beach is Kamari Beach, which offers a range of water sports and family-friendly amenities.
Vlychada, Eros Beach, and Monolithos are also popular, each offering something different for travellers to enjoy.
Whether you're after a serene and peaceful getaway or a bustling beach packed with activities and attractions, Santorini's wide range of beaches cater to every taste and preference.
Dive into the azure waters, bask in the sun, and experience the unrivalled beauty that Santorini has to offer.
The Best Beaches in Santorini
Santorini, a picturesque island in the Cyclades archipelago of Greece, has some of the most stunning beaches in the world. Let's explore the beauty of some of the island's top beaches.
Perissa Beach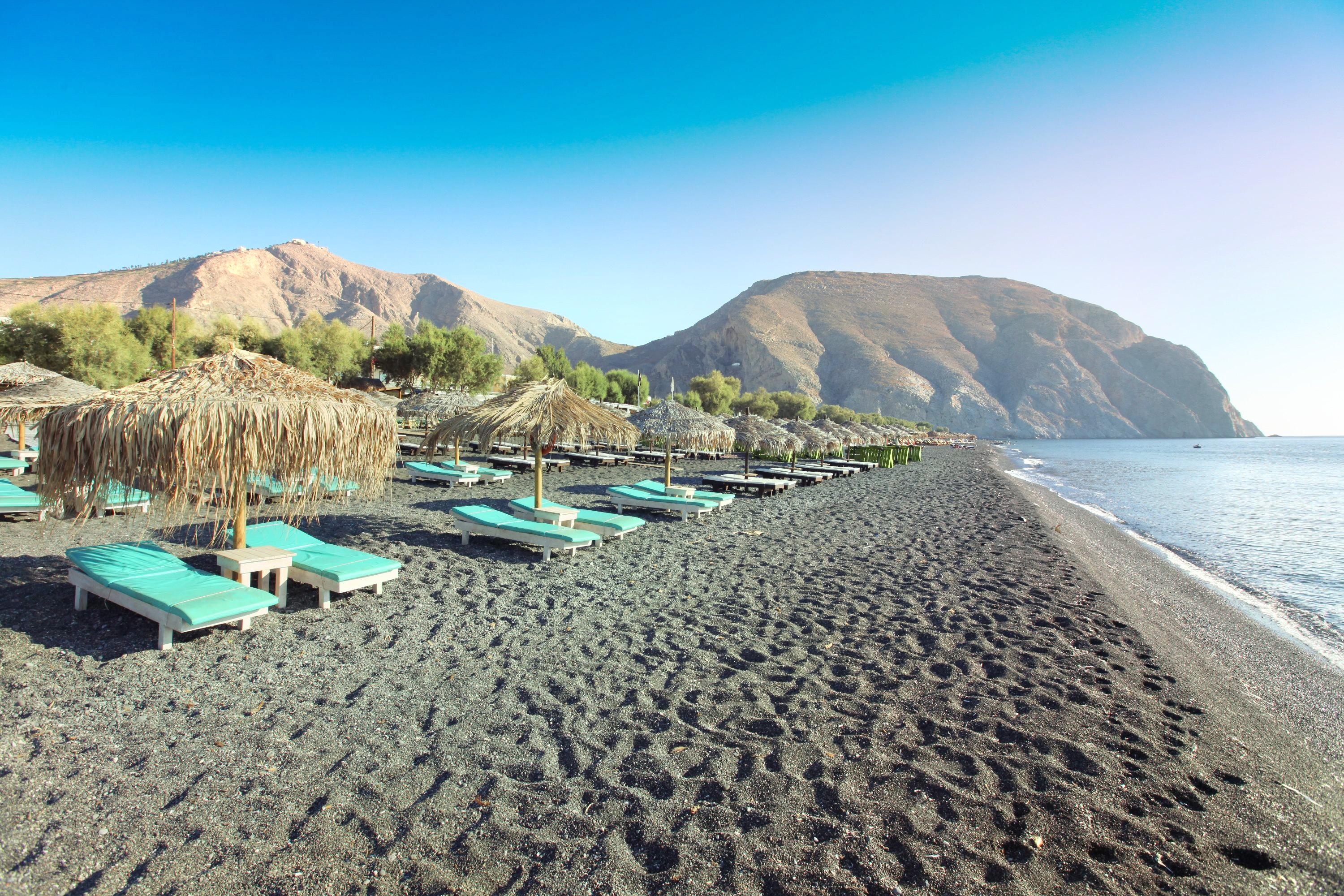 Perissa Beach, also known as Perivolos Beach, is one of the best sand and swimming spots in Santorini. Boasting an extensive shoreline, the beach is a popular destination for travellers. The mesmerising black sand and crystalline waters create an incredible vista. Relax on sun loungers or explore the various water sports options available:
Sun Loungers: Grab a sun lounger and enjoy the beautiful view of the sea.
Water Sports: Engage in water sports like jet skiing, snorkelling, or paddleboarding.
Red Beach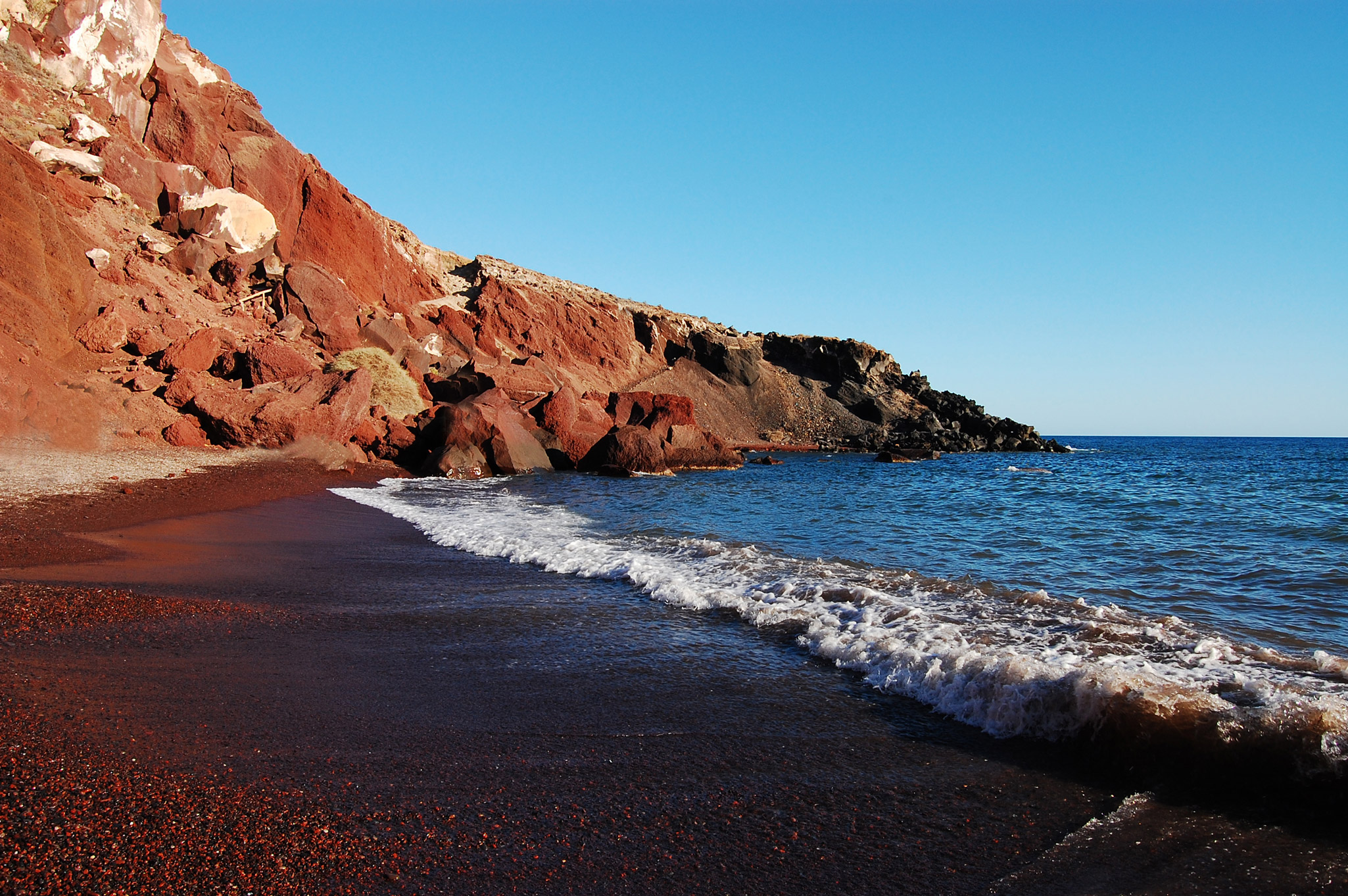 Another must-visit beach destination is the remarkable Red Beach.
This extraordinary beach is nestled by striking red cliffs, making it a unique attraction. Though small, the dazzling red sand contrasts with the azure waters, making it popular among tourists.
It's essential to note that accessing Red Beach can be tricky; visitors often require a short hike.
Kamari Beach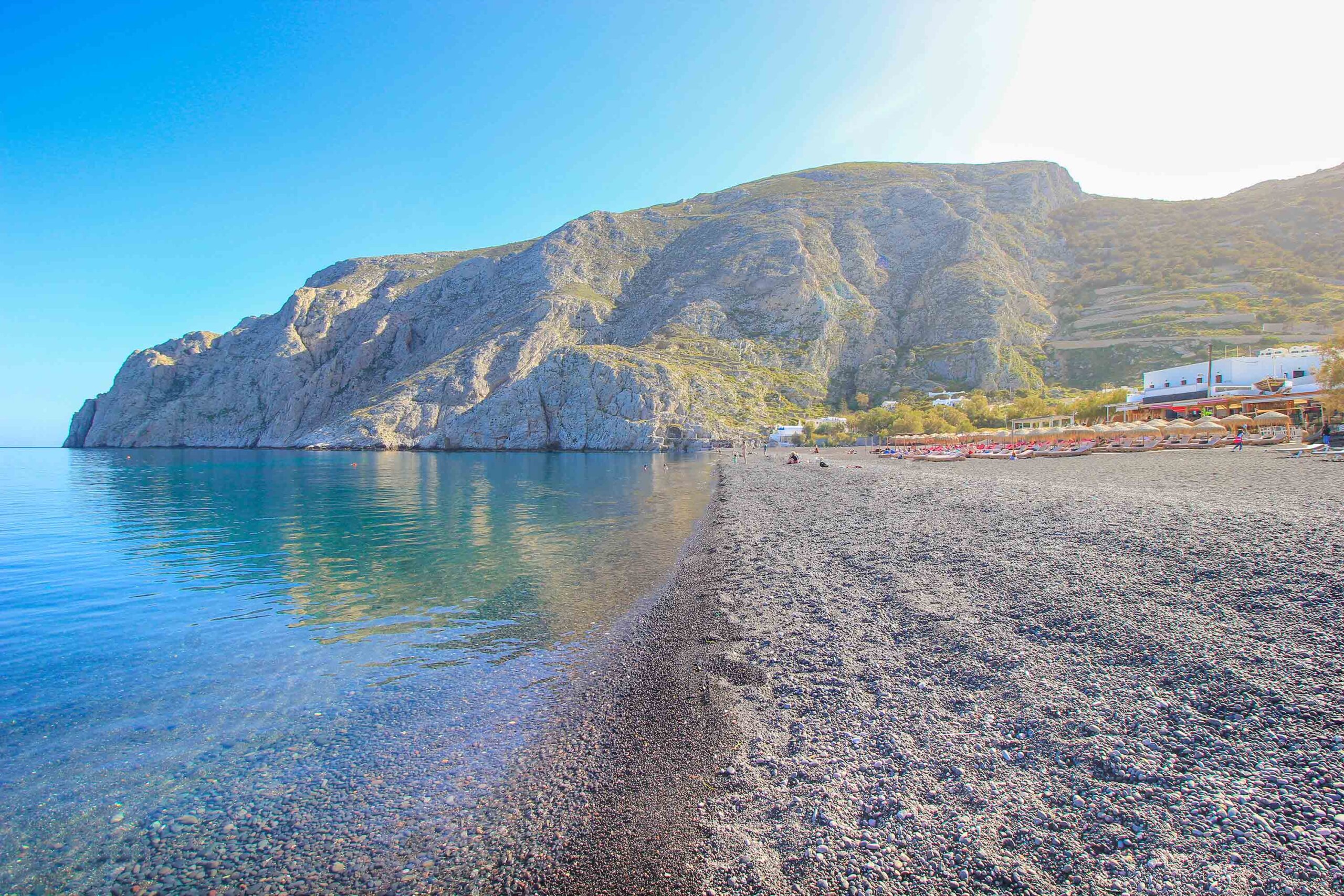 Kamari Beach, located on the eastern coast of Santorini, is famous for its black sand and crystal-clear waters. The beach offers a diverse selection of cafes, restaurants, and shops nearby. Some key features of Kamari Beach include:
Organised Beach Experience: Sun loungers and umbrellas are available for visitors to rent.
Nightlife: Enjoy the vibrant nightlife at the various bars and beach clubs nearby.
Monolithos Beach
Monolithos Beach, set on the eastern side of the island, is perfect for families and those who seek tranquillity. The shallow waters and soft, golden sands make this beach an ideal location for relaxation or letting the children play. More secluded than the popular beaches, Monolithos Beach offers a low-key experience:
Child-Friendly: Its flat terrain and shallow waters make it a safe choice for families with young children.
Quiet Getaway: Escape from the bustling main beaches at this serene location.
Each of these stunning beaches on Santorini offers visitors a unique and memorable experience, showcasing the diverse beauty found on this captivating island.
Activities and Facilities
Santorini, a picturesque island in Greece, is renowned for its stunning beaches, each offering a unique experience for visitors. The beaches boast an array of activities and facilities such as water sports, sunbathing and relaxation options, as well as beach bars and restaurants.
Water Sports
The beaches of Santorini offer a plethora of water sports possibilities for adrenaline-seekers and water lovers alike. Some of the popular water sports available on the island's beaches include:
Windsurfing: Enjoy the thrill of windsurfing at the beaches of Perivolos and Kamari, taking advantage of the optimal wind conditions.
Jet-skiing: Experience the excitement of jet-skiing along the coastline, available at various locations including Perissa Black Sand Beach and Kamari Beach.
Diving and snorkelling: Explore the underwater world of Santorini at diving spots scattered around the island, particularly near the famous Red Beach and Kamari Beach. There are diving centres offering lessons and guided dives for all skill levels.
Sunbathing and Relaxation
Visitors can soak up the sun and unwind at Santorini's beautiful beaches. Many of these beaches feature distinctive sand colours and landscape, providing a unique sunbathing experience. Some noteworthy beaches for sunbathing and relaxation include:
Perissa Black Sand Beach out on the black volcanic sand while enjoying the tranquil sea.
Kamari Beach: Relax on the sun loungers under the shade of umbrellas, with the stunning backdrop of the cliffs.
Red Beach: Marvel at the striking red cliffs while soaking up the sun on this extraordinary beach.
Beach Bars and Restaurants
A trip to Santorini's beaches would not be complete without savouring its delicious cuisine and refreshing beverages. Many of the island's beaches offer an assortment of beach bars and restaurants where visitors can indulge in:
Local cuisine: Taste traditional Greek dishes such as souvlaki, moussaka, and fresh seafood at beachfront tavernas.
Refreshing drinks: Sip on a variety of thirst-quenching beverages, including local wines and cocktails, at one of the lively beach bars.
Stunning views: Dine by the sea as you take in the breathtaking sunsets and spectacular landscapes that Santorini is famous for.
Santorini's beaches offer remarkable experiences through their diverse activities, facilities and picturesque sceneries. Whether visitors are looking for a thrilling water adventure or a peaceful moment to unwind, these beaches cater to every preference.
Accommodation Options
When visiting the beautiful beaches of Santorini, finding the perfect place to stay is essential to ensure a memorable and comfortable experience. Here are some accommodation options for different preferences and budgets.
Luxury Hotels
If you're seeking a luxurious stay, consider these beachfront hotels in Santorini:
Costa Grand Resort & Spa: Known as the best beach hotel at Santorini, this resort offers unmatched facilities and services.
Istoria Hotel: Located at Perivolos Beach, this elegant hotel features an infinity pool with an attached jacuzzi, a holistic spa, and outstanding service.
Mid-Range Hotels
For those looking for a balance between cost and comfort, consider these mid-range hotels near Santorini's beaches:
Kastelli: Located in Kamari, this hotel offers a pleasant stay close to beautiful beaches.
Aqua Blue: Situated in Perissa, Aqua Blue provides beautiful accommodation with access to local attractions.
Budget Options
Travellers on a tight budget will be delighted by these affordable places to stay near Santorini's best beaches:
Look for hotels in beach-side towns such as Perivolos, Perivolos, or Kamari, which are generally less expensive than those in Oia or Fira.
The paradise island of Santorini offers plenty of budget areas suitable for backpacking, enabling travellers to enjoy the island's beauty on a shoestring.
Remember to research and book your accommodation in advance, as popular destinations like Santorini can fill up quickly, especially during peak season.
Transportation and Access
Bus Services
Public transportation in Santorini is quite efficient and affordable. Buses connect popular beaches like Kamari, Perissa, and Perivolos with the main towns, like Fira and Oia.
The local bus company, KTEL, operates several routes throughout the island. In high season, buses run frequently, while in low season their schedules might be reduced. Check the bus timetable to plan your journey in advance.
Fares vary depending on the travelled distance, but they generally range from €1.80 to €2.50. Tickets can be purchased on the bus, and it is advisable to have cash handy, as card payments may not be accepted.
Renting a Vehicle
Another option to access the best beaches in Santorini is by renting a vehicle, such as a car, scooter or ATV. This provides more flexibility and allows you to visit the less crowded, off-the-beaten-path beaches.
Car Rental: Renting a car is an excellent way to explore Santorini at your own pace. There are numerous car rental companies available, both at the airport and in the main towns. Prices might vary depending on the season and type of vehicle. Check the driving license requirements before booking.
Scooter and ATV Rental: To reach more remote beaches or simply to experience the island scenery, many travellers choose to rent scooters or ATVs. These vehicles can be rented at multiple locations around Santorini, including Fira and Kamari. Make sure to wear a helmet and follow local traffic regulations to ensure your safety during your trip.
In conclusion, with a mixture of public transportation and vehicle rentals available, accessing the best beaches in Santorini should be a breeze for visitors.
Frequently Asked Questions
Where are Santorini's top beaches for swimming?
Perissa and Perivolos beaches are ideal for swimming, offering clear waters and rich black volcanic sands. These beaches are well-acclaimed for their excellent swimming conditions and are essentially two parts of the same stretch of sand, with Perissa to the north and Perivolos to the south.
Where are Santorini's best family-friendly beaches?
Kamari and Monolithos are two family-friendly beaches in Santorini. Kamari Beach boasts an organised coastline with lots of amenities, such as sun loungers and water sports facilities, making it suitable for families. Monolithos Beach, on the other hand, is quieter and has shallow waters, perfect for young children to wade and play safely.
Where is Santorini's most picturesque beach?
The Red Beach is one of Santorini's most picturesque beaches due to its striking red cliffs and unique landscape. This scenic location is highly photogenic, making it a must-visit spot. However, visitors should be aware of potential rockfall hazards and follow any safety guidelines provided.
Where are Santorini's best beaches for couples?
Vlychada and Eros Beach make for romantic destinations for couples seeking tranquillity and natural beauty. Vlychada, also known as the "moon beach", boasts dramatic landscapes created by volcanic activity, offering a unique atmosphere. Eros Beach, a quieter and more secluded location, creates an intimate setting ideal for spending quality time together.
What are the top beach clubs in Santorini?
Perivolos Beach features some of the best beach clubs in Santorini, including the popular Jojo Beach Club and Scorpios, known for their lively vibes, superb cocktails, and trendy atmospheres. Many beach clubs also offer sun loungers, refreshing drinks, and beachside dining, ensuring a fun-filled and luxurious day by the sea.
Where are Santorini's best sandy beaches?
Perissa, Perivolos, and Kamari are among the best sandy beaches in Santorini. These beaches feature black volcanic sand, offering a unique experience compared to traditional white sandy beaches. These coastlines are wide and well-maintained, providing ample space for sunbathing, relaxation, and various seaside activities.
Eleni Vasiliadis, a native of the picturesque island of Corfu and co-founder of Greek Island, is a seasoned traveller, accomplished writer, and passionate advocate for Greek culture and cuisine.