Nestled in the northwest Aegean Sea, Skiathos is a breathtaking Greek island belonging to the enchanting Sporades archipelago.
Known for its beautiful landscapes, deep green trees, and rockin' bars and restaurants, Skiathos has become a sought-after destination for travellers seeking a perfect blend of pristine beaches, vibrant nightlife, and rich history.
One of the first to cash in on the Greek holiday boom thanks to an international airport Skiathos has remained one of the most popular Greek island holiday destinations.
Skiathos is a small and compact island, just 12km long and about 6km wide, and its main claim to fame is a plethora of large, deep, sandy beaches strung right the way along its southern coastline.
Recent years have seen an explosion in tourist facilities and, nowadays, a virtually unbroken line of hotels, apartments and neon-lit tavernas flank the once rural road that runs the length of the south coast.
A ban on high rise hotels has curbed major downmarket excess and the tavernas may be as much baklavas as burgers, but Skiathos still groans under its own weight in annual tourist numbers.
The island's ever growing popularity has resulted in higher prices in the popular resorts and the inevitable drift to dumbed down tackiness.
The closely-packed Skiathos holiday beaches are sandy and safe for children, making this an ideal island for family holidays.
Most of the interior of Skiathos is hilly, heavily wooded and almost totally deserted with a few less crowded beaches on the north coast.
This picturesque island promises an unforgettable experience that caters to different preferences and ages, making it an ideal getaway for everyone.
The shores of Skiathos are home to numerous first-rate beaches that invite guests to relax and unwind while soaking up the Mediterranean sun.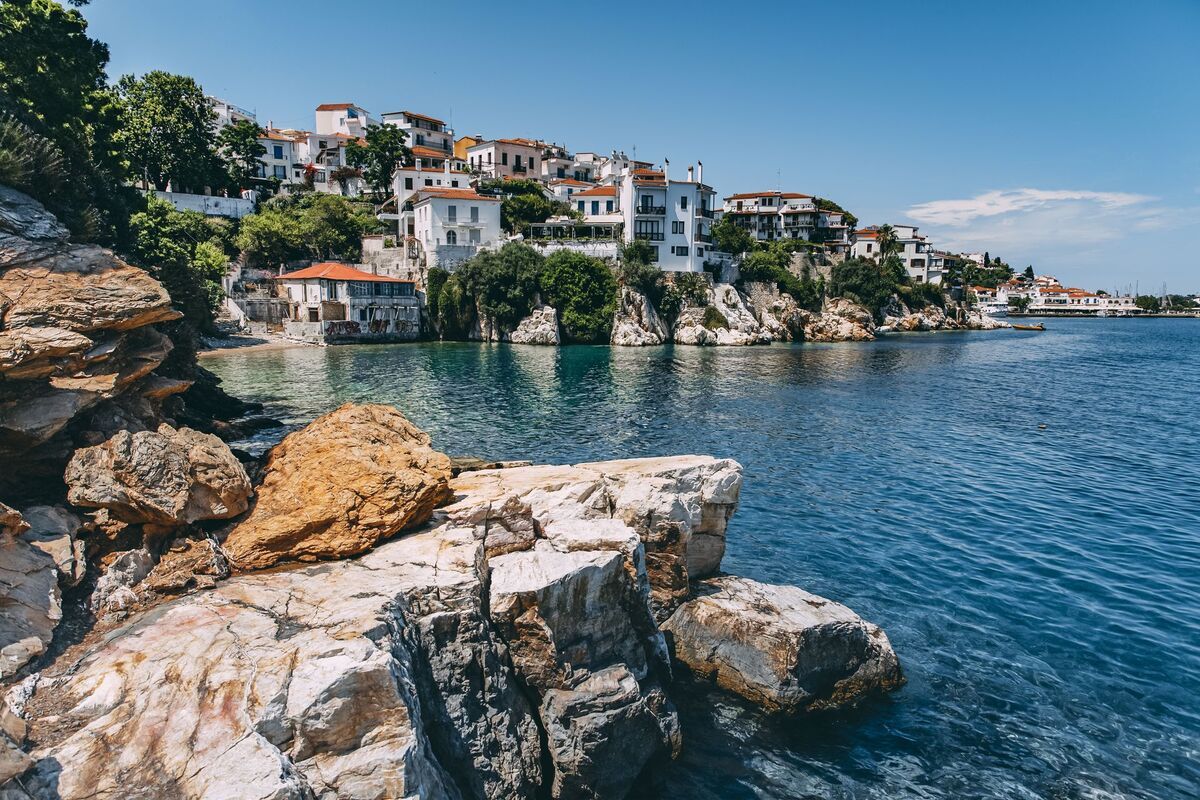 The island's picturesque town, known for its romantic atmosphere, captivates visitors with its charming narrow whitewashed alleys, and traditional architecture. For those seeking a more dynamic experience, the island's intense nightlife is especially popular among young travellers, offering a wide variety of bars and clubs to dance the night away.
With so much to explore and enjoy, Skiathos is truly a gem waiting to be discovered.
Whether you choose to travel by ferry from harbours like Volos or Agios Konstantinos, or opt for a different route, this guide will help you make the most of your visit to this green paradise, ensuring a memorable holiday that will leave you longing to return.
Getting to Skiathos
Skiathos is a beautiful Greek island in the Sporades archipelago, known for its stunning beaches and vibrant nightlife. In this section, we'll discuss two primary ways to get to Skiathos: by air and by ferry.
By Air
Skiathos has its own airport, Skiathos International Airport "Alexandros Papadiamantis" (JSI), which serves both domestic and international flights. Several airlines operate seasonal direct flights from various European cities during the peak months, making it a convenient option for travellers.
In addition to direct flights, you can also fly to Skiathos via a layover in Athens. There are frequent domestic flights between Athens (ATH) and Skiathos (JSI), operated by local carriers.
By Ferry
Another popular way to reach Skiathos is via ferry. The island is well-connected to the mainland and other neighbouring islands by ferry routes. There are daily connections between Skiathos and the port of Volos in mainland Greece, as well as the port of Agios Konstantinos in Central Greece. The ferry ride typically takes between 2 to 3 hours, depending on the type of vessel.
Moreover, you can travel to Skiathos from other islands in the Sporades archipelago, such as Skopelos and Alonnisos, via regular ferry services.
When planning your trip, consider checking ferry schedules and booking your tickets in advance, particularly during the peak summer season, as routes can become busy. You can book your ferry tickets online or at local travel agencies.
In summary, Skiathos is accessible by air and sea, offering multiple options for travellers to reach the picturesque island and enjoy its natural beauty, pristine beaches, and lively atmosphere.
Where to Visit in Skiathos
Skiathos Town
The main island resort of Skiathos Town bristles with tavernas, bars and nightclubs all lying within a deep double bay on the south-eastern edge of the island.
This is a busy and bustling resort where cosmopolitan harbourside bars thump to disco music and the air is punctuated with the whine of passing mopeds. Charter planes swoop in low over Skiathos Town bay to land at the nearby airport and ferries pull in regularly with arrivals from the mainland.
The background noise may not be to everyone's taste but it's not unpleasant to lounge the evening away in one of the busy quayside cafe watching the tourists stroll by. Or you can join the throngs of holiday shoppers cruising the Skiathos Town boutiques and trinket shops that line the traffic-free centre.
Skiathos Town has two quays split by an outcrop of rock called the Bourtzi. Dozens of cafes run the length of both harbours with the old port to the west and the new harbour to the east. Cafes in the old harbour are bigger, many of them 10 or 12 tables deep.
The old harbour is also traffic-free, offering a pleasant evening stroll for visitors and it is here that the Skiathos island caquies pitch the display boards touting barbecue trips around Skiathos and daily jaunts to neighbouring islets.
The main Skiathos Town shopping street leads inland from the Bourtzi up the hill. Even more shops, cafes and tavernas are jammed along the narrow street, with the occasional whiff of sewage from the drains that run beneath.
Menus are uniformly pricey and meals are mediocre to poor as the volume of passing trade takes its toll on quality. Many new cafes have sprouted in the last few years as Athenian businessmen cash in on the roaring trade.
Tavernas overlooking the bay to the west tend to be the most expensive, as are the cafes that line the old harbour but none anywhere in Skiathos will be considered cheap.
Katsarou Village
South-west of the resorts of Megali Ammos and Vassilias is the coastal village of Katsarou. Some good hotels and apartments have made Katsarou increasingly popular with tour companies in recent years.
Katsarou is a typical sleepy village of cobbled streets and whitewashed houses just above the main road on the steep pine-carpeted hillside. The elevated position makes it cooler but the relative isolation will not suit everyone.
It is a steep one kilometre walk downhill to beaches at Vassilias and Kassandra Bay. Car hire here is a must unless you want to hide away for the holiday, although local hotels do offer free bus services.
For a quiet break in serene surroundings this could be just the spot. There are a couple of pleasant tavernas in the village.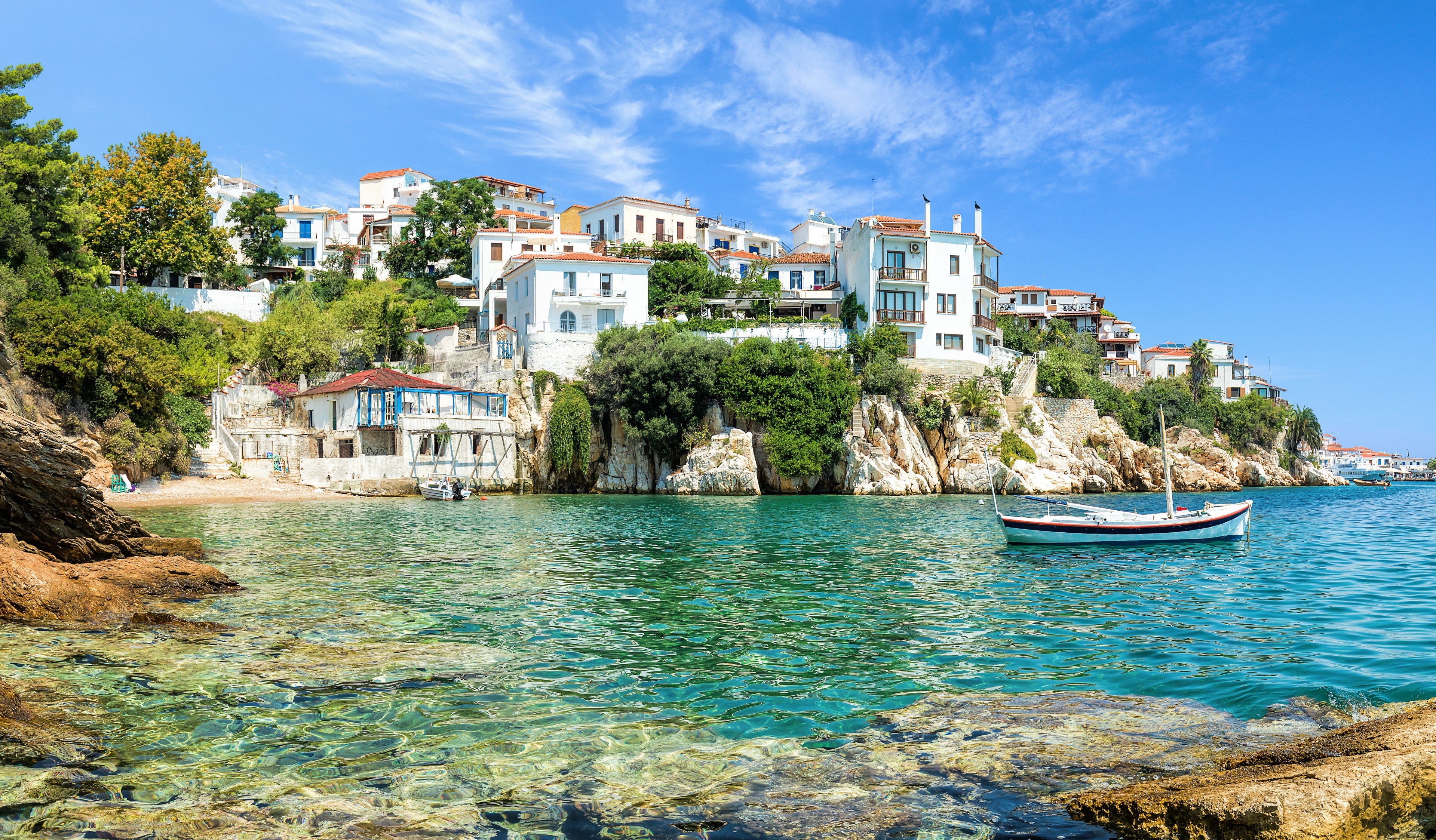 Skiathos' Top Attractions
Skiathos is a beautiful island in Greece that offers a variety of attractions for visitors.
In this guide, we will explore the top attractions, including stunning beaches, historical sites, and natural wonders.
Beaches in Skiathos
Skiathos is noted among the Greek islands for its profusion of soft sand beaches.
The whole south coast of this small island is a succession of sandy coves, most now given over to heavy commercialism.
Quiet and deserted coves are few, with the Kalamaki Peninsula offering the best chance of a day away from the crowds.
The few north coast beaches have avoided the exploitation seen in the south but they are less easy to reach.
Skiathos is famous for its picturesque beaches featuring crystal-clear waters and golden sand. Some of the most popular beaches are:
Koukounaries Beach – Known for its silky blonde sand and electric-green pine trees, Koukounaries Beach is a perfect spot to relax and soak up the sun.
Banana Beach – A lively and popular beach, ideal for water sports enthusiasts and those looking for a lively atmosphere.
Agia Paraskevi Beach – A more serene and peaceful beach, ideal for families and those looking to escape the crowds.
Troulos Beach – A beautiful beach offering a mix of relaxation and water activities.
Historical Sites in Skiathos
Skiathos offers visitors a glimpse into its rich history. Here are some must-visit historical sites on the island:
Kastro – Located on the island's rocky northernmost headland, Kastro was the fortified pirate-proof capital from 1540. It offers a stunning view of the coastline and a step back into Skiathos' past.
Museum of Papadiamantis – This museum is dedicated to the life and work of Greek writer Alexandros Papadiamantis, an important literary figure from Skiathos.
Natural Wonders in Skiathos
Skiathos boasts picturesque landscapes and awe-inspiring natural attractions to explore. Here are some top natural wonders on the island:
Lalaria Beach – Accessible only by boat, Lalaria Beach features stunning white cliffs and turquoise waters. It is an ideal spot for photographs and a truly unique experience.
Koukounaries Wetland – Located behind Koukounaries Beach, this small salt-water wetland is home to a diverse range of wildlife and is a great spot for bird watching and enjoying the great outdoors.
Leeward Pine Forest – Explore the lush, cool pine forests surrounding Koukounaries Beach and experience the island's natural beauty up close.
Skiathos offers a variety of attractions for all types of travellers. Be sure to include these top attractions in your itinerary when visiting this beautiful island paradise.
Accommodation Options in Skiathos
Skiathos, a beautiful island in Greece, offers visitors a range of accommodation options. In this section, we will explore the various possibilities to help you find an ideal place to stay during your Skiathos holiday.
Hotels in Skiathos
There are numerous hotels in Skiathos, catering to various budgets and preferences. Some of the top hotels on the island are:
Elivi Resort & Spa: A luxury option with beachfront access.
Troulos Bay Hotel: Great for families, located close to the beach.
Hotel Skiathos Princess Resort: Family-friendly and perfect for couples, situated near Agia Paraskevi Beach.
Atrium Hotel: Ideal for couples seeking a romantic getaway.
Cape Kanapitsa Hotel & Suites: Combines comfort with a stunning setting.
Holiday Apartments in Skiathos
For those who prefer to have more space and flexibility during their stay, holiday apartments are an excellent choice. They are often equipped with kitchens, providing guests with the option to cook their meals. Some popular holiday apartments in Skiathos include:
Vasilias Beach Apartments: Located near Vasilias Beach and offering spectacular views.
Achladies Apartments: Family-friendly and close to Achladies Beach.
Skiathos Town Apartments: Perfect for travellers who wish to be near the vibrant nightlife of Skiathos Town.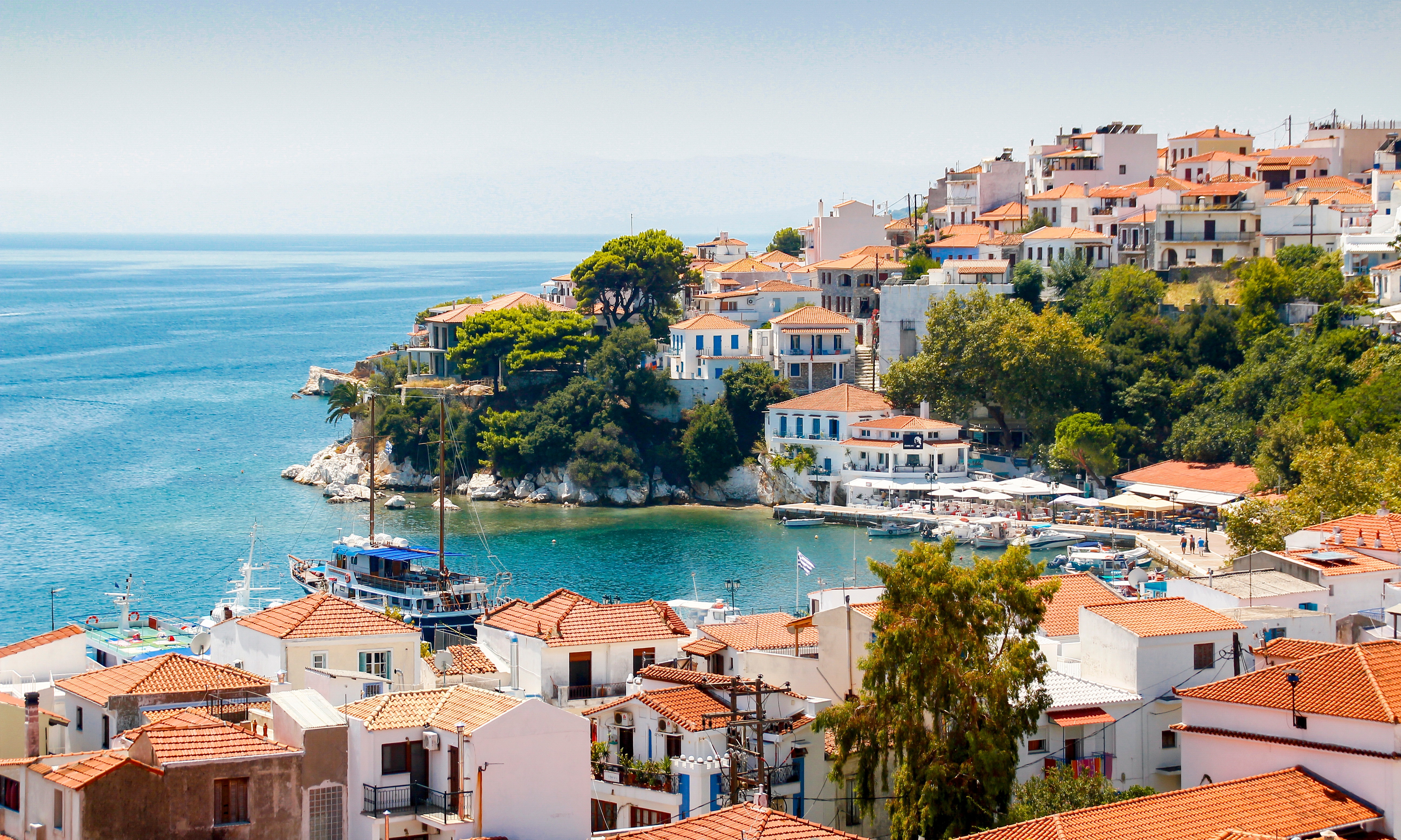 Villas in Skiathos
Villas provide the ultimate luxury experience, often featuring private pools and stunning views. They are ideal for larger groups or for those who value privacy and exclusivity. Some of the top villas in Skiathos are:
Olivia's Villas: Boasting gorgeous infinity pools and modern amenities.
Villa Salina: A beautiful retreat with sea views.
Thalassa: Combines elegance with stunning ocean vistas.
In summary, whether you're looking for a hotel, holiday apartment or villa, Skiathos has a range of accommodation options to suit all tastes and budgets. Explore these options to find the perfect place for your island getaway.
Dining and Nightlife in Skiathos
Skiathos is a vibrant and lively island, offering a range of dining and nightlife options to satisfy every taste. In this section, we will cover local cuisine, bars, and clubs that you should explore when visiting Skiathos.
Local Cuisine
The island's culinary scene is heavily influenced by Greek and Mediterranean flavours. Many traditional dishes are based on fresh seafood, locally sourced vegetables, and high-quality olive oil. Some popular local dishes you might want to try include:
Moussaka: A delicious baked dish made with layers of aubergine, minced lamb or beef, and béchamel sauce.
Souvlaki: A popular Greek dish, consisting of grilled pieces of meat served on a skewer, usually accompanied by pita bread, salads, and dips.
Grilled Octopus: A local speciality, prepared marinated and grilled to perfection.
Dolmades: Stuffed grape leaves filled with a mixture of rice, herbs, and sometimes minced meat.
Some highly-rated restaurants in Skiathos town, offering delicious local cuisine, are Siferi and Black Pepper. For a more traditional dining experience, try venturing to some of the island's smaller villages, where you can find authentic tavernas and eateries.
Bars and Clubs
Skiathos Town is renowned for its lively nightlife scene, attracting visitors and locals alike. With numerous bars and clubs to choose from, there's plenty of entertainment to keep you occupied after the sun goes down. Some popular bars and clubs in Skiathos Town include:
GinFish: Known for its excellent cocktails and stunning views, GinFish is a great spot for a relaxed evening out.
Banana Beach Bar: Located on the popular Banana Beach, this trendy bar attracts a young and lively crowd, making it the perfect spot for mingling and enjoying a fun night out.
Apollon: An iconic live music venue in Skiathos Town, Apollon regularly features local bands and artists, offering an authentic and lively atmosphere.
Nightlife in Skiathos isn't limited to the town – many of the island's beaches offer beach bars and clubs, providing entertainment and relaxation by the sea. So when planning your visit, be sure to explore the island's nightlife options and experience the best that Skiathos has to offer.
Outdoor Activities in Skiathos
Visiting Skiathos offers a variety of enjoyable outdoor activities for tourists to take part in. This beautiful island has something for everyone, from hiking trails and water sports to boat tours that allow you to explore the stunning coastline. This guide will briefly cover some of the most popular outdoor activities in Skiathos to help you make the most of your trip.
Hiking Trails
Skiathos boasts several hiking trails that take you through the island's serene natural beauty. Walk through pine forests, olive groves, and follow scenic paths along the coast. These trails provide both amazing views and opportunities to explore and admire the local flora and fauna. Some hiking trails worth exploring include:
Koukounaries Forest: A nature reserve with a variety of walking paths and lush forest landscapes.
Aghios Nikolaos Church: A picturesque hike to a hilltop church with fantastic views of the island.
Monastery of Evangelistria: A well-marked trail leading to this historic monastery with a peaceful, spiritual atmosphere.
Ensure proper footwear and carry water with you, especially during the hotter months.
Water Sports
Skiathos' clear blue waters offer a fantastic playground for water sports enthusiasts. Many of the island's beaches have water sports centres with a variety of fun activities to try. Some popular water sports include:
Windsurfing: The perfect activity for those who love adrenaline and speed.
Scuba diving: Discover the island's fascinating underwater world with reefs and sea caves.
Stand-Up Paddle-Boarding (SUP): Enjoy a unique workout whilst exploring the beautiful coastline.
Water skiing: Put your balance and strength to the test on the water.
Boat Tours
Boat tours are a great way to experience Skiathos' stunning coastline, as well as visit hidden coves and beaches that are otherwise inaccessible. Several companies offer various types of boat tours, including full-day, half-day, and sunset cruises. Some must-see sites during boat tours are:
Lalaria Beach: A secluded pebble beach with clear turquoise waters and iconic white cliff formations.
Skopelos Island: Explore the neighbouring island of Skopelos by embarking on a day trip.
Tsougrias Island: Just a short boat ride from Skiathos, this tranquil island is perfect for a relaxing day away from the hustle and bustle.
Embarking on these outdoor activities will make your visit to Skiathos an unforgettable experience in nature and adventure. So grab your gear and get ready to explore the beautiful island of Skiathos to the fullest!
Frequently Asked Questions
What's the best way to reach Skiathos?
Skiathos is a Greek island in the northwest Aegean Sea and is part of the Sporades archipelago. You can reach this beautiful island in two ways. The most common way is by taking a direct flight to Skiathos Island National Airport. Another way is by catching a ferry from the mainland or nearby islands like Skopelos.
What are the best activities on Skiathos?
Skiathos is famous for its stunning sandy white beaches, which are perfect for swimming, sunbathing, and water sports. Exploring the lush green landscapes and experiencing hiking trails in search of hidden coves and bays is a popular activity. Additionally, taking a boat tour around the island to visit the neighbouring isles is highly recommended.
What's the best area to stay in Skiathos?
Skiathos Town is the island's lively hub, where most of the accommodations, shops, and restaurants are located. Staying near the beach, like Koukounaries Beach, is suitable for those who prefer a peaceful environment and direct access to the water.
What's Skiathos' nightlife scene like?
Skiathos is known for its vibrant nightlife, with numerous bars and clubs catering to different tastes. The upbeat bars and clubs are often concentrated in Skiathos Town, where you can enjoy drinks, music, and dancing till the early hours of the morning.
Skiathos vs Skopelos
Both Skiathos and Skopelos are beautiful Greek islands with lush green landscapes and picturesque beaches. Skiathos has a more developed tourist infrastructure and a vibrant nightlife scene, while Skopelos offers a more relaxed and authentic atmosphere, with traditional villages and charming scenery. Ultimately, the choice between Skiathos and Skopelos depends on your preferences for nightlife, activities, and the overall vibe you seek during your Greek island escape.
Hailing from the historic city of Thessaloniki, Nikos Tsakiris is a passionate explorer, seasoned writer, and co-founder of Greek Island, the definitive travel blog for the Greek Islands.