Nestled in the Aegean Sea, the Sporades Islands are a captivating collection of Greek islands, offering a perfect getaway for travellers seeking a blend of stunning natural beauty, charming villages, and rich culture.
Comprising 24 islands in total, only four of them are inhabited: Skiathos, Skopelos, Alonissos, and Skyros.
Despite being lesser known compared to other Mediterranean islands, the Sporades have their own distinct character and magnetism, which reward those who venture to explore them.
Boasting dense pine forests that reach down to the shoreline, immaculate sandy beaches, and crystal-clear waters, the Sporades Islands provide an idyllic setting for relaxation and adventure.
Each island possesses its individual charm, offering visitors varied experiences, from the vibrant nightlife in Skiathos to the tranquil landscapes of Alonissos. Unspoiled by mass tourism, the islands retain an authentic atmosphere that complements their natural splendour.
With so much to offer, embarking on a journey to the Sporades Islands is sure to be both an enchanting and memorable experience.
Whether island hopping or choosing a single destination, visitors can immerse themselves in the rich history, local traditions, and warm hospitality that these hidden gems of the Aegean have to offer.
When is the Best Time to Visit the Sporades Islands?
Weather and Climate
The Sporades Islands are known for their pleasant Mediterranean climate, characterised by hot summers and mild winters. During the summer months (June-August), you'll enjoy virtually endless sun and warm temperatures, making it ideal for beach activities and outdoor exploration. However, autumn (September-October) is also a viable option as the islands experience pleasant weather with fewer crowds, perfect for those who prefer a more tranquil setting.
Peak and Off-Peak Seasons
Peak season in the Sporades Islands is during the summer months of June to August, where you'll find plenty of marina-side bars and vibrant nightlife, especially in Skiathos Town. However, be aware that the beaches can get busy during this time of year. To avoid the bustle and to enjoy a more relaxed atmosphere, consider visiting during the off-peak times of March-May or late August to November, when the islands receive fewer visitors.
Sporades Islands: An Overview
The Sporades Islands are a group of islands situated in the northern part of the Aegean Sea, southeast of Mount Pelion. This beautiful archipelago is composed of 4 large islands, Skiathos, Skopelos, Alonissos, and Skyros, along with several smaller and uninhabited islets. Although the Sporades are one of the Mediterranean's lesser-known island groups, they offer a wealth of natural beauty, traditional villages, and stunning beaches, making them an ideal destination for travellers seeking a Greek escape.
Skiathos
Skiathos is an island known for its picturesque beaches, vibrant nightlife, and lush vegetation. It is the most popular among the four islands and attracts the highest number of visitors.
The island's main town, Skiathos Town, comes alive during the high summer months (June-August) with marina-side bars and virtually endless sunshine.
While beaches can be crowded, the island offers numerous beautiful spots to unwind on the golden sands or explore its pine-covered hillsides.
Skopelos
Skopelos, like its neighbour Skiathos, boasts lush forests, traditional stone villages, and stunning beaches.
This island gained fame as one of the filming locations for the movie "Mamma Mia!" and has since become a popular choice for travellers.
Skopelos is ideal for those looking for a peaceful getaway as it is less crowded than Skiathos. Visitors can explore its picturesque villages, enjoy the mesmerizing views, and relax on its beautiful beaches.
Alonissos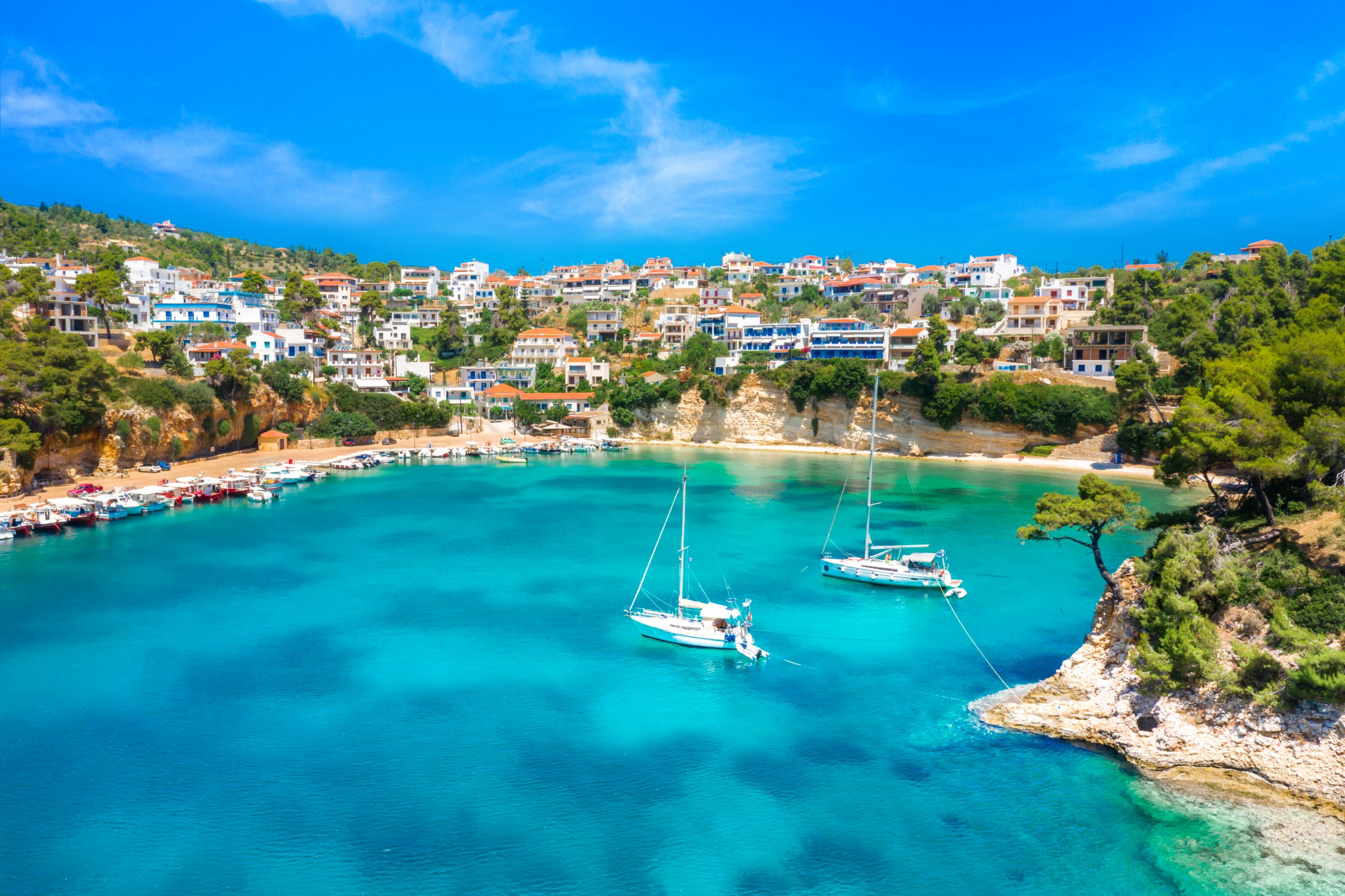 Alonissos offers a unique landscape compared to the other Greek islands. Covered in tall pine trees, the island is greener and lusher, providing a tranquil atmosphere for those seeking relaxation.
Known for its partly organized pebbled beach, Agios Dimitrios Beach is a family-friendly destination located 14 km from Patitiri.
With its calm sapphire waters, traditional villages, and surrounding hillsides, Alonissos is ideal for a serene Greek island getaway.
Skyros
Skyros is located further away from the other Sporades Islands and is ideal for travellers seeking an off-the-beaten-path experience.
The island is known for its diverse landscapes, ranging from rocky mountains and dry plains to sandy beaches and lush valleys. Visitors can immerse themselves in the authentic Greek culture and local traditions while visiting the small villages that dot the island.
With its unspoiled natural beauty and laid-back atmosphere, Skyros offers a unique and quiet escape for those visiting the Sporades Islands.
Getting to the Sporades Islands
Visiting the Sporades Islands in Greece is a dream for many travellers. This beautiful collection of islands is located in the Aegean Sea, about 120 km north of Athens. To help you plan your trip, here's a quick guide on how to reach these stunning islands.
By Air
The easiest way to get to the Sporades Islands is by flying. The islands of Skiathos and Skyros have their own airports, connecting them to Athens and other European cities during the summer months.
Skiathos International Airport (JSI): Direct flights are available from Athens, and numerous European cities like London, Manchester, and Amsterdam during the summer season. The flight from Athens to Skiathos takes approximately 45 minutes.
Skyros Island National Airport (SKU): This smaller airport primarily serves domestic flights to and from Athens. The flight duration is around 50 minutes.
By Ferry
If you prefer travelling by sea, taking a ferry is another option. The main ports linked to the Sporades Islands are Volos and Agios Konstantinos located on the Greek mainland. From these ports, regular ferries can take you to the inhabited islands of Skiathos, Skopelos, and Alonissos.
From Volos: Visiting the Sporades from Volos provides the most frequent ferry connections, especially during the summer months. The journey times are as follows:

Skiathos: Approximately 2-3 hours
Skopelos: Around 3-4 hours
Alonissos: About 4-5 hours

From Agios Konstantinos: This port is closer to Athens and offers less frequent connections compared to Volos. Ferry travel times to the islands are similar to those from the port of Volos.
Keep in mind that journey times may vary depending on the type of ferry you choose, such as high-speed or conventional ferries.
With this information, you'll be able to decide which travel option suits you best and embark on your exciting journey to the breathtaking Sporades Islands.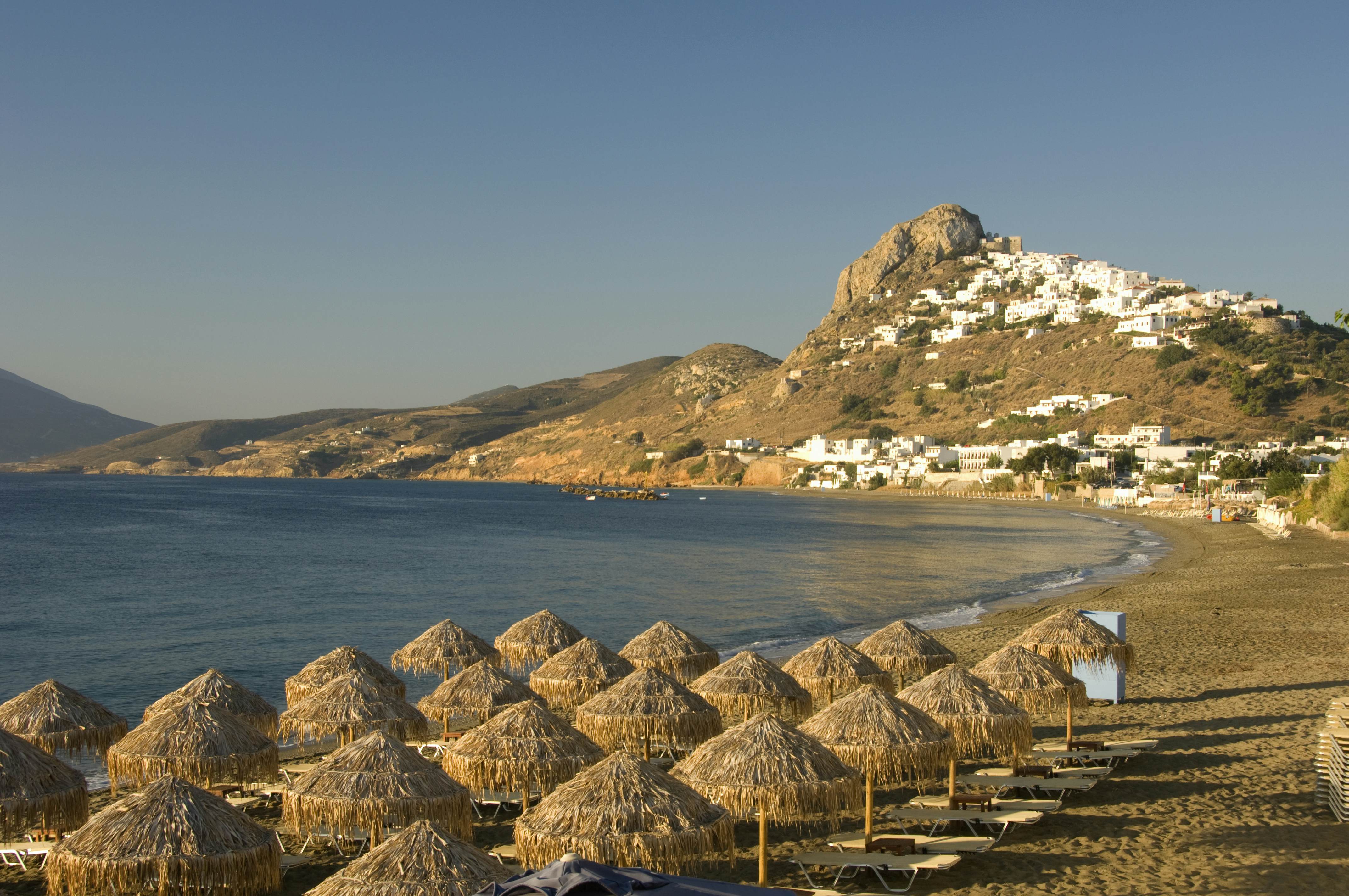 Accommodation Options in the Sporades Islands
Hotels and Resorts
The Sporades Islands offer a variety of hotels and resorts to suit different tastes and budgets. On the popular island of Skiathos, you'll find a range of luxury resorts, boutique hotels, and budget-friendly options. Similarly, Skopelos and Alonissos also provide various accommodation choices, ranging from charming island-style hotels to all-inclusive resorts.
Some top hotel choices in the Sporades Islands include:
Skiathos: Skiathos Princess Hotel, Kassandra Bay Resort & Spa, and Aegean Suites Hotel
Skopelos: Skopelos Village Hotel, Adrina Beach Hotel, and Blue Green Bay
Alonissos: Alonissos Beach Bungalows & Suites, Marpunta Village Club, and Hotel Nereides
Villas and Apartments
For travellers seeking a more private and independent experience, the Sporades Islands also offer a wide selection of villas and apartments. These range from simple studios with basic facilities to luxurious multi-bedroom villas with private pools and stunning views.
You can easily find and book holiday rentals in the Sporades through popular websites such as Airbnb and HomeAway. Some great local platforms like Pointgreece.com also provide listings for villas and apartments across the islands.
Camping
If you are an adventurous soul and prefer a more nature-oriented experience, Camping is an option on the Sporades Islands as well. Skiathos has a well-equipped campground called Camping Koukounaries at the island's famous Koukounaries beach. Please note that camping outside designated areas is prohibited in Greece, so make sure only to stay in legally-operating camps or obtain special permissions for camping in specific areas.
Whether you choose hotels and resorts, villas and apartments, or camping, early booking is recommended, especially during the peak season from May to October.
Activities and Attractions in the Sporades Islands
Visiting the Sporades Islands is an exciting and delightful experience. Here are some of the top activities and attractions for you to enjoy.
Beaches
The Sporades Islands are known for their spectacular beaches. Skiathos, in particular, is popular for its beautiful beaches and vibrant nightlife. This island offers over 60 beaches, many of which boast golden sands and crystal-clear waters. Some top beaches include:
Koukounaries Beach in Skiathos
Lalaria Beach in Skiathos
Kastani Beach in Skopelos
Stafylos Beach in Skopelos
Hiking and Nature Trails
Hiking and exploring nature trails are fantastic ways to experience the Sporades Islands' stunning landscapes. The islands are home to rich green vegetation, including pine tree-covered hills and a diverse range of flora and fauna. Some recommended hiking and nature trails include:
The Monastery of Evangelistria trail in Skiathos
Palio Klima to Glossa trail in Skopelos
Alonissos' National Marine Park network of trails
The Skyros island loop trail
Historical Sites
The Sporades Islands also host numerous historical sites and points of interest. Discover the rich history and culture through the following sites:
The Monastery of Evangelistria in Skiathos
The Bourtzi Fortress in Skiathos
The Folklore Museum in Skopelos
The Asclepio archaeological site in Skyros
Enjoy immersing yourself in the diverse activities and attractions available on the Sporades Islands, ensuring a memorable and exciting visit.
Local Cuisine in the Sporades Islands
The Sporades Islands offer a delightful culinary experience for visitors, featuring local dishes made from fresh ingredients that reflect the region's rich history and culture.
Traditional Dishes
The cuisine of the Sporades is primarily focused on local seafood, along with a variety of vegetables, cheeses, and other ingredients. Some traditional dishes worth trying include:
Astakomakaronada: A pasta dish with fresh lobster
Taramasalata: A creamy dip made from fish roe, lemon juice, olive oil, and bread crumbs
Sporades Moussaka: A twist on the classic Greek dish, with layers of minced meat, aubergines, and béchamel sauce
Indulge in the vibrant flavours of these dishes to experience the best of Sporades cuisine.
Restaurants and Tavernas
While exploring the Sporades Islands, you'll find many charming restaurants and tavernas serving delicious local fare. Here are a few recommendations:
Asimenos Aspous (in Aspous): Famous for its Astakomakaronada, this place offers an authentic taste of the Sporades.
Flisvos Seafood Taverna (in Loutraki): Known for its Taramasalata, Flisvos is an excellent destination for seafood lovers.
Old Skopelos: This traditional taverna in Skopelos Town offers a cosy ambience and a delectable selection of Sporades dishes.
In addition to trying these eateries, be on the lookout for local "taverns" with a large number of Greek clients, as these typically offer a more authentic dining experience with sincere service. Remember to explore different islands in the Sporades to fully enjoy the diverse flavours and culinary experiences on offer. And when in doubt, always follow the locals to find the best hidden culinary gems.
Frequently Asked Questions about the Sporades Islands
How to reach the Sporades?
To reach the Sporades islands, you can either take a flight or a ferry. The main airport is on Skiathos, the busiest island of the Sporades, with connections mainly from Athens and some European cities during the summer season. Alternatively, you can take a ferry from various ports on the Greek mainland, such as Volos and Agios Konstantinos.
Which is the best of the Sporades Islands to visit?
All four of the inhabited Sporades islands (Skiathos, Skopelos, Alonissos, and Skyros) have their own unique charm. Skiathos is ideal for those seeking lively nightlife and beautiful sandy beaches, while Skopelos, famous for its picture-postcard villages, is perfect for a more relaxed atmosphere. Alonissos, with its lush greenery and pristine beaches, is ideal for nature lovers, and Skyros is known for its cultural and historical richness.
What are the best island hopping tips for the Sporades Islands?
Island hopping in the Sporades is best done by ferry or private yacht. Ferries connect the main islands and are an affordable option for exploring the region. Private yachts, on the other hand, offer a more luxurious experience and provide access to remote beaches and secluded coves.
What are the most famous Sporades attractions?
Some of the famous attractions in the Sporades include the beaches of Lalaria and Koukounaries in Skiathos, the Church of Agios Ioannis in Skopelos (known for the movie "Mamma Mia!"), the Marine Park in Alonissos, home to the Mediterranean monk seal, and the Chora village in Skyros.
How long should you spend in the Sporades Islands?
The ideal time for a visit to the Sporades Islands depends on your preferences and interests. A week is a good starting point to explore the main islands and their attractions, but if you plan to go island hopping, devote a few extra days to fully experience the charm of each island.
Hailing from the historic city of Thessaloniki, Nikos Tsakiris is a passionate explorer, seasoned writer, and co-founder of Greek Island, the definitive travel blog for the Greek Islands.